26 Views
Can-Am Releases 240 HP Maverick R for 2024
August 23rd, 2023 2:22 PM
Share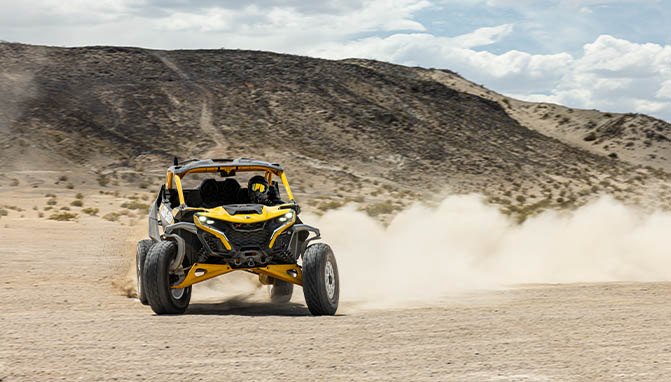 The new Can-Am Maverick R is the most powerful and technologically advanced Sport UTV on the market for 2024.
The bar has been raised in the competition for sport UTV supremacy. Previously the most powerful UTV came from Polaris when they announced the RZR Pro R, which featured a 2.0L (1997cc) engine that pumped out 225 HP and put the power to the ground through their CVT transmission. For 2024, Can-Am put those numbers to shame with the announcement of their all-new Maverick R Sport UTV. Utilizing an all-new 999cc turbo engine design and the company's first Dual Clutch Transmission (DCT), the new Maverick R tops the charts with 240 HP.
While the engine and transmission package will steal most of the attention from the public, this machine is new from the ground up and also has some unique features in suspension design that should make it one of, if not the best, handling sport UTVs on the market to date.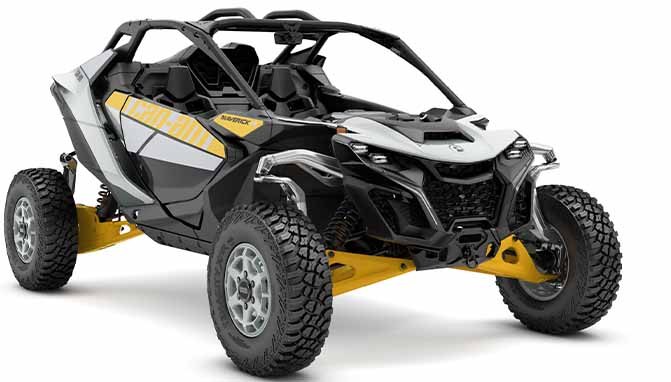 Built From The Ground Up
While the Maverick has been in the Can-Am lineup since 2021, the Maverick R is brand new from the ground up in 2024. At the heart of the beast is a 999cc, inline triple-cylinder turbocharged engine that pumps out 240 horsepower. The new ROTAX engine features forged pistons and plasma-coated cylinders to reduce engine friction and a closed deck design that allows engineers to run increased boost pressures. If you're not familiar with the difference between open and closed deck designs we can explain.
An open deck design doesn't provide any support at the top of the cylinders in the engine block, which can allow expansion and movement under the head gasket resulting in a blown head gasket. By filling in that open gap and minimizing that movement, the engine can take advantage of the new block-mounted ROTAX 54mm turbocharger pumping higher pressures via an electronically controlled wastegate to generate more power. Additionally, 8 tension rods are utilized to keep all parts of the engine block and cylinder head together, allowing for higher engine pressures as well. To ensure that all of the pistons are kept as cool as possible and minimize friction on the cylinder walls and bearing surfaces, each cylinder/piston has a dedicated oil jet.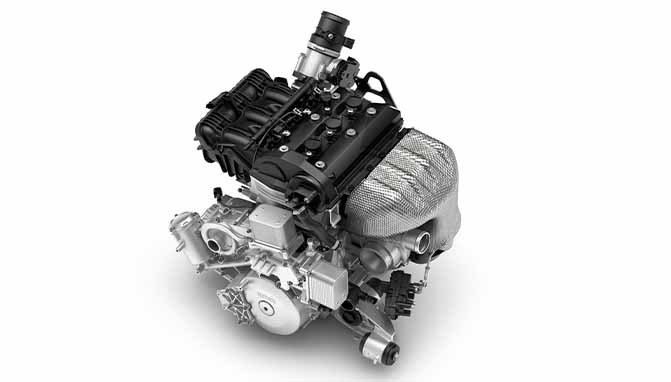 Next Level Drivetrain
While dual-clutch transmissions aren't new to the UTV market, there hasn't been one until now that features a selectable transfer case. With over seven years in the making, ROTAX designed this high-performance, 7-speed transmission just for this machine. The fact that it comes with a high/low selectable transfer case means that you essentially have 14-gears at the tip of your fingers with the electronic paddle shifters mounted on the steering wheel. Here is a list of advantages of a DCT vs. traditional CVT transmissions found in the most popular UTVs.
No more broken belts
Less power loss with gear-on-gear transmissions
Multiple gear options
Simplified maintenance (fluid changes)
Auto or manual shifting options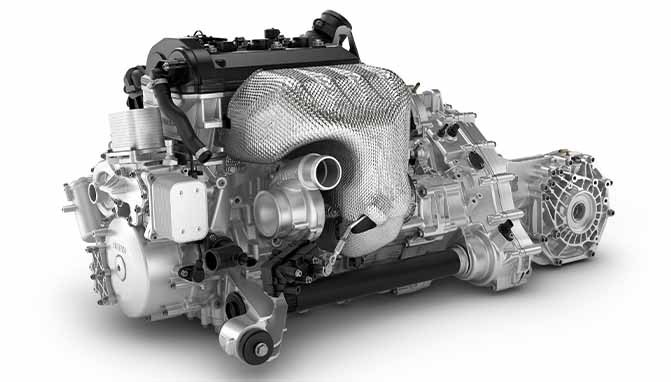 As for maintenance, you no longer have to worry about changing belts or high belt temperatures since the power of the engine is delivered gear-on-gear. The only maintenance required is fluid changes per the manufactures schedule. Since all of the shifting is done electronically, you can also shift between high or low ranges on the fly as well. Well, we're sure that there are certain parameters that need to be met to prevent going from 7th gear high to 7th gear low (for example), this does make shifting very convenient when trail conditions change.
Since there will likely be an increase in heat generation from a gear-to-gear transmission mated to a high-horsepower engine, Can-Am has taken the cooling of the Maverick R to the next level. The new Maverick R features a large radiator in the front of the machine to provide cooling for the engine, but it also features one at the back of the vehicle placed for dedicated cooling of the transmission. As for the shifting in the Maverick R, it has many of the same characteristics that you'd find on other brands. The Maverick R has fully automatic shifting that is controlled by the ECU based on which engine mode (we'll cover that later) you have selected, or you can have it in manual where the driver has full control of gear selection through the paddle shifters. If you prefer the leisure of the ECU controlling your shifting but want the ability to take control at a moment's notice, the paddle shifters will give you what you want.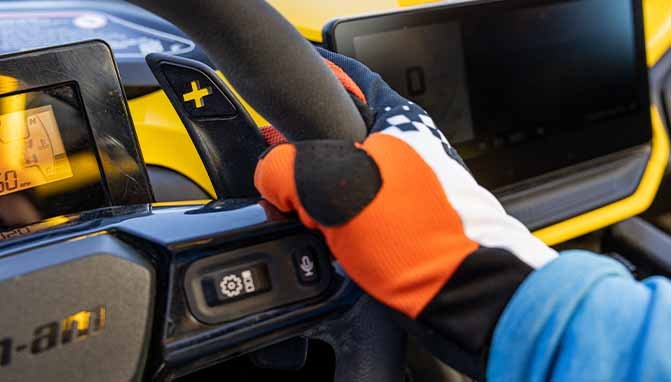 Next Level Suspension
Let's discuss the elephant in the room. The front suspension of the new Maverick R really does look unique, for lack of a better term. If you know suspension design, you'll probably agree that there is a reason for the design and it likely works really well, but there will be people who just can't get past the odd look of that oversized HD tall knuckle. Yeah, it looks funky but according to the Can-Am engineers, this design provides better load distribution, straight-line tracking at high speeds over rough terrain, reduces body roll, and increased rigidity for when taller tires are used.
You might be wondering about the tire size options since that HD tall knuckle rides right over the center of the tires. Depending on which Maverick R trim package you're interested in, the tire size you get can either be 30" or 32" tall. According to Can-Am, this HD tall knuckle can accommodate up to 35" tires with no problem. To handle the dampening duties, FOX 2.5 PODIUM shocks with QS3 compression adjustment and bottom-out control are mounted at each corner of the Maverick R and Maverick R X. If you want to step up to the next level of performance, the Maverick R XRS comes equipped with FOX 3.0 PODIUM RC2 Piggyback shocks with bypass and dual-speed compression and rebound adjustments.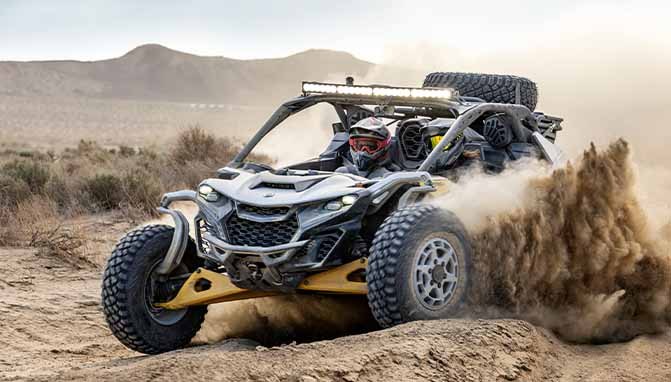 If you're looking for the top-of-the-line suspension in your Maverick R, then the X RS with Smart-Shox is what you'll be eyeing. This package comes with FOX 2.5 PODIUM RC2 Piggyback front shocks with bypass and dual-speed compression and rebound adjustments, and in the rear FOX 3.0 PODIUM Piggyback shocks with bypass and Smart-Shox technology. This means that your suspension adjustments can be made from the comfort of your driver's seat while on the fly. Regardless of which trim package you get, the Maverick R has 25" of suspension travel in the front and 26" in the rear from the longest shocks that FOX has ever built for a UTV.
As for the rear suspension design, it's not as radical looking but still all new for 2024. The rear suspension is a 4-link design that also utilizes a HD tall knuckle design that, just like the front, is designed to minimize load, increase leverage, and provide a significant amount of stability.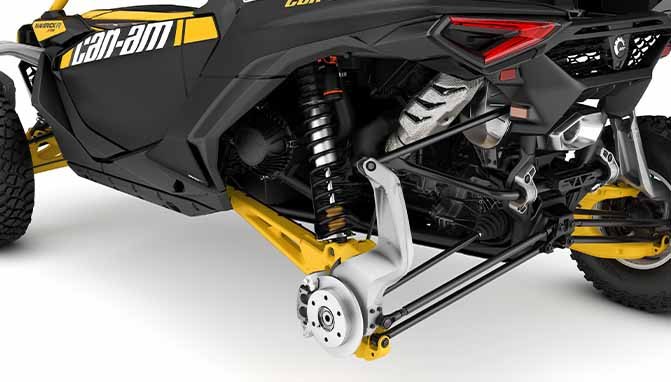 HD Drivetrain and Brakes
Remember the line in Spiderman "With great power, comes great responsibility?" Can-Am took this to heart making sure that the Maverick R was just as capable of slowing down as it was going fast. While all of the hype leading up to the launch of this vehicle really focused on HP numbers and a revamped suspension design, they didn't forget to upgrade the braking systems. The Maverick R front end was equipped with 265mm disc brakes with 32mm triple-piston hydraulic calipers. In the rear, 255mm discs and 30mm twin-piston hydraulic calipers were put to task. This setup provides maximum braking performance with reduced fade and a stiffer brake pedal in every condition with no special maintenance required.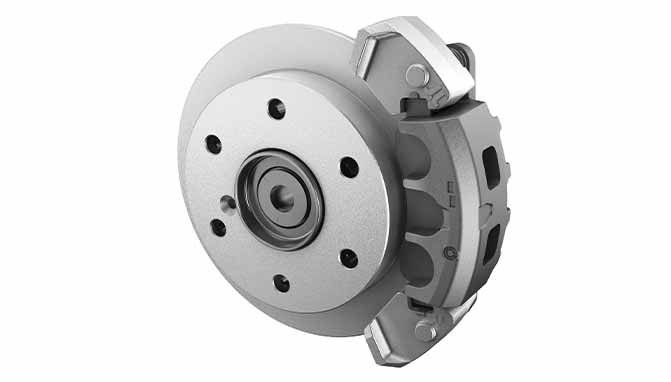 To support all of these large upgrades, larger wheel hubs were incorporated into the new suspension design, which also allowed for an industry-first 6-lug wheel package on the Maverick R. This design provides increased strength for aggressive riding/driving and applies to both 15" and 16" wheels that come from the factory on the Maverick R, depending on the trim package you're looking at. Additionally, since this unit was designed for high-speed driving, which can exceed speeds of 90 MPH in stock form, ITP Tenacity XNR tires will be available in 30" or 32" sizes based on your trim package. What is unique with this setup is that these tires and wheels follow the new UT TRA table for higher speed/load rating vs. tire pressure, so you still retain comfort and control with a lower pressure tire at high speeds.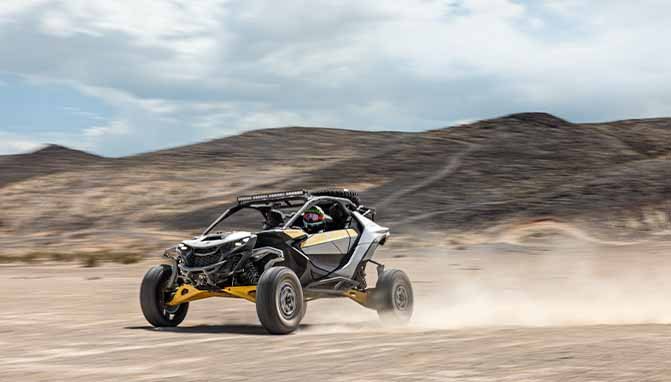 High-Tech Interior
Since this was a groundbreaking machine, Can-Am didn't want to leave out any features which is why the Maverick R comes equipped with a 10.25" touch-screen infotainment system. This system is very similar to the Polaris Ride Command system where it can be used to access the features of the BRP GO! app to find trails and be utilized as a GPS, connect to your smartphone for control of your audio system, and phone calls, and access front and rear cameras. Other great features of this system are that you can use it as an additional gauge to see some of your more critical inputs (speed, rpm, water temp, battery voltage), you can set/adjust your different drive modes, suspension, and power steering settings, and it can also be used to control accessories by configuring buttons on the smart control center.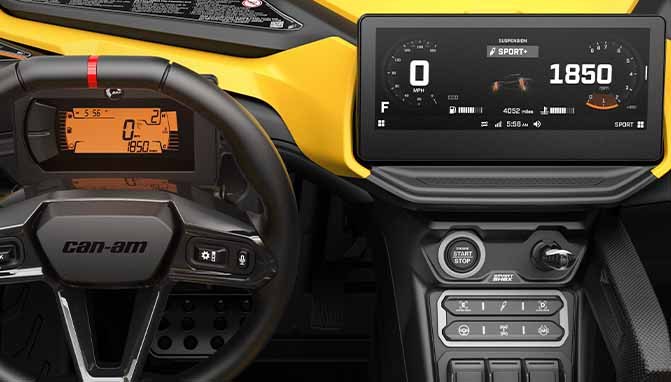 Trim Levels and Prices
While even the base model Maverick R outperforms all other competitors on paper (starting at $35,499), you have three other trim packages to choose from. The Maverick R X (starting at $38,399), the Maverick R X RS (starting at $42,599), and the top of the top-of-the-line Maverick R X RS w/ Smart-Shocx (starting at $44,299). If getting one of these from your dealer as they come out of the factory isn't enough for you, know that Can-Am has a slew of factory accessories (72 to be exact) to help customize your new Maverick R.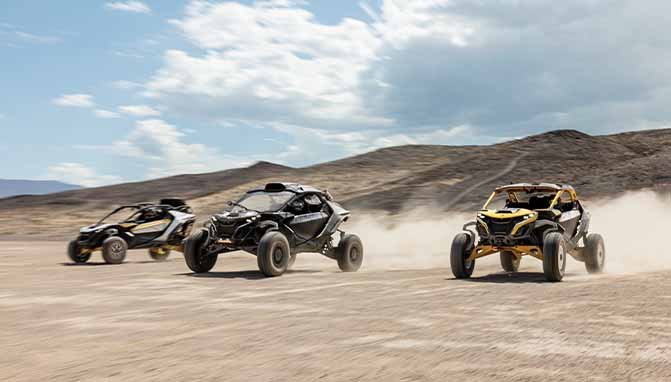 You can find more information on the new 2024 Maverick R and other Can-Am UTV and ATV models by clicking here.
Become an ATV insider. Get the latest news first by subscribing to our newsletter here.
Published August 23rd, 2023 2:22 PM
Top Brands
Popular Articles