110 Views
February 15th, 2022 12:06 PM
Share
We're committed to finding, researching, and recommending the best products. We earn commissions from purchases you make using links in our articles. Learn more here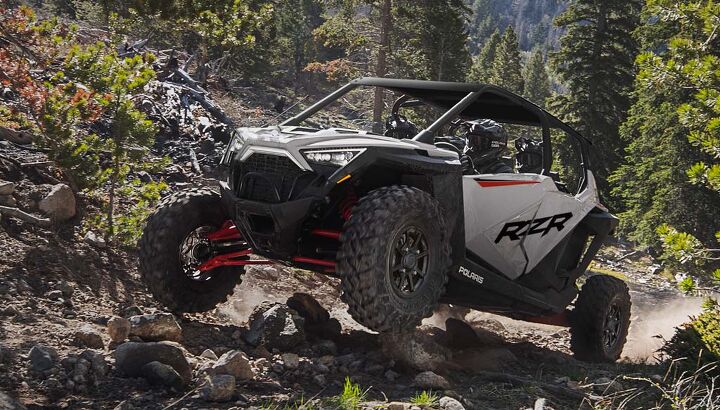 RZRs and music are a match made in off-road heaven
If you're ready to stop lugging a Bluetooth speaker around every time you want to kick out the jams when you go off-road, it's time to start shopping for Polaris RZR stereos.
We've scoured the internet, rounding up every good, viable RZR audio system we could find in order to put together this handy guide full of reliable, high-quality RZR stereos, with options encompassing exact-fit dash-mounted head units with satellite speakers and subwoofers, all-in-one overhead units designed to mount to the RZR's factory roll cage, and near-universal one-size-fits-all sound bars. The RZR stereos on this list cover a range of different price points, but no matter which one you choose, all are high-quality systems from reputable manufacturers, with weatherproof or marine-grade components and simple installation procedures, so you can get to cranking out your favorite tunes faster.
1. Editor's Choice: Rockford Fosgate Polaris RZR Stereo Kit
A well-known and trusted brand in the car audio scene, Rockford Fosgate offers several feature-rich, easy-to-install stereo kits for certain RZR models from 2014 through 2018. The basic Stage 1 kit is powered by a PMX-2 Punch Marine Compact digital head unit and a custom-molded dash kit, with four channels rated for 50W each at 2 ohms, and a full-color 2.7" TFT display. If you want even more oomph, the head unit features RCA outputs that make adding an external amplifier a breeze, and in fact, Rockford Fosgate's Stage 3, 4, and 5 kits include external amps, speakers, and subwoofers to take things to the next level. Together, they comprise some of the most all-in-one RZR stereos around.
2. Best Performing Sound Bar: BOSS Audio BRT27A UTV Sound Bar System
Another near-universal sound bar solution, the BOSS Audio BRT27A is a compelling option with six 3" full-range speakers and two 1" tweeters, an integrated Bluetooth receiver, and a powerful 500W amplifier built into an IPX5-rated weatherproof housing. The housing features an attractive RGB LED light bar to provide a bit of cabin illumination during nighttime rides, and the included mounting clamps are designed to fit bars from 1.5" to 2" in diameter – just right for the Polaris RZR.
3. Best Overhead RZR Stereo System: SSV Works Weatherproof Overhead 4-Speaker Sound Bar
Similar in philosophy to the aforementioned overhead RZR stereos from Swamp Donkey, the SSV Works WP3-RZF304A soundbar is a four-speaker all-in-one system with a built-in receiver and a robust, easy-to-mount housing. That housing is made of fiberglass, which SSV Works claims provides superior sound quality and bass response, and hooking the stereo up is a simple matter of connecting its two power leads to your RZR's battery. It's an attractive unit, but there is a downside: it's only designed to work with the RZR XP4 1000. If you drive anything else, you'll need to look elsewhere for your RZR audio needs.
4. Best Budget Option: SuperATV MTX 6-Speaker Universal Sound Bar
If your ride isn't covered by one of the in-dash or model-specific overhead RZR stereos, there is a multitude of more universal UTV sound bars to do the trick. This SuperATV/MTX Universal Sound Bar is one of the best, with six built-in speakers – four 3" full-range speakers and a pair of 1" tweeters – and an integrated Bluetooth controller and 200W amp all housed within one durable, weather-resistant enclosure. It mounts easily to roll bars from 1.5" to 2.25" in diameter, securing onto the Polaris RZR with ease, and just three simple electrical connections are all it takes to hook it up: power, ground, and accessory. As if that weren't enough, the low price tag makes it one of the most cost-effective RZR stereos on this list.
5. MTX Audio Polaris RZR System
Turn your Polaris RZR into a "party machine" with MTX Audio's line of quality, high-output RZR stereos. Centered around an all-weather AWMC3 head unit with a direct-fit dash mounting kit, MTX's RZR kits come in a range of configurations, from the RZR-SYSTEM3 with its four speakers, Tethered by an all-weather AWMC3 head unit with a direct-fit dash kit, MTX's RZR kits come in a range of configurations, from the two-speaker THUNDER2 with its easy-to-install custom speaker pods with integrated RGB lighting, to the high-powered THUNDER5, which ships with four speakers, a pair of amps, and a 400W subwoofer to really rock the trail.
6. Kicker & SSV Works 800W Polaris RZR Stereo System
This premium, powerful plug-and-play stereo system for the Polaris RZR is made up of some high-quality components – namely, two pairs of marine-grade all-weather Kicker speakers, a 10" Kicker CompRT subwoofer, and an SSV Works MRB3 receiver. If you appreciate high-quality audio components, let's just say there's a reason why Kicker is one of the go-to aftermarket audio brands for custom SEMA builds each year. All-in, the system is good for up to 800 Watts of output, with four discrete full-range amp channels at 75 Watts apiece and a ground-shaking 500-Watt subwoofer amp.
7. Swamp Donkey Polaris RZR Overhead Stereo
Looking for an all-in-one, easy-to-install audio solution that won't break the bank? Swamp Donkey offers several such RZR stereos, all of which mount overhead and deliver plenty of volume and sound clarity courtesy of four Kicker speakers positioned on either side of a weather-resistant marine-grade head unit. Ready-made versions exist for 2-seater and 4-seater RZRs from 2008 through 2014, with four 5.25" Kicker speakers ready to blast your favorite tunes, and there's even a system for 2015 and newer RZR 900 and 1000 models. No matter which system you're looking at, installation is a breeze, with four clips to secure to the factory roll cage and a pair of power cables that connect to your RZR's battery. And did we mention the low price tag?
Is a stereo made for a Polaris RZR better than a universal system?
When it comes to the audio quality, just because a stereo system is made specifically for a Polaris RZR doesn't means you are getting fantastic sound. The real benefit of Polaris RZR stereos is that they will fit better and look cleaner. You can get some great sounding universal systems, but they may end up taking up a little more space and look a little less refined.
What makes one of the kits from SSV, MTX or Rockford Fosgate better than a sound bar or roof stereo system?
If you're looking for the ultimate in sound for your stereo, these systems are the way to go because of the different size speakers you get to deliver the precise sound that you might be looking for throughout the entire sound range. The disadvantage to these systems is that they're extremely expensive and require substantial work between installing the speakers and running the wiring for all the components. This is why sound bars and the roof stereo's are popular. They are usually easy to install since they only need to be clamped onto a roll bar or the top of your OEM cage and only require you to run a power and ground wire since most connect to your phone or media player via Bluetooth.
Additional Resources
Recent Updates
1/26/2022: Updated product descriptions, updated product links, added FAQ questions, added additional resources
Become an ATV insider. Get the latest news first by subscribing to our newsletter here.
We are committed to finding, researching, and recommending the best products. We earn commissions from purchases you make using the retail links in our product reviews. Learn more about how this works. Aaron Brzozowski
Aaron is a freelance writer, videographer and car enthusiast based out of the Detroit area. He has a special affinity for the Porsche 944 series, and once owned a Volvo 240 sedan with a Weber carb in place of the factory EFI system. His work has appeared on AutoGuide, GM Authority, /Drive, and VW Vortex, among other sites.
More by Aaron Brzozowski
Published February 23rd, 2021 10:59 AM
Top Brands
Popular Articles