17 Views
2019 Honda Talon 1000R Vs. Textron Wildcat XX: By the Numbers
February 12th, 2019 12:41 PM
Share
We're committed to finding, researching, and recommending the best products. We earn commissions from purchases you make using links in our articles. Learn more here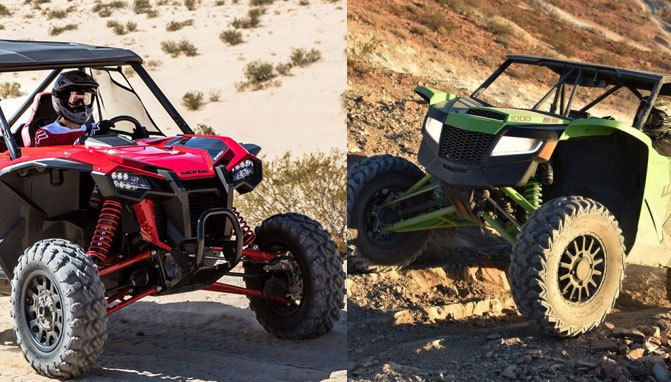 We wanted to see how the 2019 Honda Talon 1000R and Textron Wildcat XX compared by the numbers in a battle of naturally aspirated Sport UTVs.
It's a good time to be a Sport UTV enthusiast. There are lots of models from the manufacturers and we're seeing some very interesting development in designs that give us lots of choices to find our own off-road nirvana. The players have traditionally been Polaris, Can-Am and Textron. Yamaha turned things on end with the YXZ, and Textron through its partnerships brought out the acclaimed Wildcat XX. The XX took the potent Yamaha-built engine and built a UTV around it with suspension that is absolutely stellar. Honda has never been a company to follow anyone's lead. It blazes its own paths, and has traditionally been a force in the sport side of other off-road divisions. When news leaked of the Talon, Honda's much-anticipated sport machine, we all knew it would be different. No one was truly prepared for two variants of the Talon, however. The Talon 1000X is a 64-inch wide machine that fits into the category dominated by the RZR XP 1000. The 2019 Honda Talon 1000R is a machine unto itself with a different suspension setup and a wider stance. How does this setup compare to one of the class leading machines? Let's take a look at the numbers and see.
Trailing Arms and 4-Links
The chassis and suspension of the 2019 Honda Talon 1000R is different from the 1000X in that the rear setup is a 4-link trailing arm setup. Honda uses Fox Podium 2.5 QS3 shocks on all four corners and the rear travel is 20.1 inches. Honda's engineers designed the 4-link system to help control the geometry of the rear wheels as the shock moves through the travel. The tow-in of the wheel only varies by 0.3 degrees throughout the entire motion. In theory, this helps retain control of the rear end of the machine when using the majority of the rear suspension travel at speed. Honda engineers want the Talon to be extremely stable. Up front, there is a dual wishbone design that has 17.7 inches of travel. It's interesting to note that the Talon 1000R is 68.4 inches wide. Like I said, Honda engineers go their own way. Another cool feature to the Talon is the braking system. It has dual 250mm disc brakes that are controlled by Honda's Electronic Brakeforce Distribution system that distributes the braking force across the machine as needed for optimal braking. Other things of note include a 13 inches of ground clearance and a 299-pound bed capacity.
The Textron Wildcat XX gained a reputation for spectacular suspension action in a very short amount of time. The XX also uses Fox Podium 2.5 QS3 shocks at all corners with 18 inches of travel all around. The design of the suspension is based on trophy trucks with offset dual A-arms up front and race-designed rear trailing arms. Everyone who has driven the XX raves about the suspension, saying that it handles the terrain with ease and inspires extreme confidence in the driver and passenger. Head to places like Moab and you'll see more and more Wildcat XX machines, and with good reason.
Motoring
Oddly enough, both of these machines have variants of motors we already know. The Textron Wildcat XX runs the 998cc inline triple that pumps out an impressive 130 horsepower – without a turbo! This motor is fed by a closed-loop EFI and puts power to ground through a CVT transmission with TEAM Rapid Response clutches. This naturally-aspirated motor is a serious rocket ship that will challenge some of the turbo-power machines out there. And the rumor mill is churning with reports of a turbo model just around the corner. You can always add the turbocharger yourself by getting the accessory available from Yamaha. Yamaha doesn't like to say horsepower numbers and what the turbo option will add to their machines, but if you know the snowmobile market, you know that the Yamaha Sidewinder turbo sled models are rumored to produce in excess of 200 horsepower!
The 2019 Honda Talon 1000R uses a variant of the 999cc liquid-cooled Unicam OHC longitudinally mounted parallel-twin four-stroke motor they use in the Pioneer 1000 and the African Twin motorcycle. Horsepower is said to be around 104. The Talon uses EFI and runs through Honda's six-speed automatic Dual-Clutch Transmission (DCT) with a high/low sub-transmission. This gives you two drive modes with 2WD and Honda's cool I-4WD, and three different shift modes (standard, sport, manual w/ paddle shifters). Honda's transmission is a work of art. There is no CVT belt, and you can really hammer through the gears in manual mode. The I-4WD system was introduced last year in the Pioneer Deluxe and when engaged, works like 4-wheel drive in a SUV, sensing which wheel needs traction and transferring power to that wheel.
Price
Pricing for the 2019 Honda Talon 1000R was just announced before we published this article at $20,999 – a $1000 premium over the Talon 1000X. As for the Textron Wildcat XX, prices start at $20,699 with the Limited option available starting at $21,999.
Real Wheel Impressions
Want some seat-of-the-pants thoughts on the Talon? Check out what our resident speedster Rick Sosebee has to say here.
We also turned Rick loose in the Wildcat XX.
Want to check them out for yourself? Head to your local dealer and see them in person. The Talon is coming soon and the Wildcat is already there. Derrek Sigler
Derrek's love for all things ATV started when he was a mere 11 years old, growing up on his family farm. His mom gave him and his sister a choice - get a horse, or a three-wheeler. The sister wanted the horse, and Derrek wanted the ATV. Luckily he won out, and was soon burning up the trails on a Yamaha Tri-Moto 200. By the time he was 14, he had saved enough of his own money by working on the farm and in his folks restaurant to buy a new 4-wheeler. That happened the day he and his mom were driving past the dealership and saw 1987 Banshee. His mom had no idea what he was buying, and he never looked back. He's been riding ever since, and been writing professionally for many years. He has ridden all over North America and been behind the controls of just about every machine out there. And yes, he still has his 1987 Yamaha Banshee.
More by Derrek Sigler
Published January 7th, 2019 12:45 PM
Top Brands
Popular Articles