48 Views
2018 Textron Wildcat XX vs. Yamaha YXZ1000R SS: By the Numbers
February 12th, 2019 12:43 PM
Share
We're committed to finding, researching, and recommending the best products. We earn commissions from purchases you make using links in our articles. Learn more here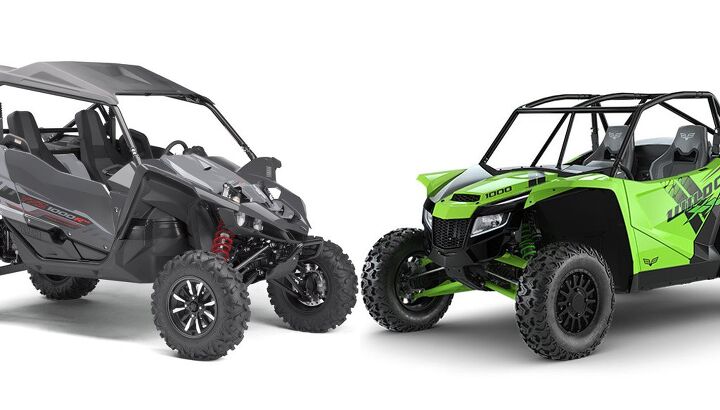 The 2018 Textron Wildcat XX and Yamaha YXZ1000R SS might be brothers for another mother thanks to a shared engine, but that doesn't mean they're identical twins. Let's see how they match up by the numbers.
When it comes to naturally aspirated sport UTVs, Textron Off-Road is garnering a lot of attention these days with the release of the long-anticipated Wildcat XX. As we've said in the past, this machine was no secret, as Arctic Cat had started development well before the merger. What we ended up with is a polished sport machine with amazing suspension and horsepower.
Yamaha has never been a company to go the typical route. When everyone else had twin-cylinder machines, Yamaha hauled out a sweet 998cc triple with manual shifting in the awesome YXZ1000R. The first machines had a manual foot-pedal clutch and sequential shifting from a stick shift. Then they released a second version, the YXZ1000R SS, with an automatic clutch and paddle shifters on the steering wheel. Either version of the YXZ is incredibly fast, fun and 100% Yamaha.
Textron Wildcat XX
Yamaha YXZ1000R SS
Price
$20,499
$19,799
Engine
998cc Triple
998cc Triple
Horsepower
125
112
Driveline/Differential
Electric 2/4WD with 4WD Lock
On-Command; 3-way locking differential; selectable 2WD and 4WD with diff lock; shaft




drive
Transmission
CVT; TEAM Rapid Response Clutches (H,L,N,R,P)
Yamaha Sport Shift, paddle shift with auto clutch; 5-speed sequential with reverse
Wheelbase
95 in
90.5 in
Overall Dimensions (LxWxH)
136 x 64 x 67.5 in
122.8 x 64.0 x 72.2 in
Curb Weight
1,868 lbs
1,512 lbs
Front Tires
30 x 10-15 CST Behemoth
27 x 9R-14 Maxxis MU09
Rear Tires
30 x 10-15 CST Behemoth
27 x 11R-14 Maxxis MU10
Ground Clearance
14.0 in
12.9 in
Fuel Capacity
10.0 gal
9.0 gal
Front Suspension
Double A-Arm with 18 in (45.7 cm) travel
Independent double wishbone w/anti-sway bar, fully adjustable FOX® 2.5 Podium RC2




Shocks; 16.2-in travel
Rear Suspension
Trailing Arm with 18 in (45.7 cm) travel
Independent double wishbone w/anti-sway bar, fully adjustable FOX 2.5 Podium RC2




Shocks; 17.0-in travel
Front/Rear Brakes
Dual Piston Front Calipers and Single Piston Rear Calipers
4-Wheel Hydraulic Disc
Bed/Rack Capacity
300 lbs
300 lbs
Snow Big Deal
What you may not know is these two beasts are kissing cousins. Before the Textron buy out, Arctic Cat had a deal going with Yamaha for joint development of snowmobiles. Arctic cat was building the frames and Yamaha was supplying the engines. Each company would market the sled in their own way, but in reality, the sleds were very similar.
What do snowmobiles have to do with these two UTVs? That's obvious – the engine is shared between these two machines. They both run the same 998cc three-cylinder engine. Here's where it gets kinda fun. Yamaha does not ever claim horsepower numbers in print. A little sleuthing finds a rating of 112, but that isn't official from the tuning fork folks. Textron, running the same engine claims 125 horsepower. Which is it? For the sake of argument, I'll say it's right in the middle. Either way, these two machines, being non-turbocharged, still make a ton of usable horsepower.
Just because the engines are the same, that doesn't mean anything else is. The transmissions are vastly different. Textron mated the motor to a CVT tranny with TEAM Rapid Response clutching. This means the XX will shift like most any other side-by-side. Yamaha runs an auto-clutch with sequential shifting that has five forward and one reverse gear, all handled through paddle shifters mounted on the steering wheel. So, with the Wildcat, you just hammer the gas pedal, and with the YXZ, you get to bang through the gears. Either way sounds fun to me.
2019 Textron Wildcat XX vs. Polaris RZR XP 1000: By the Numbers
Suspension is a whole other story. Both machines run Fox shocks. The Wildcat rides on Fox Podium 2.5 QS3 shocks with compression adjustment and Bottom-Out Control on the rear shocks. You get 18 inches of travel front and back. The front rides in offset dual A-arms while the rear is a sweet trailing arm setup modeled after trophy trucks.
The Yamaha YXZ runs Fox Podium RC2 shocks that are fully adjustable. They ride in double wishbone setups front and back with anti-sway bars to keep you level in the corners. Travel is 16.2 inches up front and 17 inches out back. This contributes to the Yamaha's amazing handling that is already proving to be a winner on the track, as well as on the trail.
Another thing to note in the numbers. The Yamaha is far more compact at 122.8 inches long compared to the XX at 136 inches. Both are 64 inches wide, which is the standard for sport UTVs these days.
If you want to know more about the YXZ, check out our reviews. The YXZ1000R SS runs $19,799 and comes with a roof. The Textron Off-Road Wildcat XX starts at $20,499 and if you want to know what we think of it, check this review. Derrek Sigler
Derrek's love for all things ATV started when he was a mere 11 years old, growing up on his family farm. His mom gave him and his sister a choice - get a horse, or a three-wheeler. The sister wanted the horse, and Derrek wanted the ATV. Luckily he won out, and was soon burning up the trails on a Yamaha Tri-Moto 200. By the time he was 14, he had saved enough of his own money by working on the farm and in his folks restaurant to buy a new 4-wheeler. That happened the day he and his mom were driving past the dealership and saw 1987 Banshee. His mom had no idea what he was buying, and he never looked back. He's been riding ever since, and been writing professionally for many years. He has ridden all over North America and been behind the controls of just about every machine out there. And yes, he still has his 1987 Yamaha Banshee.
More by Derrek Sigler
Published March 23rd, 2018 2:42 PM
Top Brands
Popular Articles