1 View
2021 Honda Talon 1000X vs. Kawasaki Teryx KRX 1000 vs. Yamaha YXZ1000R: By the Numbers
March 15th, 2021 12:27 PM
Share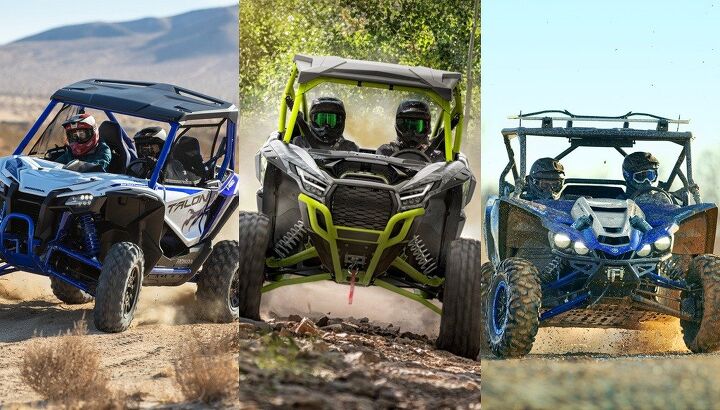 How do these 1000-class naturally aspirated Sport UTVs compare?
The 2021 Honda Talon 1000X, Kawasaki Teryx KRX 1000 and Yamha YXZ1000R have plenty in common. Let's see how they stack up on paper.
In the intervening years since the side-by-side makers starting stuffing their lightest two-seat UTV with a 1000-class engine, the things have grown in both size and power. Even their names have grown, with Can-Am continuing to add consonants to their Maverick like a toddler adds candy to their ice cream cone.
Those OG rigs still exist, of course, and remain a ton of fun. The three units assembled here are from the trio of Yamaha, Honda, and Kawasaki. All three of these are from Japanese manufacturers and built in the USA and we figured it was an opportune time to compare them.
Powertrains
Engines are the whole point of buying these things, right? Honda decided to install a 999cc liquid-cooled parallel-twin making 104 horsepower in its fun-maker, a mill previously seen in the less sporty Pioneer. The big difference between the Honda and its competitors is the transmission. Instead of using a CVT-style unit, Honda did as Honda does and plugged in six-speed automatic dual-clutch transmission with high/low ranges.
2020 Kawasaki Teryx KRX 1000 Review
At Kawasaki, shoppers will find a 999cc liquid-cooled parallel twin (sound familiar?) that isn't officially rated by the company but is generally understood to make about 114 ponies. A traditional automatic CVT with centrifugal clutch is on board, deploying high and low selections as you'd expect. Twin 50mm throttle bodies bring the induction noise.
Yamaha marches to a different beat, using a 998cc triple in its speed machine. Like the 'saki, it makes about 114 horsepower. That three-cylinder engine is mated to a sequential-shift five-speed transmission via a gonzo hydraulic clutch. Anyone in the know will tell you that the YXZ is happiest above 5000 rpm, so be sure to downshift if you want to get the most out of that high-strung three-pot.
Suspension
Honda was once known for stuffing even its most basic economy cars with snazzy double-wishbone front suspension, so it shouldn't be too much of a surprise this setup appears in the Talon 1000. A three-link trailing arm is slung out back. There are 14.6 inches of travel fore, 15.1 inches of travel aft. Tires are 28-inchers on 15-inch wheels.
Not bad, but the Teryx brings Fox 2.5 Podium shocks with piggyback reservoir to the party. Front and rear have 24-position adjustable compression damping and fully adjustable preload. Teryx also deploys a double wishbone in the front but a 4-link trailing arm in the rear. The former has 18.6 inches of travel, the latter has 21.1 inches. Those are 31-inch Maxxis Carnivore tires.
Independent double wishbones inhabit the Yamaha at both ends, complete with an anti-sway bar. Fully adjustable Fox Podium RC2 2.5 shocks are on board, with 16.2 inches of travel ahead of the driver and 17.0 inches behind. Tires are 29-inch Maxxis Bighorns.
Size & Weight
Absent of a second row of seats, this style of rig is handier to have if your trip includes close trail quarters. Honda built the Talon 1000X to 123.9 inches in length on an 87.6-inch wheelbase. It plays in the 64-inch width category. Height checks in at 75.3 inches and ground clearance, if you're wondering, is 12.7 inches. Total mass is roughly 1500 lbs.
Overall length of the Kawasaki is 130.1 inches, riding on a wheelbase of 98.8 inches. Yet, overall height is 0.3 inches less than the Honda. Width is 68 inches and ground clearance measures 14.4 inches. Curb weight? That's just shy of 1900 lbs.
Yamaha? Well, the YXZ is shorter than the Honda, stretching the tape to an even 123 inches. Width is a sensible 64 inches but height is just 68.9 inches. This is a low-slung machine. Maximum ground clearance splits the difference between Honda and Kawasaki at 13.2 inches, but weight is a lot close to the former at 1520 lbs.
Styling
2019 Yamaha YXZ1000R SS SE Review + Video
This will always be a subjective measure since beauty lives squarely in the eye of the beholder. However, and here's a surprise, we've an opinion or two about these machines.
Honda clearly spent time crafting some semblance of styling cohesion, with a set of aggressive headlamps framing a growling maw. It perpetually looks 'tippy' thanks to its odd width/height proportions. Meanwhile, KRX 1000 looks better than its Teryx brothers, ditching its dorky face for something resembling you'd actually want to drive without a paper bag on yer head. As for the Yamaha, we hope you like round bug-eyed headlights.
Pricing
We wouldn't make this comparison if all three of these competitors weren't in with a shout of one another. Honda, famous for being optimistic with its pricing no matter the market, actually seems to have gotten it right with a sticker price just one dollar on the right side of twenty grand.
For 2021, Teryx KRX 1000 has an MSRP of $20,499, but the company regularly has a promotion where buyers get a prepaid card worth around $500. Naturally, the company would very much prefer if you spent that money on accessories in their dealership.
Yamaha has decided to make something of a value play, pricing its YXZ1000R at $18,999. This despite having 50% more cylinders, though no more power, than the other two machines on this list.
Become an ATV.com insider. Get the latest news first by subscribing to our newsletter here.
Published July 17th, 2020 12:12 PM
Top Brands
Popular Articles