9 Views
2020 Kawasaki Teryx KRX 1000 Review
November 29th, 2019 10:54 AM
Share
Fast Facts
Engine: 999cc Parallel Twin
L x W x H: 130.1" x 68.1" x 75"
Tires 31" Maxxis Carnivore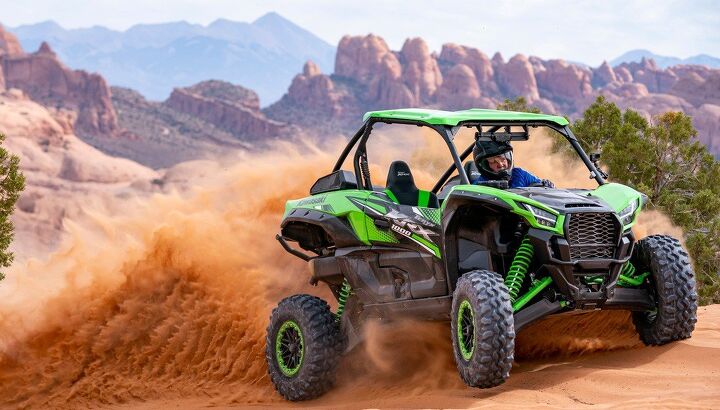 We head to Moab in Kawasaki's Sport UTV
Finding your way around in the southern hills back east is an adventure, but when offered a chance to drive the 2020 Kawasaki Teryx KRX 1000 in the wilds of Moab, Utah it was something we couldn't pass up. The latest in the Kawasaki off-road arsenal has been released to the public and videos all over the internet show happy consumers already enjoying the Team Green rig. Our trip to Moab would give us a complete test of the machine in high speed sections as well as creeping rock crawl situations. Here's how that went down.
As you all know this newest addition to the Teryx family by Kawasaki has quickly garnered the attention of those Team Green loyal fans. Getting the first ride in the dealer show demo track was a treat, but just a week later it would be the first of two days of riding in Moab Utah that would get us really well acquainted with the KRX 1000. This rig is built like a brick house and durability should not be an issue from super-sized axles to massive CVT components and suspension parts as well. Moab is known for terrorizing equipment, but I'd say it has its hands full with the 2020 Kawasaki Teryx KRX 1000.
Getting in the cab of our KRX at the head of Seven Mile Rim, we found a few things to adjust before the ride. I clamped my Lifetime Trail Maps GPS mapping device to the passenger grab handle so I could track our ride and share it or even use it as a guide when I come back to the trails. Having a GPS that has offline maps on wide open terrain like this is crucial should you get lost. Not only does this device give us detailed topo mapping, but detailed reference points because the hills here all look the same when the sun gets up in the sky.
Fitting in the cab is made easy because the seat slides back for a mile. The spacious driver seat feels really good and supportive for a larger driver such as myself. The tilt steering gives you a variety of driving positions, but I did notice that as I slid back in the seat, I really wished for a telescoping wheel to meet me back there. Even though the seat was slid all the way back, there was still a section behind me that allowed for storage of a gear bag with an extra jacket and trail gear. My extras rode back behind my seat all day and we never lost anything or melted it down.
Rolling out into the trail, our first challenge section was a long straight of reasonably stepped whoops with varying depths. Hitting deep sections of rutted and rolling whoops is sometimes sketchy unless you really trust your machine and with only one brief ride in the KRX back in Palm Springs we had to trust the car to do its job so off we went. Standing full commit on the go pedal, leaving only about 15 percent for reserve, we entered the whoop section and were pleasantly surprised of the outcome. The 2020 Kawasaki Teryx KRX 1000 seemed to handle the rough whoops with pride and never felt out of control. We found that it tracked straight without stepping out in the rear or any crazy front end walk through the uneven sections of the run. Power delivery is stout off the bottom and through the mid-range, but seems to taper off about ¾ throttle.
Taking the 2020 Kawasaki Teryx KRX 1000 on out through the Seven Mile Rim trail, we found many smaller rock formations to crawl over, but it was our first experience with a real steep section of rock known as Wipe Out Hill that gave us great insight into just how capable the machine really was. Watching the lead KRX 1000 in the group slip off into the distance and drop out of sight, I can say it was quite an experience. Especially knowing that I was next to follow. The vertical drop proved the low gear engine braking would hold onto the car as it descended but it was the climb back out that gave me the first real confidence in the KRX's climbing ability. With stable and steady throttle, we walked the newest Teryx right out of Wipe Out hill with no problem. The 31-inch Maxxis Carnivore tires gripped the slick sections of stepped rock and during the day we would do this twice more just to prove to ourselves that it wasn't a fluke. One other thing to note about this machine are the very good approach and departure angles. The massive 31-inch tires stand well out front and rear of the machine and make contact first even when you would think we would stand the KRX on its nose.
Our ride continued out to Tusher Tunnel where we would get a bite of lunch and review the first of the day's events there. The views from this lunch stop were spectacular and riding with our many friends in the industry it was indeed a great day. We documented every step of our ride on our Lifetime Trail Maps device so we can share these trails with everyone. It turns out that most of the trails were already preloaded on the device so getting lost was not a concern at all.
Ride day two found us in the parking area for a trail known by more serious crawl fanatics as Poison Spider. This trail follows sections of the Colorado river gorge and the steep slick rock climbs make it one of the more popular trails. One thing to note is that this trail has dinosaur tracks and petroglyphs right at the trailhead. This day would be a capability test like no other in the 2020 Kawasaki Teryx KRX 1000. Just getting the first mile from the parking area into the trail was a serious challenge for me personally. I have to admit, as a semi-flatlander, it took a good bit of trust in the machine to follow the more experienced drivers up the sections of rock walls. These first few sections provided near vertical climbs and keeping a good steady throttle was key to keep the KRX on its tires. I was surprised that we did not air down the tires on our KRX, as they come with 12lbs front and 17lbs rear. It turns out that we actually did not need to, but in hindsight maybe that would have been a good test.
Most of the trail obstacles have names such as the wedgy, waterfall, golden spike and others. The long steep climbs up to the flat rock faces were incredible and the security of our KRX 1000 cab helped us feel safe on the trail. There was one section with three semi-vertical placements of rock that did get our attention as it pertains to the traction available through our Maxxis Carnivore tires. These 31-inch shoes would reach out to a rock that was later determined to be about a 48-degree climb. The semi-round rock face had a pretty good ditch at the bottom so getting a run was not an option. It was all or nothing right from the time the back tires made contact. A slow and steady input on the foot feed and we were up top with little to no issue. It was a great experience for this Georgia native.
Overall it was a great ride in the new 2020 Kawasaki Teryx KRX 1000. The newest member of the Teryx family handles well, is very fun to drive at high speed and climbs like a billy goat. I am super impressed with Kawasaki's efforts on this rig and if I do say so myself it looks great! I cannot wait to get one here on the east coast.
Published October 28th, 2019 12:27 PM
Top Brands
Popular Articles