80 Views
Lone Star Racing to Offer Parts for Honda ATC 70
May 25th, 2022 9:47 AM
Share
We're committed to finding, researching, and recommending the best products. We earn commissions from purchases you make using links in our articles. Learn more here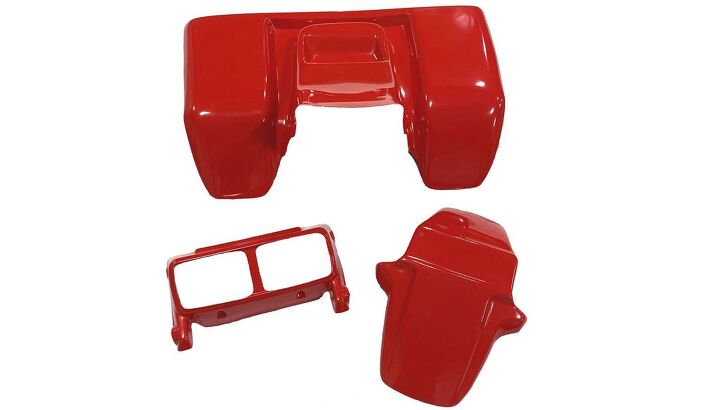 Nostalgia is an expensive drug, one which causes otherwise sensible people to spend absurd sums on cars at Barrett-Jackson or time digging that fringed leather jacket out of the closet. One arena in which nostalgia tends to hit some gearheads right in the feels? Off-road wheeling – especially on old-school rigs like the Honda ATC. Now, an outfit in Arizona is helping feed that addiction by offering restoration parts for these classic three-wheelers.
These little three-wheeled barrels of Honda fun were unceremoniously yanked from production after various and sundry Hysterical People cried into the television that trikes were dangerous and somehow responsible for killing 148 percent of America's youth. Decades later, it turns out many forward-thinking owners simply tucked their ATCs in barns and sheds instead of feeding them into The Crusher, leading to today's conundrum of finding parts for a machine that's been out of production for decades.
All the bits you need, to keep that ATC rolling. Photo: Lone Star
Lone Star Racing has the answer, with Honda ATC70 products ranging from nickel-and-dime stuff like brake hubs and chain guides to full suspension kits and entire frames. The latter is a very slick piece of kit. It comes with a certificate of origin and VIN tag to ward off nightmares at the DMV. They'll even hit the fully suspended frame with a custom paint color is that's your bag.
A wide range of products for your Honda
Other items like fiberglass fenders for the Honda ATC70 are a popular quick fix for that time in the '80s when your hapless brother ran into the doors of Dad's shed. They're scaled miniatures of ATC350X fenders and are available in a gel coat with one's choice of red, black, or white. Beats mending brittle old plastic with a staple gun, to be sure. Replacement foot pegs and headlight shrouds take care of other exterior bits, while items like brake master cylinders help make sure an ATC is ready for the trail.
You might think the ATC70 would be impossible to find parts for, but with considerable enthusiast interest, there's still a market for this stuff, so Lone Star still has it in production. Photo: Lone Star
While the crew does try to keep product in stock, it's understandable they can't always have everything on their shelves. That means some products could have a lead time two months or more. Nevertheless, Lone Star will work with their customers on time-sensitive jobs, giving ETAs as best they can for items and even pointing shoppers to other distributors if needed.
You're on your own for that fringed leather jacket, though. Published May 11th, 2022 6:27 AM
Top Brands
Popular Articles