1 View
Garmin Tread Off-Road GPS System Review
August 10th, 2021 4:33 PM
Share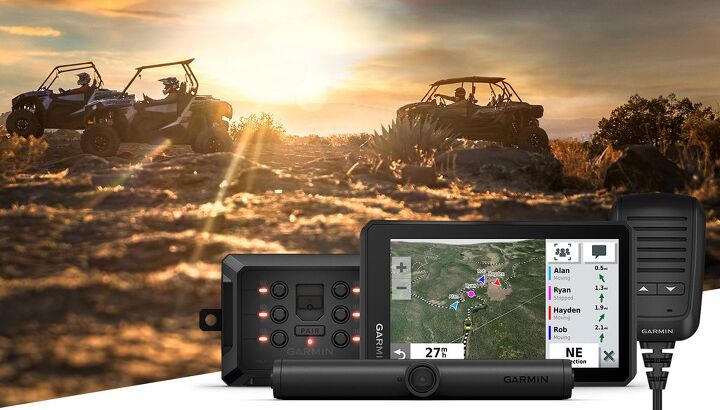 We test out Garmin's innovative GPS and communication system
My wife and I were cruising down a new-to-us trail with her parents in tow driving their Polaris Ranger. We kept going for a while and it soon became apparent that none of us were sure where we were and cell reception was non-existent. My mother-in-law asked if we were lost, and I quipped, "Can't be. I have been lost before, and this looks nothing like that place." My bad joke went over about as well as you'd expect. There were two things that were readily apparent that we needed on that ride – GPS and communication between the machines. What we really needed was the new Garmin Tread that combines accurate GPS and trail maps, along with machine-to-machine communication and tracking. I've been using the system now for a while and find it to be more useful than I ever thought it would be.
Table of Contents
There are three main parts to the Tread system that work together to make it a really amazing way to explore either solo or as part of a group. The Tread unit itself is a highly accurate GPS with maps of trails, roads, public and private land and much more. You can connect your phone to the Tread and use it to help you communicate. There is a radio that operates similar to a CB system with an external antenna and a corded handset to allow you to talk directly to anyone else in your party that has the Tread. It is a very complex electronic device that is amazingly simple to use.
The next part of the system is the Garmin Powerswitch. The Powerswitch connects directly to your vehicle's battery and you run your Tread as well as any other accessories through the Powerswitch, which connects to the Tread via Bluetooth. This lets you control your accessory lights and other electronic devices through the Tread screen. The only accessory you really can't run through the Powerswitch is your winch, which you'd run separately anyway.
The third part of the Tread system is a remote camera that runs through the Powerswitch, and is controlled and feeds directly to the Tread. You can use the camera as a backup camera, which is quite nice as turning around in a UTV and trying to look behind you to back up can be a pain, especially with a helmet on. You can also mount the camera to the front bumper for rock crawling, or run multiple cameras for all the functions.
2. What Makes the Garmin Tread Different?
Off-Road GPS systems have been around before and there are some truly great units out there. As a matter of fact, we've covered all of the best ones in this article.
Some units, like the Polaris Ride Command system that has some of the same features as the Tread, although the communication part is a little trickier with Ride Command. It begs the question, why go with the Garmin Tread?
For me, the answer lies in that the Tread has features other units simply do not, and once you get used to using them, any other type of unit seems outdated.
As you might guess, there is a little bit of tricky wiring that you'd have to do to get the Garmin Tread installed. I say tricky, but not difficult. If you've got even modest experience with making electrical connections, setting up the Garmin Tread and Powerswitch goes pretty quick. The Powerswitch is the part where you have to know what you're doing, as it connects directly to your machine's battery. It mounts close to the battery, so make sure you have clearance. Some battery boxes are tiny, so you may have to get creative.
Running the wiring itself is pretty simple. Since technically you don't really have to run anything behind the dash depending on battery location, it negates the need to rip the dash off or do anything crazy like that. Because the system has a lot of mounting flexibility designed in, it's up to you to figure out how to route wires. This is a good thing as it lets you set everything up the way you want it, as opposed to some cookie-cutter format where "Part A" has to go into "Location A," etc. I honestly put more time into considering and planning out my wire routing than it took to actually do the work.
[caption id="attachment_104739" align="aligncenter" width="671"]
The Tread handset can be mounted anywhere near the unit. I mounted mine behind the steering wheel to keep it out of the way when not in use.[/caption]
You will also want to mount the exterior antenna for the radio. There is an option to mount the antenna directly to the Tread unit, but the exterior mount can be routed up and out of the UTVs roll cage for better reception. If you're setting the Tread up on your ATV, you'll be fine using the antenna mount on the unit, as there's no roll cage to interfere with the signal. Using the external mount on your UTV requires routing another cable, which is best done by running it along the roll cage to the back of the machine. Garmin uses pipe-style clamps with the mounts and they work really well. Plus if you break something, it's easier to repair it. Garmin includes some zip ties for routing cables, but to be honest, they don't include enough. Not a big deal at all, as if you're at all like me, you've got enough zip cables around. I mean, come on, if you don't have a supply of zip ties, duct tape and some vise-grips right at hand, can you even call yourself an ATV enthusiast?
Since you're running cables, you might as well add some extra lighting to your machine. If you haven't done it already, adding lights with the Powerswitch is crazy easy. You singly run the wiring to the correct tab on the power switch and then program it into your Tread. Bippity, boppity boo - you've got extra lighting.
Once you have everything installed, powered up and set up according to the manual (again, easy stuff) there are a few things to take note of. The included CB-radio style handset is really cool, and perfect if you don't have a helmet-to-helmet communication system, like the Cardo Packtalk Bold, you can communicate with other riders, either through their Tread radio, or through whatever system they have. I have the Cardo radios, which have their own connections, but they also connect to the Tread via Bluetooth, so you can use your helmet radio as if it was the handset from the Garmin setup. Again, this is all pretty sweet stuff and it makes the ride more fun.
The GPS part of the Tread is so cool. In addition to the standard stuff you'd see in a GPS, the Tread has full topographic mapping, private and public land info, forest service roads and trails. I tried this out and found it to be very accurate, telling me who owned what land as I rode by and more. It stays up to date, too, with direct-to-device birdseye satellite imagery that doesn't need to be connected to a computer to download, unlike many other GPS systems. You can also track up to 20 other riders in your group and stay in touch.
I have to admit, when I first got the Tread and everything, I was concerned about the durability. I was way wrong. This setup is TOUGH. It is highly water resistant and meets military grade levels for toughness and durability. I know this is all true because I've been running a Tread unit for months now. I started out with it when there was still snow on the ground, then hammered through mud and deep puddles, along with down-pouring rain during the spring and summer months. Dust has not been an issue either. The mounting hardware is solid, too. I have another GPS system that I've had for some time, and if the trail gets rough, I know it is going to fall off the mount. That is not the case with the Garmin Tread.
We do a lot of family rides up here and that means multiple machines. Try as I might, we cannot seem to go on a ride and stay anywhere near each other. You'd think it'd be the teenagers that take off, and they do once and a while, but my wife has a bit of a leadfoot, and sometimes she doesn't always stop to see if I'm still behind her. Not that I can't keep up, but eating dust sucks. The Garmin Tread helps us stay connected so we always know where we are.
The built-in ability to tell me who owns what private property is also a huge plus. One big thing for the hunters out there is that you can use the Tread while scouting and know who you need to go to to beg for, I mean, ask for permission to hunt. The aforementioned leadfoot wife is really good at securing hunting permission in places I would have normally struck out. There's a pro tip for you
My one big gripe with the Garmin Tread is actually a small one. The screen of the Tread is only 5.5 inches. This makes it perfect for an ATV mount, and it does work really well. But I'm getting old, or at least my eyes are, and a bigger screen would be nice. I mean, it's not really that big of a deal, but all of the competition that even comes close, has a bigger screen size. For some, that may be a deal breaker. It definitely wasn't for me.
I do have one other small thing. The Tread basically only comes with one type of mount as the standard mount. anything else, and you have to buy it separately, or rig up your own system. A couple of mounting options would be really cool, especially coinciding the price tag. However, again, I'm not going to complain much, as the mount that came with it, is the one I would have used regardless, and I'm sure most of you will agree.
Conclusion
Overall, this system is downright impressive. It has a hyper-accurate mapping and GPS system, cool technology that makes your life easier on the trail, including the communication system and buddy tracking ability. The Powerswitch is one of the ideas I wish they'd thought of sooner. It makes electrical stuff so much easier to do, it's not even funny. The camera is a cool feature, too, especially when trying to back up with a seatbelt and a helmet on. And even if you don't wear a helmet in a UTV, (although you definitely should!) the camera helps. The Garmin Tread and Powerswitch combined are my favorite bit of technology for the UTV in a long, long time. If anything I have said in this article intrigues you, you need to get the Garmin Tread. You will not be sorry.
Published August 10th, 2021 4:28 PM
Top Brands
Popular Articles