2 Views
Utility ATV of the Year: ATV.com Awards
December 9th, 2019 10:19 AM
Share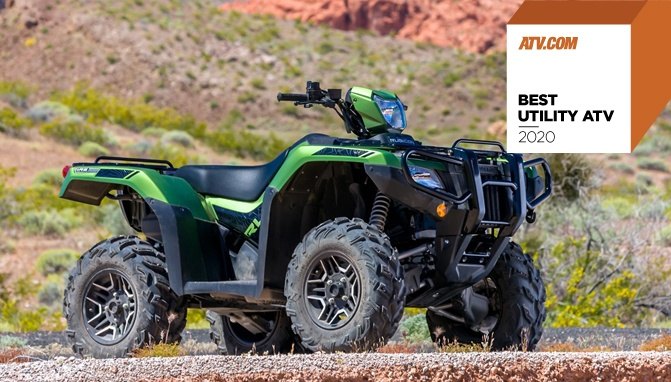 The mid-bore Honda Rubicon 4x4 DCT EPS takes top honors for 2020
Finding a Utility ATV in a sea of Side-by-Sides can be somewhat of a challenge. The waves of two- and four-up rides has taken the consumer pocketbook by storm and left many wondering if they will ever build anything brand new with one seat on four wheels. Contrary to popular belief, the ATV market is still breathing and there are some pretty good developments happening in certain companies.
For model year 2020 there are a lot of accessory trim level models and a few that are getting gimmicky add-ons to entice the off roader. It's in the mid-bore ATV category that we find where the real heart of riding is and that is where we want to be.
For year 2020 we choose the Honda Rubicon 4X4 DCT EPS in Matte Green Metallic as our Utility ATV of the year. Honda has always been known for reliability and we expect this ATV to be no different. Starting with the powerplant in this Utility mid-bore, you will find even more low to mid-range grunt primarily due to the displacement change from 475cc to 518cc. Owners will also notice the new reversing lever on the left front handlebar shifting control center. This small detail allows you to now very quickly shift from forward gears straight into reverse, skipping over neutral.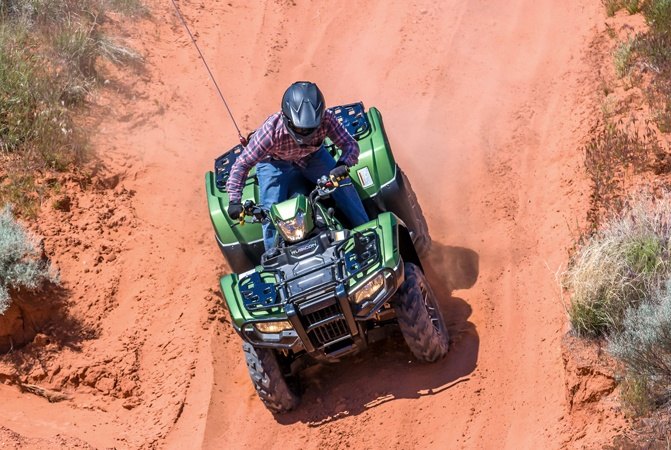 Speaking of shifting, the DCT or Dual Clutch transmission is also worth noting as this gear-on-gear automatic clutch system is proven reliable over many years of off-road use. What some may not catch in the finer details is the inclusion of computer controlled shifting that is watching how aggressive you are riding and can adjust shift points to match your style. This Sport mode program is similar to what Honda uses in its other off-road vehicles, but the Rubicon performs these adjustments on the fly for you.
Looking at the overall appearance and functionality of this Honda Rubicon 4X4, you will see that the all steel racks have punchouts for Honda's Pro-Connect accessories. This inclusion gives owners the ability to very quickly customize their rig with storage or other add-ons. Where storage is a concern, Honda has a few spots that are waterproof on the driver front fender as well as a small compartment in the center of the front rack. A larger glovebox is still located behind the rider under the rear taillight.
Connecting to the trail, the Honda Rubicon uses Maxxis 25-inch tires and the electronic power steering makes riding rough terrain very confidence inspiring. A well-built, reliable mid-bore with so many great features will always stand out in the crowd. Our final note is just about how nimble the Honda Rubicon is. The compact package allows this Utility ATV to maneuver through tight woods easily, making tight turns and exploring untraveled ridge lines, an adventure anyone would want to take. It was the culmination of small details like this that grabbed our attention.
Runner-Up – Can-Am Outlander XT 570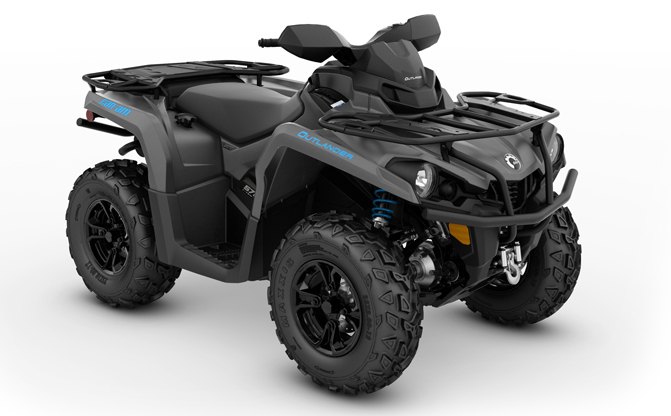 Can-Am has long built some of the most powerful utility ATVs on the market and in most any size of the Rotax engine family you will find plenty of smiles when you throttle up. Sometimes this search for power makes us overlook other important features, however, and middle ground displaced machines like the Can-Am Outlander XT 570.
This tri-mode dynamic power steering-equipped Utility ATV is comfortable and has a solid engine platform to make trail rides exciting as well as make a day's worth of chores easier on the owner. The steel racks have the patented LinQ technology so adding accessories for work or play are simple to install. Items like the protection of DESS security keys, heavy duty front and rear bumpers as well as the Visco-Lok QE auto locking front differential make this a well-rounded machine. It is well worth the consideration as the Outlander family has been a reliable fortress for many owners.
Honorable Mention – Polaris Sportsman 570 Premium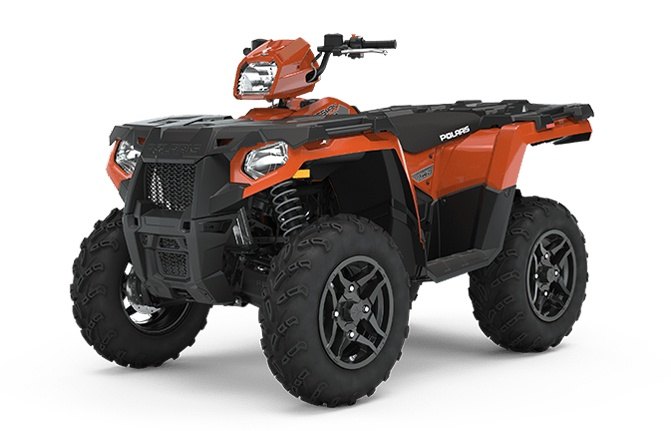 The Polaris Sportsman name has been a chapter in the world of Utility ATV for many years and the number of choices under this brand's biggest seller is mind blowing. The unsung hero, however, may just be the 570-displacement category. These mid-bore ATV offerings are not only exciting to ride, but the true on-demand all-wheel drive allows Polaris owners to get into the deeper trails with confidence. Utilizing a 4-stroke DOHC Prostar engine with engine braking allows riders to take on any challenge they have the will to try. The rugged Lock and Ride racks give up cargo room and the 1.25-inch hitch out back allows owners to tow up to 1500 pounds. It's truly a working machine with plenty of fun for the trail.
Published December 5th, 2019 1:39 PM
Top Brands
Popular Articles