1 View
Off-Road Vehicle of the Year: ATV.com Awards
March 15th, 2021 1:00 PM
Share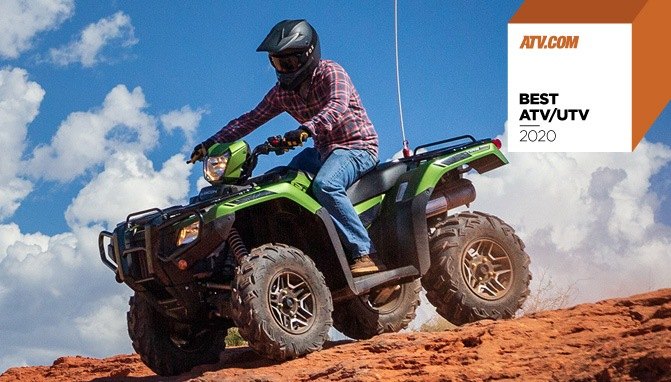 We go old school to choose our favorite machine of the year
The past few weeks we've looked at our favorite ATVs and UTVs in a number of categories. Now it's time to decide our favorite off-road vehicle of the year. ATV.com contributor Rick Sosebee has handled this year's awards and below he chooses our favorite vehicle of the year and explains why.
Much of what I do today is because of my love for the off-road industry. The vehicles I get to test and sometimes see months in advance of the general public simply amaze me when I think about where I started in this industry. Some of the advancement are so incredible that I would have never thought a split second about them being available in the machines we ride today. When considering all of that, I still go back to the one thing that has given me many of the opportunities that I have today. The ATV.
In model year 2020 some of the major brands continue to advance as well as build some great utility ATVs but let's face it, we live in an SXS dominant realm. We do love it and get excited each time the next UTV comes out, but I for one have never forgotten where I came from. I cherish all of the memories I have made on a single cylinder, single seat, carbureted and yes fuel injected ATV. It is for that reason, as well as many others, that I chose the 2020 Honda Rubicon 4X4 DCT EPS in Matte Green Metallic as my personal off-road vehicle of the year.
When you consider the ease of riding an automatic DCT transmission coupled behind the now 518cc single cylinder mill, you have a great all-around package for trail busting. Whether you shift through the gears via the handlebar-mounted switches or simply swipe into Auto mode and allow the Dual Clutch Transmission to do it for you, you will notice the quality of the product immediately. Honda also improved its reversing lever for this model year. It may not seem like a lot when you look at this feature in words, but get out on the tight twisty trails to experience it and you will find the difference very quickly. Speaking of twisty trails, Honda's electronic power steering is also a great compliment to the off-roading adventure, and it works flawlessly. Steering used to be tough in 4WD (and forget locking a diff and trying to negotiate tight woods), so we have to appreciate these small advancements.
Utility ATV of the Year: ATV.com Awards
Trying to do work with your ATV is getting even easier as the years roll by with towing capacity increases, rack space and conveniences like 4WD. Honda has built its rack system, Honda Pro-Connect, to make your life even easier. The Honda Pro-Connect accessories simple snap in place in a matter of moments and give you anything from storage to tool racks. Great stuff for sure. One more thing I can say about the Honda Rubicon is the way Honda has blended the newest trends of colors and graphics into its machines. I love the matte finish, as it takes away the guilt of seeing brand new plastic all scratched up from a first ride and hides it very well. The Green Metallic is beautiful and the entire machine looks very classy. It makes you feel like you have spent your money well just from looking its direction in the garage.
Lastly, I guess for me it all comes down to getting back to our roots. We started here on ATVs and a recent trip with great friends in the industry reminded me that I still love them as well as the adventure they provide.
Honorable Mention – Off-Road Vehicle of the Year
2020 Kawasaki Teryx KRX1000R
Utility ATV of the Year: ATV.com Awards
Choosing something to follow as an honorable mention for my off-road vehicle of the year is sometimes like cheating. I wish I could choose two to share the top, but there was only one shelf. Kawasaki brought us the 2020 Teryx KRX1000R this past year and I have to say that I was completely impressed. Kawasaki came to market with a very well-prepared rig that tackles high speed terrain, deep g-outs and rock crawls like a boss right out of the box. The chassis is built to withstand incredible forces, the engine is solid and produces ample power for the general public. And like I said before, the aggressive stance and bright green plastics just seem capture your attention immediately.
When you stretch out that go pedal and let the suspension bang away at the terrain below, your grin will get bigger and bigger. The Kawasaki Teryx KRX1000R has over 18 inches of suspension travel up front and 21 inches out back, so the harsh hits get softened up pretty fast. Using Maxxis Carinvore tires for shoes, the KRX also has good grip for slick faced rocks and seem to be tough as nails. Overall the 2020 Kawasaki KRX1000R is an extremely well-built machine that commands respect sitting still and I for one would be proud to have that rig in my garage.
Published January 6th, 2020 5:09 PM
Top Brands
Popular Articles