1 View
ATV.com Best Budget ATV of 2019
December 21st, 2018 2:16 PM
Share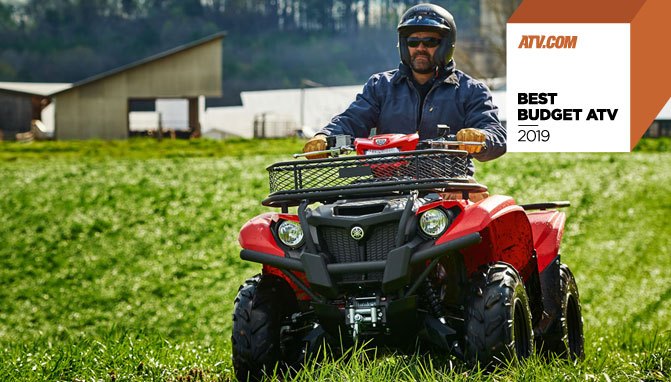 Excellent power, handling and reliability push the Yamaha Kodiak 700 to the top of the heap as the Best Budget ATV of 2019.
While the push for the latest and greatest technology and machinery is pushing the pricing of new ATVs and UTVs ever higher, there is an equal push to keep machines affordable for those of us with champagne tastes and beer budgets. The manufacturers know that not everyone can afford to buy the top-shelf, flagship machine in the lineup. While every year, there is always the push of those machines, the OEMs roll out new and improved units that are closer to what the rest of us can afford. What is the Best Budget ATV for 2019? This year, that honor goes to Yamaha's Kodiak 700. With a base price of $6,999, this ATV packs a lot of features into a great machine at a great price.
Why This Year?
As many of you know, the Kodiak 700 isn't a brand-new machine this year. It has been with us for a little while, but there are some significant changes to the 2019 model that pushed it to the earn our award for Best Budget ATV of 2019, and the biggest one isn't something we don't already know about – reliability.
10-Year Belt Warranty
New for 2019 is Yamaha's 10-year warranty on its belt for the Ultramatic CVT transmission. Having the company put a stamp of a 10-year warranty on a drive belt is amazing and shows you just how bulletproof the Yamaha really is. What good is a budget ATV if you have to spend a pile of money every year to keep it running? You almost never hear of a Yamaha breaking down, or needing a belt. My local dealer told me that the only bad thing about selling Yamaha is that he never makes much money from servicing them.
Shared Platform
One other thing that helps keep the cost of the Kodiak 700 down is that it shares a platform with Yamaha's flagship model, the Grizzly. The chassis and engine are the same between these two machines, with different tuning for each model, of course. For 2019, Yamaha quietly went back to the 686cc single-cylinder, four stroke engine that they use in the Viking UTV. With the Wolverine bumping up to the 850 twin platform, it made sense to drop last year's 704cc engine. Thanks to Yamaha's engineers, the only place you'd notice the difference is on the price tag. It helps keep those costs down and makes the Kodiak easier on the budget.
It is that engine that helps the Yamaha win the title this year, too. You get a lot of motor for the money with the Kodiak 700. There are some ATVs that are cheaper, but you take a drop off in engine size. In the Kodiak 700, you get a beefy, torque-spewing motor that can handle any task, and a chassis that can work and play pretty hard. It has independent rear suspension, four-wheel drive and a ton of capability. In our mind, it's pretty hard to beat the Yamaha Kodiak 700 for the ATV.com Best Budget ATV of 2019 award.
Honorable Mention – Polaris Sportsman 450 H.O. Utility Edition
Polaris is a bit sneaky with the Sportsman 450. It's not really a 450, as it comes with a 33-horsepower 500cc ProStar engine. They call it a 450 so as not to take away sales from the popular 570 machine. The Utility Edition of the Sportsman costs $6,299, just $300 more than the base model, and for that money, you get front and rear towing receiver hitches, a heavy-duty Farm & Ranch steel front bumper, and steel racks instead of the usual composite. The rear rack has built-in trays for holding smaller things. The front rack flips up, exposing a sealed storage area. The extra features really make this model a bargain and a very handy unit for farmers, hunters and trail riders looking for a little added functionality. It is one of our favorite models from Polaris and worthy of mention in our Best Budget ATV of 2019 article.
Honorable UTV Mention – Can-Am Maverick Trail
Can-Am's Maverick Trail is one heck of a sport machine. At 50-inches wide, it is legal in most every trail out there, and with its excellent power from the Rotax engine, and long wheelbase, the Maverick Trail can hold its own with every other sport machine out there. With a base price of $10,299, it is one of the least expensive Sport UTVs on the market. For that price, you get a non-DPS, 51-horsepower – 799.9cc Rotax V-Twin equipped machine with a locking front differential and a confident package ready to conquer the trail ahead of you.
Published December 19th, 2018 3:34 PM
Top Brands
Popular Articles