1 View
2019 ATV.com Hunting ATV of the Year
November 20th, 2018 1:16 PM
Share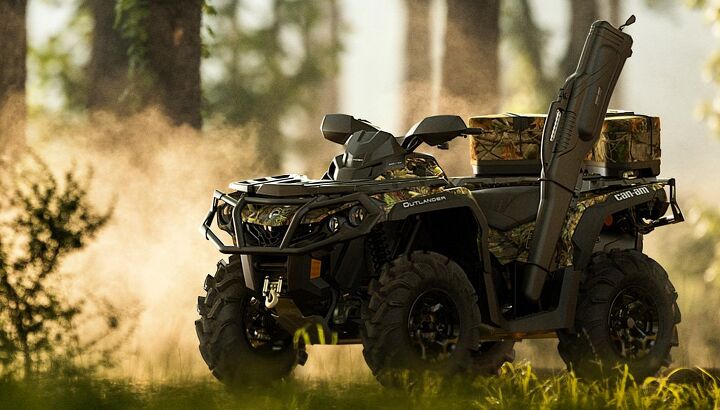 Hunters have long relied on off-road vehicles. With that in mind, here is the 2019 ATV.com Hunting ATV of the Year.
ATVs have so many uses and hunters especially have found an ATV to be a necessity for some. What makes a great hunting ATV? It's a combination of power, reliability, versatility and accessories. A hunter wants something that can make the hunt better. The current crop of hunters don't see the sport as a few-week-a-year thing, but as a year-round obsession. They are scouting for game at all times. They're working on food plots and other nutritional and habitat projects to make the animals they pursue better, healthier and more abundant. These hunters demand gear that performs at the same level they do. With that in mind, we have put a lot of thought into selecting what we feel is the best hunting ATV of the year – the 2019 Can-Am Outlander Mossy Oak Hunting Edition 1000R.
Selecting one machine as the hunting ATV of the year was not easy. There are a lot of truly great and versatile machine on the market today and there isn't one we really dislike, to be honest. What pushed the Can-Am to the top is a combination of advancements made to the entire Outlander series for 2019. This includes a horsepower increase for the 1000R engine, new arched front A-arms for increased ground clearance, and of course, the styling. When you add in the extras that Can-Am puts on the Mossy Oak Hunting Edition machine (more on this below), it makes the case for a clear winner.
Power to Move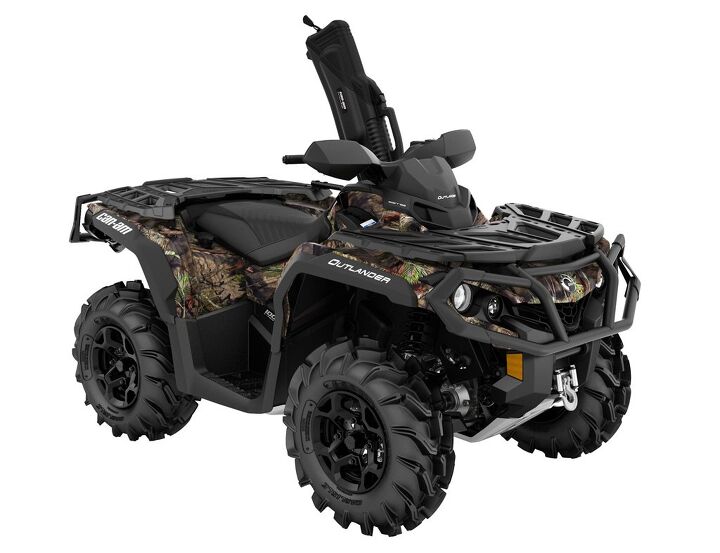 Our hunting ATV of the year starts with an immensely powerful 91-horsepower, 976cc Rotax V-Twin engine. If you're a beginning ATV rider, or even just moderately experienced, this is not the machine for you. Can-Am offers hunting edition machines with smaller motors. But if you can handle it, this machine has the pure, raw power to handle anything you would ever want to accomplish with an ATV. The motor runs through electronic fuel injection with Can-Am's iTC Intelligent Throttle Control assembly that uses selectable throttle mapping to help you tailor the power delivery to your needs and conditions.
The power reaches the ground through a CVT transmission. The 2019 Can-Am Outlander Mossy Oak Hunting Edition 1000R has selectable two- and four-wheel drive with Can-Am's Visco-Lok QE auto-locking front differential for optimal traction. Can-Am boosted the towing capacity for the 1000R to 1,650 pounds. That means you can haul everything you'd need for hunting camp behind the Outlander by way of the 2-inch receiver hitch. That is a nice touch too for those of us that run implements for food plots with our ATVs.
The Extras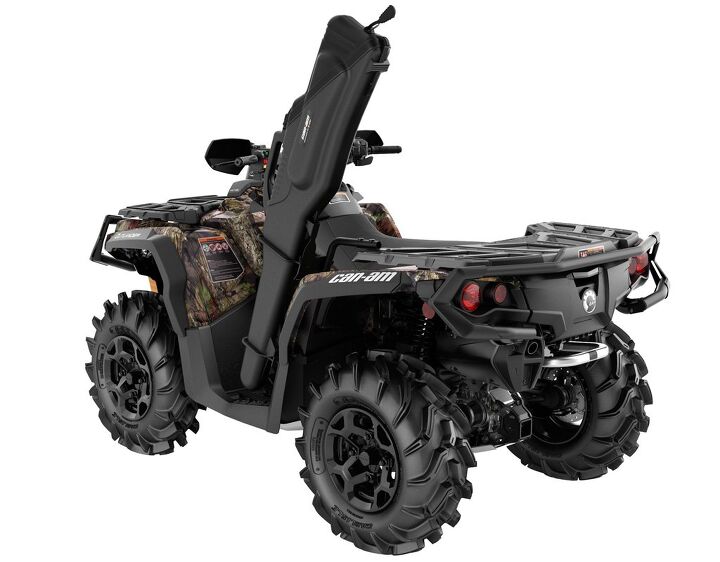 On just the base machine alone, the Can-Am impresses as a hunting rig, but when you add in the hunting package created for this machine, it is amazing. From a protection standpoint, it has full skid plates including CV-guards on the A-arms and trailing arms. There are also front and rear extended steel bumpers to help fight off brush and trees. Hand guards extend over the controls to keep wind off your mitts. And a heated thumb throttle and grips keep your hands toasty on cold rides back to the truck. A Kolpin 6.0 Impact Gun Boot protects your firearm while riding, too.
Heavy-duty Carlisle ACT HD tires wrap around aluminum wheels make traction a priority and resist the urge to go flat as much as a tire can. Another necessity on a hunting rig is a winch, and Can-Am uses a 3,000-pound Warn winch with a roller fairlead to help pull you out of a tight spot, or help retrieve game. And then to top it off, they cover it all with Mossy Oak Break Up Country camo. You can get pick up ATV.com's Hunting ATV of the Year award winner at your local Can-Am dealer with a starting MSRP of $13,649.
Honorable Mentions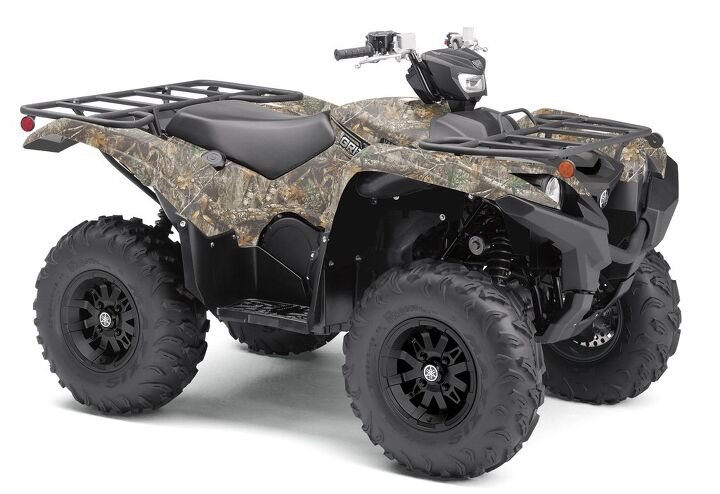 Yamaha Grizzly EPS
Like we said, this was a close call and there really aren't any losers. One of our all-time favorite machines for not only hunting, but overall ATVs in general has to make the list. The 2019 Yamaha Grizzly EPS is a great machine for hunting. It is one of the most balanced machines for riding ever made and the 686cc single-cylinder motor makes enough torque for any application. While the Yamaha doesn't have the hunting accessory package installed like the Can-Am, you can add much of that from the accessory line. What Yamaha also has going for it is legendary reliability, dependability and ride-ability. No other machine has a 10-year warranty on its CVT belt. None.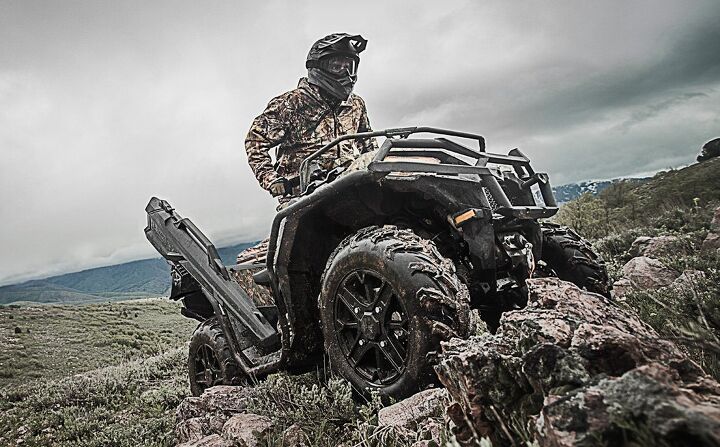 Polaris Sportsman XP 1000 Hunting Edition
Another hunting ATV of the year honorable mention goes to the 2019 Polaris Sportsman XP 1000 Hunting Edition. The Sportsman is powered by a 90-horsepower, 952cc ProStar twin and has many similar accessories compared to the Can-Am. The Sportsman is very easy to ride as well and the power delivery of the motor is one of the smoothest on the market. It feels almost electric. One thing that hurt the Polaris is the continued use of a 1.25-inch receiver compared to the 2-inch used by pretty much everyone else.
The UTVs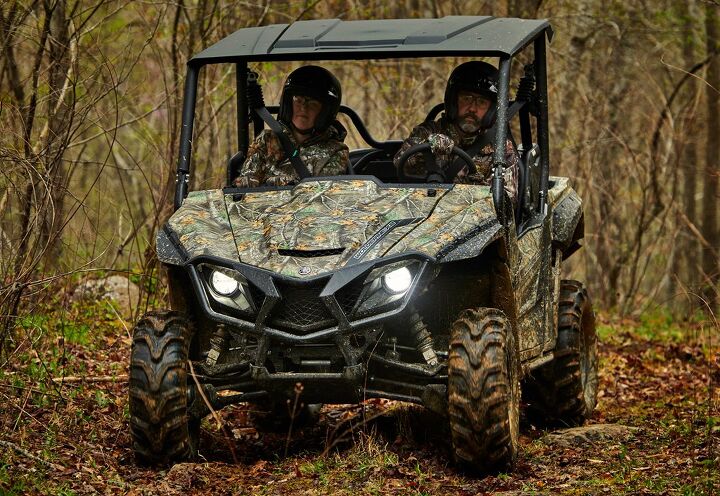 Yamaha Wolverine X2
Don't think we forgot the UTVs. There are a few that easily make the list for this season. Yamaha's new Wolverine X2 makes it here by being versatile and quiet. It runs on an 847cc parallel twin engine that has enough oomph to go anywhere. The X2 has a dumping cargo box and is as sure-footed as an adventure UTV can get. Plus, it may very well be the quietest machine on the market.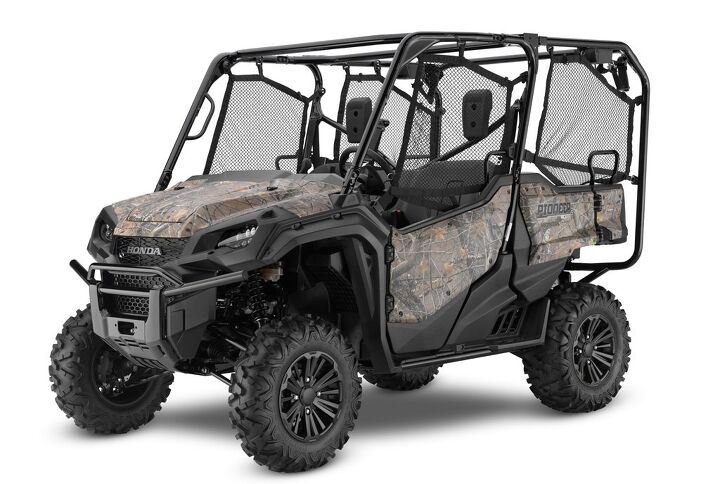 Honda Pioneer 1000-5 Deluxe
Honda makes it in with the Pioneer 1000-5 Deluxe. The thing about the Pioneer that sticks out is the versatility from the DCT transmission that uses a dual clutch instead of a CVT belt. This lets you select the gear you want to be in. If you're hauling a load of hunting gear and 700 pounds of elk meat down a steep mountain path, you'll appreciate the excellent engine braking of the Pioneer – maybe the best on the market.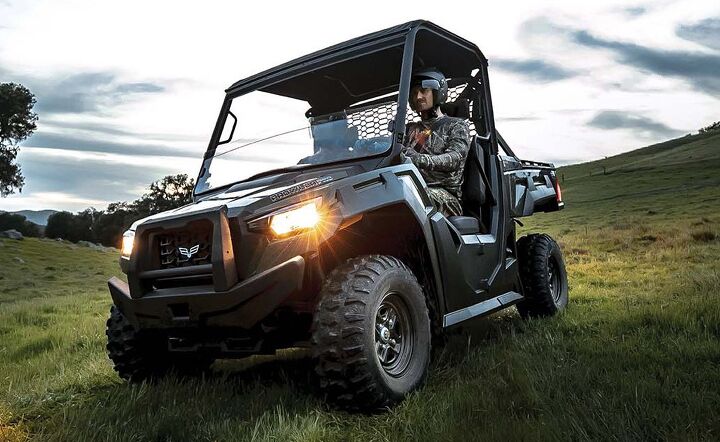 Textron Prowler Pro
Textron makes a splash for hunters with the new Prowler Pro, a 50-horsepower utility machine designed for hard working and hard hunting. This three-cylinder 812cc engine machine is whisper quiet and very stable and sturdy. It can haul a lot and still carry you and two hunting buddies.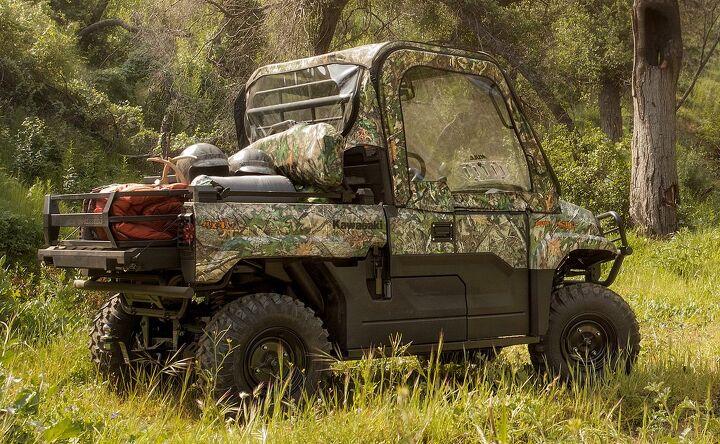 Kawasaki Mule Pro
Kawasaki recently debuted the new mid-size Mule Pro-MX and hunters will be lining up to get at this one. A compact machine that is very maneuverable, the MX is powered by a single-cylinder 695cc engine that produces ridiculous torque. This may be the best combination of handling and power in a Mule platform yet for hunters and outdoor enthusiasts. It also comes with an industry-leading three-year limited warranty.
Published September 19th, 2018 4:39 PM
Top Brands
Popular Articles