3 Views
2019 ATV.com ATV of the Year
January 23rd, 2019 11:09 AM
Share
We're committed to finding, researching, and recommending the best products. We earn commissions from purchases you make using links in our articles. Learn more here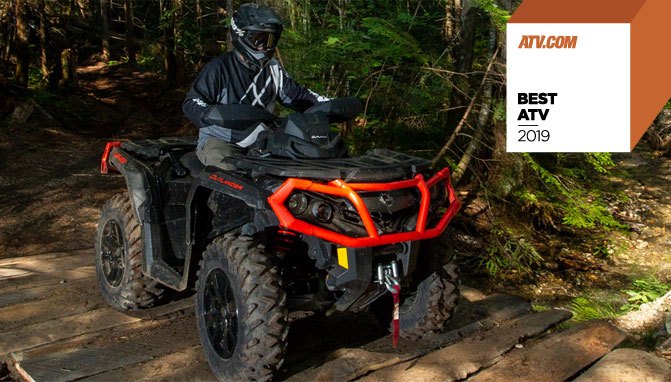 While the off-road world has largely turned its attention to UTVs, today's ATVs are fantastic and our ATV of the Year for 2019 is the Can-Am Outlander XT 1000R.
2019 Can-Am Outlander 1000R XT Review
The 2019 models of ATVs being offered by the various manufacturers are some of the best machines ever offered. It's a good time to be an ATV enthusiast. When we sit around and bench race about which machines are the best, there are a lot of factors to take into account to declare one the ATV of the year. Handling, suspension, horsepower and rideability are all considered along with just good old seat-of-the-pants riding time. When we take everything into account, the 2019 ATV.com ATV of the Year is the 2019 Can-Am Outlander XT 1000R.
Can-Am made some serious revisions to the 2019 Outlander that helped push it to the top. Some of those changes carry across the big-bore Outlander line. Major revisions to the suspension increase the width to 48 inches. XT highlights also include heavy-duty front and rear bumpers, premium wheels and tires and a 3,000-pound Warn winch.
Pow-wa!
We will be the first to tell you that you don't always need the most horsepower to enjoy a machine. In fact, most riders will hardly ever use the full amount of horsepower their machines can produce. But we like power and the 2019 ATV.com ATV of the Year makes a lot of it. The 976cc Rotax V-twin pumps out an incredible 91 ponies. We've said it before, and it bears repeating – this is not a machine for a beginner. For 2019, Can-Am has given you more control over that power, too, with the incorporated iTC Intelligent Throttle Control digital fuel mapping system that makes the most of the Rotax power plant.
The iTC system gives you three modes with unique digital mapping for power delivery. It's a simple toggle switch on the bars, but it makes a huge difference. Work mode gives you access to the grunt of the motor without the speed. When it comes time to get things done around the farm, worksite or property, you can get to the meat of the motor without worrying about the speed getting out of hand. Standard mode is anything but. Seriously, you're riding a 91-horsepower ATV – there's going to be a healthy bit of fun there. But across the powerband, you have a steady ride. It's when you pop it into Sport mode that things get, well, sporty. You have full access to the motor's capabilities right off the get-go. It makes you truly appreciate the other changes Can-Am made.
Suspension
Further helping cement the Outlander XT 1000R as our ATV of the Year, Can-Am incorporated new arched A-arms up front and a revised TTI independent torsional trailing arm system in the rear. A new sway bar up front helps control the machine better, too. The overall effect is a much more stable machine that handles rough terrain better than ever. And last year's model was REALLY good. ITP Terracross tires mounted on 14-inch cast aluminum wheels help get you over the nasty stuff and help with the 11 inches of ground clearance.
The frame is stiffer, giving the 1000R an impressive 1,650-pound towing capacity. Having put that to the test, we can tell you that when towing a big load, you will hardly know you have anything behind the machine.
Styling on the 2019 model is more aggressive, too. The grill is similar to the popular Maverick X3 UTV. Three color options include a sweet-looking black with red highlights, a rich red color, and Mossy Oak Break-Up Country camo. It is one of the most-fun ATVs to ride and hammer on. The last time we all got together and had a chance to ride several different ATVs, we were all fighting over who got to ride the 1000R. Nobody wanted to give anyone else a turn. That says a lot to us, and is indicative of why the Can-Am Outlander XT 1000R is our ATV of the year for 2019.
Honorable Mention – Yamaha Grizzly EPS SE
Yamaha always releases a special-edition version of the flagship Grizzly ATV each year. For 2019, they took a route that has proven to be a lot of fun to ride. The Griz has a big torquey 686cc single-cylinder motor. Yes, they went back to the 686 this year, after bumping the Wolverine up to the new 850 twin. If you were to ride last year's 704cc motor and this year's 686, you'd have a hard time telling the difference. We couldn't. The 2019 SE has 27x10x14 inch Maxxis Zilla mud tires on all four corners, mounted on special aluminum wheels. It is offered in two color options – Backcountry Blue and Tactical Black. If you go with the Tactical version, you also get a Warn winch. The Grizzly has always been one of our favorite machines to ride and the SE version is a lot of fun to sling some mud with. This is the most mud-worthy machine from Yamaha in a long time and definitely worthy of mention.
Honorable Mention – Suzuki King Quad 750 AXi
Suzuki gets an honorable mention not as much for what it is, but for what it represents. Don't get us wrong, we like the new King, but the fact that Suzuki is back to improving ATVs again is a big deal. The new, stiffer chassis boosts towing capacity up to 1,332 pounds. The best part of the new chassis is that it retains the feel of the original. By that, it is well-suited ergonomically and allows for excellent transition from seated to standing. It has fully independent dual-wishbone suspension at all four corners and a heavy-duty stabilizer bar. The front end has better steering geometry, especially when in four-wheel drive. The motor remains a 722cc DOHC four-stroke single that we always really liked. Suzuki tuned it for better acceleration, more horsepower and better engine braking. It's a good sign that Suzuki made improvements to the King Quad. We need them in our industry. Derrek Sigler
Derrek's love for all things ATV started when he was a mere 11 years old, growing up on his family farm. His mom gave him and his sister a choice - get a horse, or a three-wheeler. The sister wanted the horse, and Derrek wanted the ATV. Luckily he won out, and was soon burning up the trails on a Yamaha Tri-Moto 200. By the time he was 14, he had saved enough of his own money by working on the farm and in his folks restaurant to buy a new 4-wheeler. That happened the day he and his mom were driving past the dealership and saw 1987 Banshee. His mom had no idea what he was buying, and he never looked back. He's been riding ever since, and been writing professionally for many years. He has ridden all over North America and been behind the controls of just about every machine out there. And yes, he still has his 1987 Yamaha Banshee.
More by Derrek Sigler
Published January 8th, 2019 2:38 PM
Top Brands
Popular Articles