1 View
2021 Honda Talon 1000R FOX Live Valve and 1000X FOX Live Valve Released
February 1st, 2020 1:00 PM
Share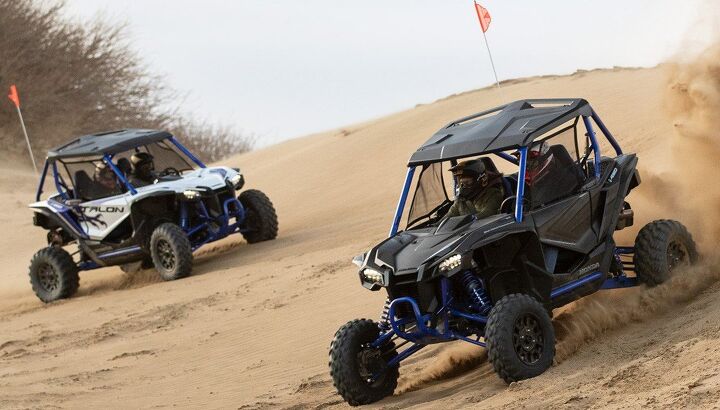 Two-seat Talons get the electronic suspension treatment
As we first reported in January, the 2021 Honda Talon 1000R FOX Live Valve and Talon 1000R FOX Live Valve editions are on the way. Honda Talon fans are already familiar with the FOX Live Valve system, as it made its first appearance on the four-seat Honda Talon 1000X-4 last year.
In case you are unfamiliar, here is how Honda describes what the FOX Live Valve system does:
"Important additions to the rapidly growing Talon family, the FOX Live Valve two-seat models transform the drive experience through intelligent electronic suspension that uses Honda's proprietary software to automatically adjust to terrain and driving situations, providing optimal handling performance and comfort in varying conditions."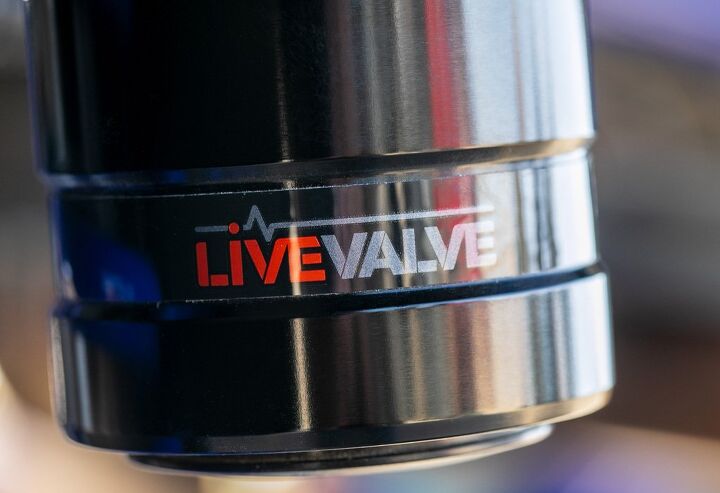 In a nutshell, the system determines the best compression damping setting for each shock based on vehicle conditions and behavior. This determination is done 16 times every second, so you get the shock performance you need, when you need it. That means softer, more comfortable shocks in low-speed settings, stiffer settings during high-speed situations for added stability, and ultra stiff settings when you go airborne or hammer a rock so you don't bottom out.
The driver can also choose between Sport and Normal settings for your planned style of driving.
And with the FOX Live Valve, the two-seat Talons also receive Launch Mode. This allows the driver to take off with full throttle acceleration from a dead stop.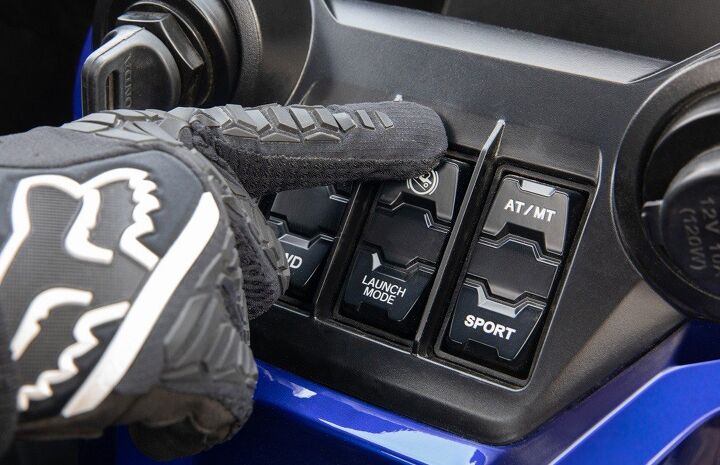 The only other changes are new colors, including color-matched Roll Over Protective Structures (ROPS) and frame.
"Since last year's launch of the Talon 1000X-4 FOX Live Valve four-seat side-by-side, customers have asked about an electronic suspension system for the two-seat Talon models," said Chris Cox, Manager of Experiential Marketing & PR at American Honda. "With the introduction of the Talon 1000R FOX Live Valve and Talon 1000X FOX Live Valve, Honda delivers while growing its sport side-by-side family and ensuring that there's something for every type of off-road enthusiast. The Talon lineup has quickly taken the powersports industry by storm, and with the versatility of these two new models, we can't wait to see where the next trails lead."
2021 Honda Talon 1000X FOX Live Valve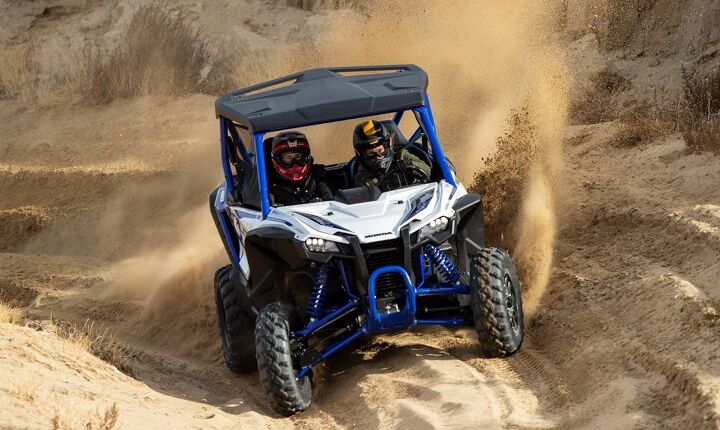 The more compact of the two models, the 2021 Honda Talon 1000X FOX Live Valve is designed to be more agile – ideal for tighter trails. This machine is 64 inches wide and is outfitted with a 3 Link rear suspension system. FOX Podium 2.5 shocks control the travel at all four corners, with 14.4 inches of cushion up front ant 15 inches out back. The 2021 Honda Talon 1000X FOX Live Valve comes in Pearl White/Metallic Blue and will hit dealerships this spring. We are still waiting to hear about pricing.
2021 Honda Talon 1000R FOX Live Valve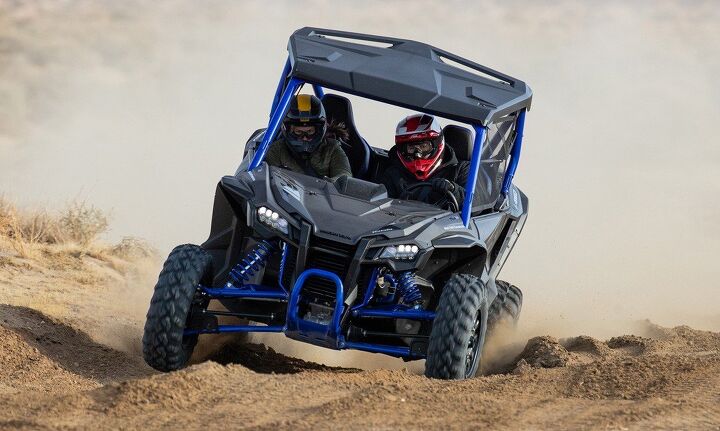 The 2021 Honda Talon 1000R FOX Live Valve shares much in common with its brother, though it has a wider footprint with a 68.4-inch width and a 4+ Link rear suspension set up. While it can handle twisty trails just fine, this Talon is at home kicking up sand in the desert and anywhere you want stability in high-speed situations. The same FOX Podium 2.5 shocks dole out the cushion – there's just more of it. Up front the shocks control 17.7 inches of travel, while the rear bumpers can handle 20.1 inches of travel. The 2021 Honda Talon 1000R FOX Live Valve is available in Metallic Grey and will be available this spring. Prices has not yet been released.
Returning Talon Features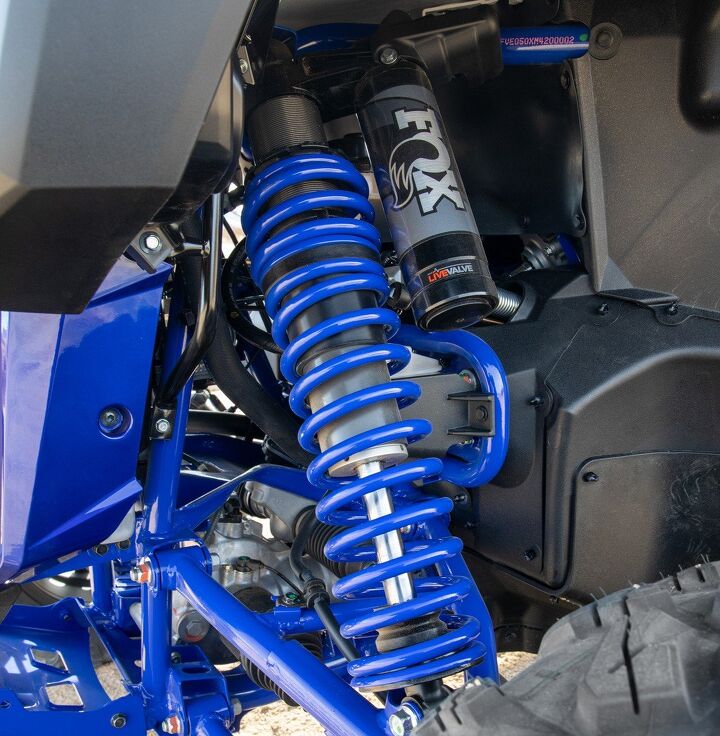 Both the 2021 Honda Talon 1000R FOX Live Valve and the 1000X FOX Live Valve share Honda's delightful 999cc parallel-twin engine that delivers 104 horsepower. You also get Honda's excellent six-speed dual clutch transmission with an available Manual mode that lets you have full control over the gear shifting. You can also choose between Drive mode (lower rpm) or Sport mode (self explanatory).
Other features include wide and comfortable Sport seats, tilt adjustable steering wheel, roof, full side nets, LED high/low beam headlights, 12V accessory adapter, double-wishbone front suspension, one-piece frame, 44% front end bias, and 28×9-15 front/28×11-15 rear Maxxis tires.
Finally, all Talon models come with Honda's innovative i4WD system that manages the amount of slip between left and right front wheels and applies torque to the one with more grip. And with i4WD, you also get Hill Start Assist, which allows you to temporarily hold the Talon in place on an uphill without the need to apply the brake pedal so you can focus on modulating the throttle.
Published February 1st, 2020 1:00 PM
Top Brands
Popular Articles