84 Views
Honda Talon 1000X-4 Fox Live Valve Vs. Can-Am Maverick X3 Max Turbo: By the Numbers
August 23rd, 2019 4:15 PM
Share
We're committed to finding, researching, and recommending the best products. We earn commissions from purchases you make using links in our articles. Learn more here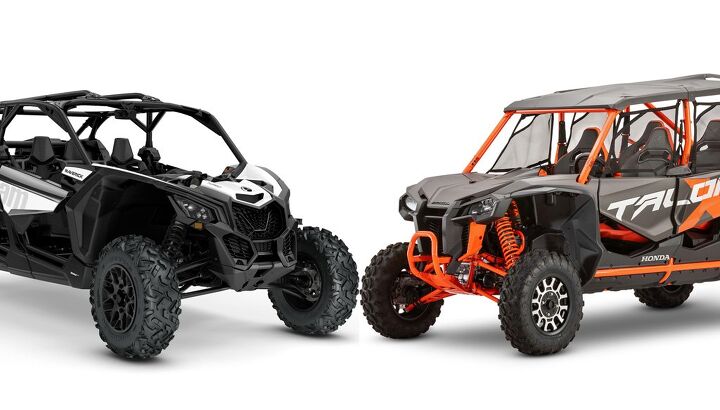 How does Honda's four-seat Talon measure up to the Maverick X3 Max Turbo?
In the high performance battle for the dollars of folks who want to blast a few dunes while taking along the entire crew, there are more than a few challengers. The Polaris RZR is arguably the face of this segment, while players like Yamaha have had a good bit of luck in designing rigs of their own to upset the apple cart and challenge the status quo. Today, we're focusing on two machines that are more similar than one might think, especially at first glance. Can-Am has whipped the cover off its 2020 Maverick X3 Max Turbo, while the new Honda Talon 1000X-4 Fox Live Valve edition has definitely piqued our interest.
Get Yer Motor Runnin'
The Maverick is powered by a familiar 900cc Rotax, making 120 turbocharged horsepower. This liquid-cooled triple is lashed to a Can-Am CVT, the same type of transmission that has propelled countless Mavericks over the years. More robust versions of this same power team are available, just look for the alphabet soup of consonants after the Maverick name.
Big Red chooses to naturally aspirate its Honda Talon 1000X-4 Fox Live Valve, at least for now. Cranking out around 105 horses, it is down a bit compared to the powerful Canadian. It boasts one less cylinder than the Can-Am, despite being about 100cc larger in displacement. When Honda finally gets around to offering a factory turbo – and it surely will with the likes of Jackson Racing making bank with its aftermarket kit – we'll have to do this comparison again with a more powerful Can-Am. Don't forget: Honda chooses to go against the grain by installing a six-speed dual clutch automatic instead of a CVT.
Max Flex
The Honda Talon 1000X-4 Fox Live Valve features a double-wishbone front suspension with 14.4 inches of travel. Out back, the rear suspension comprises Honda's 3 Link system, which incorporates a trailing arm for maximum ground clearance while providing 15.0 inches of wheel travel.
Can-Am, quite literally, flexes its engineering know-how on the Maverick X3 Turbo, wholly beating up on the Talon in the department of suspension travel. Up front, a double A-arm setup with sway bar provides a solid 20 inches of travel, while a 4-link torsional trailing-arm – also with a sway bar – allows for the same amount of spread. That extra front and rear suspension travel could mean the difference in clearing the next obstacle and asking for a winch from one of your buddies.
Body Rockin'
Both models of the Maverick and Talon selected for this comparison are 64-inch machines, meaning they can be stuffed into trails with slightly more vigor than their wide body competition. Similarities end here, however, with Can-Am and Honda going in completely separate directions with the rest of their dimensions.
A four-seat Honda Talon 1000X-4 Fox Live Valve sits 78.1 inches high, making it taller than a good many road-going rigs. In fact, it's tough to convey just how tall the Talon is until you see one in person. Total length stretches 152.6 inches on a 116.4-inch wheelbase. There's 12.6 inches of ground clearance, by the way.
Can-Am manages to crank Maverick's aggro-factor to eleven with a low-and-long stance. Standing 65.8 inches tall, it wears a 164-inch body draped over a wheelbase of 135 inches. Ground clearance pips Honda by a hair at 13 inches even.
Shocking Behavior
There are differences in shock technology between the Honda Talon 1000X-4 Fox Live Valve and the non-Fox Live Valve version, so shop carefully. The Talon 1000X-4 Fox Live Valve features advanced electronic suspension which monitors variables like compression speed and throttle position sixteen times per second. This system electronically adjusts the individual shocks accordingly and appropriately for the selected drive mode, which is driver selectable as Normal or Sport.
Can-Am has chosen to install a pair FOX 2.5 Podium Piggyback shocks with QS3 compression adjustment on each end of the Maverick X3 Max. Bottom out control is featured on the rear units only. Spin the dials and flip the switches to make precise and tweakable performance changes.
Brake It Up; We're Feeling Tired
The Honda Talon 1000X-4 Fox Live Valve's 28-inch tires, mounted on 15-inch aluminum wheels, were developed through a joint effort between the Big H and Maxxis. Its braking system utilizes 34mm calipers (twin pistons in front, single piston in the rear), with its rotors measuring 250mm at all corners.
In the Maverick, drivers will be rolling on 14-in cast-aluminum wheels and 28-in Maxxis Bighorn 2.0 8-ply tires. Sounds similar to the Honda, eh? A non-directional tread pattern helps smooth out the ride. Fronts are nine inches wide, while 11 inchers fill the rear wheelwells. As for brakes, Can-Am has the Honda beat up front with 262mm ventilated discs while being a near-as-makes-no-difference 248mm out back. Twin-piston calipers are found on all four corners.
Battle Royale
Both machines offer something unique, with Honda serving up a fun-to-drive transmission with flappy paddles and Can-Am deploying styling choices suggesting the Maverick could be Batman's side-by-side. The Honda is less powerful, until a factory turbo is offered, but is packed with gee-whiz shock technology. The Can-Am looks more aggressive and has better flex but is potentially less nimble thanks to a longer wheelbase.
As for price, the Can-Am Maverick X3 Max Turbo is listed at $21,999. Pricing has not been released yet for the Honda Talon 1000X-4 Fox Live Valve, but we will update this article as soon as we find out.
Check both of 'them out for yourself at your dealer later this summer. Published July 16th, 2019 10:45 AM
Top Brands
Popular Articles