1 View
2017 Yamaha YXZ1000R SS Revealed
July 6th, 2016 4:58 PM
Share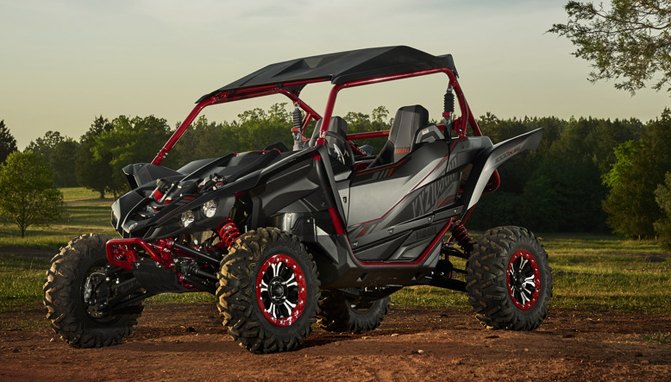 New Sport Shift technology features paddle shifters
Yamaha
has been riding high on the success of the YXZ1000R pure sport UTV, but that doesn't mean the engineering team has stopped working. Yamaha has just taken the covers off the next step in the YXZ evolution with the new
YXZ1000R SS
.
While the only difference in the name is the addition SS, those two letters mean an awful lot. They stand for Sport Shift and that bit of technology opens up the YXZ and its 998cc three-cylinder engine to a lot more people.
As Yamaha hinted in a teaser video last week, The YXZ1000R SS features paddle shifters and eliminates a clutch pedal. While the driver still needs to up shift to change gears, all that is required is a tap of the right paddle. You don't even have to take your foot off the gas, which allows for full throttle shifting. According to Yamaha, it takes just milliseconds for the next gear to engage.
Paddle shifters allow drivers to change gears without taking their foot off the gas or dealing with a clutch pedal.
This is a big step for Yamaha, as it feels Sport Shift technology eliminates the barrier to entry for consumers who didn't want to deal with a clutch.
Drivers are able to downshift with the left paddle, but it's not always necessary as Yamaha developed an automatic downshift feature that automatically downshifts to first gear when the YXZ SS comes to a stop. This way drivers don't accidently try to start if fifth gear.
Engine braking is also part of the package, as the clutch will engage when coasting downhill. This allows drivers to concentrate on the trail rather than worry about speed.
Yamaha's Launch System gives drivers the ability to rev up the engine and drop into gear for neck-snapping starts.
Maybe our favorite feature of the Sport Shift technology is the all-new Launch System. According to Yamaha, this allows the driver to get the engine to the desired rpm range before engaging first gear. It's similar to dropping the clutch in a manual vehicle with a clutch pedal. Depending on terrain, you could drop into gear up to 10,000 rpm, which allows for starts that will rival those of first generation YXZ1000R – even by less skilled drivers. We can't wait to give this feature a try.
YXZ Upgrades
Yamaha also explained some changes that will make their way across the entire YXZ line. The most important of these was upgraded CV boots and additional CV boot protection.
New CV boots are lower in profile and are protected by roost deflectors.
Small pinholes were being found in the rear CV boots of the original YXZ, which Yamaha discovered were coming from roost kicked back from the front wheels. To fix the issue Yamaha added roost deflectors. As well, Yamaha added new lower profile CV boots and secure the boots with a new clamp that delivers more force.
Another change for the 2017 YXZ family is improved heat shielding, which is designed to keep the cockpit cooler and more comfortable. According to Yamaha, the improved heat shielding provides a 15% heat reduction.
YXZ100R SS Models
Three YXZ1000R SS models will be made available in 2017.
The YXZ1000R SS Blaze Orange/Black retails for $20,599 and comes with a standard suntop.
Yamaha YXZ1000R SS Blaze Orange
The YXZ1000R SS Yamaha Blue/White retails for $20,799 and features a Yamaha Blue frame, A-arms and suntop. It also comes with color-matched seats and embroidered seats.
Yamaha YXZ1000R SS Team Yamaha Blue/White
The crown jewel of the lineup is the YXZ1000R SS Special Edition, which retails for $22,390. This machine stands out in person with its Matte Black painted body with red frame, color-matched red A-arms, color-matched and embroidered seats, and color-matched beadlock wheels.
Yamaha YXZ1000R SS Special Edition
What really makes the Special Edition stand out are brand new and exclusive FOX Podium X2 internal bypass shocks. These 2.5-inch shocks offer high/low speed compression, high/low speed rebound and dual coil springs.
The dual springs with adjustable rings allow user to fine tune the spring force curves to dial in the desired performance. Rebound adjustment is a major step forward. The new X2 allows the entire oil column to be displaced as the main piston is pushed through the rebound adjuster. The needle controls the low speed bleed, while the adjuster valve stack control high speed flow.
The new FOX Podium X2 internal bypass shocks are exclusive to Yamaha.
Look for a feature on the new FOX Podium X2 shocks in the coming weeks on ATV.com, as these deserve a more thorough look.
All of the YXZ1000R SS models will make their way to Yamaha dealerships in August.
As for 2017 versions of the manual transmission YXZ1000R, those pricing and availability will be announced this fall. It should be noted that a Special Edition will be available, also outfitted with the FOX Podium X2 shocks.
Published June 8th, 2016 12:02 PM
Top Brands
Popular Articles