13 Views
Yamaha YXZ1000R Mud Concept
June 27th, 2016 12:37 PM
Share
We're committed to finding, researching, and recommending the best products. We earn commissions from purchases you make using links in our articles. Learn more here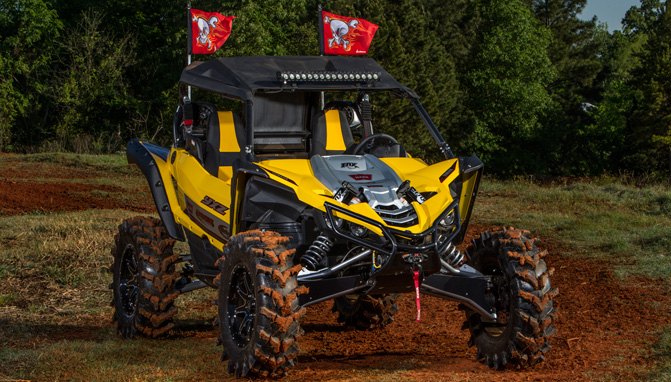 Is mudding in the future for Yamaha?
It seems like from the first glimpse of the new Yamaha Pure Sport machine, the YXZ1000R, there were enthusiasts in every specific riding demographic wanting to make it their own. It was not long before we found people speculating about the fact that Yamaha didn't build it for their riding style or location. This beast of innovation was built to go fast and to be driven in a way that was unlike any other vehicle currently offered in the marketplace. It has been our observation that it was also just a start to the potential that Yamaha had already planned into the strategy of their baddest machine to date in the Side-by-Side realm.
2016 High Lifter ATV Mud Nationals Report I hope we can share some insight as to how much love Yamaha is trying to spread with the YXZ1000R in different types of terrain. We were able to get a good look at one unique YXZ concept vehicle at this year's High Lifter Mud Nationals in Jacksonville, Texas.
Since its inception we have recognized that the mud riding community is looking for a little love from the Yamaha YXZ1000R. These guys are no doubt hard on their machines and the rigs have to be tough with plenty of power to spin the massive mud biscuit-throwing lugs on their tires. As we mentioned above this mud concept vehicle that had been specifically built for those who love the nasty muck was gracing the corner of the Yama-hauler on the Oasis during the Mud Nationals. A concept machine is built to show the potential of the machine in the area it is specifically conceptualized for and then hopefully built as a production or special edition factory-offered unit, depending on the demand. We are not confirming or denying what's coming, but simply stating the possibility.
This YXZ1000R was built with many custom attributes by designer Jeff Palhegyi. Jeff has worked with Yamaha on many different designs of products you know and love, but this one was a little different. This YXZ1000R Mudder has a combination of industry leading products from well know manufacturers. Here is how this machine shakes down.
Adding big heavy lugged tires to a mud machine just gives that extra traction and in some cases ground clearance for the deep bog. For Yamaha's mud concept YXZ1000R, the choice was the STI Out & Back Max 34-inch tall tire mounted on their 17-inch HD6 alloy wheels. Add in some custom fabricated suspension components, in this case by Weller Racing, and you have a great system for forward movement. Weller Racing also dropped in its dual stage spring kits to tweak the FOX shock for mudding perfection. When adding long travel suspension components you will need a longer aftermarket axle, so Summers Brothers was summoned for its tough-as-nails axle shafts to fit the Weller components.
The first thing I hear when discussing the YXZ1000R with mud riders is "the transmission needs lower gearing." Well, in Yamaha's concept vehicle the gear ratio is reduced by 33%! Yeah, pick that jaw up off the floor because using the Tube Works transmission modifications spinning the 34-inch STI tires is no issue. Tube Works also offers a 70% reduction first gear if you want to go further.
You will find most serious deep mud riders will move the radiator up and out of the line of fire to a more protected and breathable location. For this vehicle, Palhegyi Designs not only relocated the radiator and built all of the necessary custom bracketry so it could be mounted on the rear of the cage, but had snorkeled the machine to make it breathe well should it get dropped in the really deep stuff. The details and fine craftsmanship of these components is undeniable.
One thing every mud rig needs is a winch, because it is just a matter of time when the depth finder in your ego will let you down. For this YXZ1000R mud concept vehicle the only choice was WARN Industries. The Vantage 3000 winch should provide enough pull to heft the YXZ to solid ground. Yamaha's GYTR Trail front grab bar/bumper with winch mount provided the perfect location as well.
The only engine mod that was made to this YXZ1000R is the custom Weller Racing Exhaust. This finely tuned set of cans not only looks incredible, but we'd say it adds a little more sound and power to the rig as well. We know for a fact that the engine can be wildly tuned for three digit power numbers, but it stands on its own pretty well just as it is.
Some of the final details of the YXZ1000R mud concept include creature comforts and simple protection devices. The Factory UTV UHMW full skid plates help you glide along the torturous trails and the GorillaWhips.com LED whips and under mount light kit add some flare to the night on this rig. From here you will find many Genuine Yamaha accessories finishing out the project.
Yamaha's High Output 27-inch Halo LED light bar gives you sunshine in the dark while its overhead audio system, powered sub and rear speakers provide the jams. Of course with all the extra pull on the electrical, Yamaha has included a second battery kit in the fold to keep the fun rolling. Genuine Yamaha over fenders, rear cargo box and sparkling custom graphics make this YXZ1000R Mud concept one we couldn't take our eyes off of.
We hope you see that Yamaha has indeed considered the Mud Nation. Published June 13th, 2016 4:15 PM
Top Brands
Popular Articles