29 Views
Best Yamaha Wolverine Accessories
September 2nd, 2021 6:38 PM
Share
We're committed to finding, researching, and recommending the best products. We earn commissions from purchases you make using links in our articles. Learn more here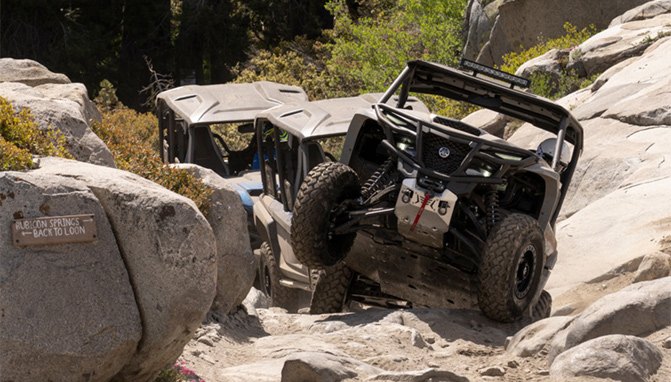 Make your Yamaha Wolverine even better the right accessories
The Yamaha Wolverine has done plenty of evolving over the past 25+ years, but as brilliant and capable a vehicle as it is from the factory, every Wolverine can use some great Yamaha Wolverine accessories.
From windshields to sound systems, to in-vehicle storage solutions and beyond, Yamaha Wolverine accessories can help completely transform your driving experience, making your machine a more practical, comfortable, and/or fun place to be. And here at ATV.com, we make it our business to know the UTV accessories market well, scouring the internet to locate the best, most well-made, well-priced, and beneficial ATV and UTV add-ons in the world.
Here, we've rounded up the best Yamaha Wolverine accessories on the market today, even incorporating some nifty Wolverine X4 accessories and Wolverine R-Spec accessories to round out the list.
1. Editor's Choice: SuperATV Heavy Duty Scratch-Resistant 3-in-1 Flip Windshield
If you're looking for a bit of protection from the wind, rain, snow, airborne pebbles and flying twigs, a windshield is one of the best Yamaha Wolverine accessories you might ever invest in. And while there are a few different options when it comes to Yamaha Wolverine windshields, the best bang for your buck is this 3-in-1 flip windshield from SuperATV. It's made from thick polycarbonate – a material some 250 times stronger than glass – with a tough anti-scratch coating on the inside and outside to stave off the sort of cloudiness that can occur over time as tiny micro-abrasions add up. And it truly is 3 windshields in one, with a fixed bottom pane and a hinged top one that can be left shut, cracked open for some much-needed airflow, or flipped and locked fully up for the most airflow and unobstructed vision. Just be careful when ordering to purchase the right unit, as different versions apply to different Wolverine models, and stay away from the non-scratch-resistant versions.
2. Best Side Mirrors: Chupacabra Offroad Side Mirrors
Sometimes, being able to see what's behind and around your Yamaha Wolverine is invaluable – like when you're backing up, or sharing the trails with other riders. That's when it's helpful to have these side mirrors from Chupacabra Offroad. One of the more safety-focused Yamaha Wolverine accessories on this list, these side mirrors can clamp onto any round-tube factory roll cage out there between 1-5/8" and 2" in diameter, meaning they're a fit for the Wolverine's 2" tubing. And with 4" by 7.2" convex optics, they give you a broad view of what's going on behind you. The mirror housings are made of impact-resistant black ABS plastic, which looks great on any ride and is durable enough to withstand heavy use, but the niftiest feature of all is the built-in "breakaway" function, which allows the mirrors to fold quickly in the event of an impact to prevent breakage. That, and the limited lifetime warranty. Note that you may have some difficulty fitting these with a windshield installed.
3. Best Audio Accessory: Yamaha Genuine Accessories Stealth 6 Ultra HD Sound Bar
When it comes to UTV sound systems, there's a big, wide open world of options out there. But even with so many options available, for the Yamaha Wolverine, this Yamaha Genuine Accessories Stealth 6 Ultra HD Sound Bar from Wet Sounds is a standout. Powered by a 200-Watt Class D amplifier with six speakers – four full-range and two 1" titanium tweeters – this sound bar helps to redefine high-definition UTV audio, in a plug-and-play kit that mounts directly to your Wolverine's factory roll cage with no fussing. It's a true trail-worthy unit, too, with a specially designed extruded aluminum housing that's dust- and water-resistance rated to IP67, and an easy, ready-to-install wiring harness. Admittedly, as Yamaha Wolverine accessories go, this Stealth 6 sound bar is far from the cheapest. But when it comes to UTV audio systems, you get what you pay for, and this system lies right in the sweet spot with regard to cost and performance.
4. Best Storage Cover: NEVERLAND Oxford Cloth UTV Cover
If you're anything like us, your riding season comes to a halt every year some time around late fall, and your Yamaha Wolverine goes into storage. The best way to keep it protected during the off-season is a good UTV cover – like this oxford cloth cover from NEVERLAND. It's an incredibly cost-effective solution to keep your Wolverine safe from rain, snow, UV rays, bird droppings, and a host of other common contaminants, with solid oxford fabric construction and a dependable water-repellent treatment with taped seams. The cover is also windproof, thanks to an elastic hem and sturdy buckled straps, although NEVERLAND doesn't recommend towing with it installed. Best of all, there are different versions of the cover for single- and dual-row UTVs, so whether you're shopping Wolverine R-Spec accessories, Wolverine X4 accessories, or you've got another model altogether, NEVERLAND has your back.
5. UTV Mountain Accessories Yamaha Wolverine Children's Bump Seat
One of the more unique Yamaha Wolverine X4 accessories available today, this "bump" seat from UTV Mountain Accessories, or "UTVMA", gives you a whole extra seat with a four-point harness. Granted, it's not a full seat capable of holding an adult-sized person, but it's just right for a small child weighing around 60 pounds or less. Easy to install securely right between the two factory front-row seats, this bump seat even includes its own four-point harness, so you can keep junior safe even while you're tearing up the trails. And it's not just the X4 that this UTVMA bump seat will fit; it's also a great accessory for the X2, RMAX2, and RMAX4 Wolverine models. There is one downside: the seat installs over the center console storage bin, making it impossible to stow or access items in there. But that's a small price to pay when you just simply need the extra seat.
6. Kemimoto UTV Roll Cage Organizer
We all know that keeping your effects tidy and organized in a UTV can be a bit of a trick. The job is a whole lot easier with this Kemimoto UTV Roll Cage Organizer. This is one of those Yamaha Wolverine accessories that you'll want to use every single time you ride, with six zippered gear pockets, two mesh pockets, and two fast-access end pockets giving you multiple places in which to put tools, wallets, keys, cell phones, and any other odds and ends you might be carrying. It's a tough, trail-ready bag, too, with tear-resistant, water-resistant 1680-denier fabric construction and five reflective strips to help you see each zipper position in the dark. The whole thing sits at the top-rear of the roll cage, attaching itself with a series of adjustable straps that hold the bag firmly in place on the trail.
7. System 3 Offroad ST-3 14x7 UTV Wheel
If your Yamaha Wolverine left the factory with diminutive 12-inch wheels, you might find while tire shopping that your choices are somewhat limited, and that there aren't many good options for taller tires to give you more ride height and a larger contact patch. We might recommend the 14x7 System 3 ST-3 UTV wheel. With a 1,000-pound load rating and a limited lifetime warranty, you can rest assured that these Yamaha Wolverine accessories will hold up to some serious off-road abuse, and they boast an aggressive, unique appearance with a simulated beadlock design and eight split Y-shaped spokes. Available in matte black or bronze, the System ST-3 is everything you've been looking for in a 14-inch wheel upgrade: strength, looks, and a reasonable price.
8. Yamaha Genuine Accessories Wolverine X2/X4 A-Arm Guards
On the trail, a good set of armor is worth its weight in gold, and these aluminum A-arm guards from Yamaha Genuine Accessories are a must-have among Wolverine R-Spec accessories. Beautifully welded and shipped with stainless steel mounting hardware that utilizes factory holes, these guards go on easy, and they effectively protect your control arms against bumps and scrapes that might otherwise damage the components and take your Wolverine off the trail. We're a sucker for anything that promises more durability and longevity. One of the most significant Wolverine R-Spec accessories money can buy, these A-arm guards also fit various other X2 and X4 Wolverine models from 2018 on.
What Are The Biggest Tires I Can Fit To My Yamaha Wolverine?
There are plenty of benefits to adding larger-diameter tires your Yamaha Wolverine accessories shopping list. Taller tires raise your UTVs ride height, giving you more ground clearance and better approach, breakover, and departure angles. They also roll over trail obstacles more easily, and they have a larger contact patch with the trail than smaller-diameter tires. All else being equal, more contact patch means more traction.
Without fitting a lift kit, the tallest tire that most 2015+ Yamaha Wolverine models appear to be able to run is a 28". That's 3 full inches taller than the 25x8-12 front and 25x10-12 rear tires fitted to 2015-2016 Wolverine 700 models from the factory, and two inches taller than the 26x8-12/26x10-12 tires fitted to models like the 2020 Wolverine X2 R-Spec.
But whatever Yamaha Wolverine model you own, you'll want to double-check that your chosen tires will work with minimal interference by asking around on Yamaha powersports forums. You'll also want to take into account the negative effects of fitting larger tires: more unsprung mass, more rotating mass, and effectively, a taller final drive ratio. Added unsprung mass can make your suspension slower to respond to bumps, and extra rotating mass can manifest as impaired acceleration, braking, and turn-in. But the biggest potential negative is the effectively taller gearing, which reduces how much wheel torque you have at your disposal across all gears. In many cases, the trade-offs are more than worth it, but it would be wise to take into account other owners' experiences.
Additional Resources
Become an ATV insider. Get the latest news first by subscribing to our newsletter here.
We are committed to finding, researching, and recommending the best products. We earn commissions from purchases you make using the retail links in our product reviews. Learn more about how this works. Aaron Brzozowski
Aaron is a freelance writer, videographer and car enthusiast based out of the Detroit area. He has a special affinity for the Porsche 944 series, and once owned a Volvo 240 sedan with a Weber carb in place of the factory EFI system. His work has appeared on AutoGuide, GM Authority, /Drive, and VW Vortex, among other sites.
More by Aaron Brzozowski
Published September 2nd, 2021 6:06 PM
Top Brands
Popular Articles