45 Views
Best Yamaha Viking Accessories For Improving Comfort and Capability
May 25th, 2021 12:13 PM
Share
We're committed to finding, researching, and recommending the best products. We earn commissions from purchases you make using links in our articles. Learn more here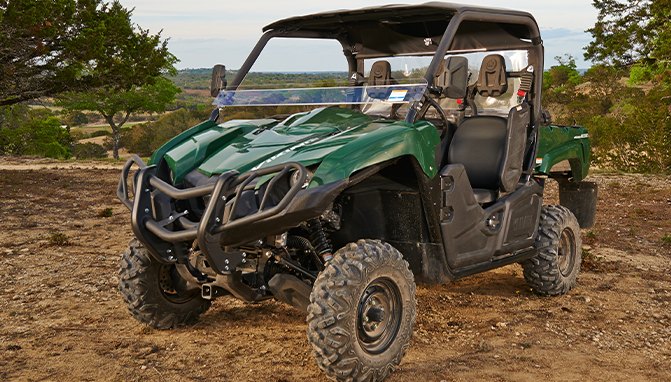 Make your Viking even better with these accessories
Choosing the best Yamaha Viking accessories is a fairly easy task, once you know exactly what you need your Viking to do. Below we look some comfort and performance upgrades that will help make the Viking even better.
Yamaha's Viking utility side-by-side is a great machine that has been around for a few years. This machine has built a strong following with a proven and capable platform, respectable power output and Yamaha's legendary reliability. The machine is unique in that instead of a traditional bench seat, the Viking has three bucket seats, with the center seat being set back slightly to allow for shoulder clearance. The Viking is powered by a torquey 686cc single-cylinder four-stroke engine that has proven to be nearly bulletproof and extremely capable for everything from working around the farm, to exploring deep into the backcountry.
There are plenty of accessories available to make the Viking better suited to your type of use, but with our list of the best Yamaha Viking accessories we focused on making the Viking an even better machine for working, off-road exploration, and all-around comfort.
1. Editor's Choice: XJMOTO Adjustable Rear View Mirror
Of all the great Yamaha Viking accessories, it may seem weird that the first thing you should add to your machine is a rear-view mirror, but it's a really good idea. The seating in the Viking is extremely comfortable, and Yamaha takes safety seriously as well. So while you're going to be comfortable in the machine, the seat belt has been designed to keep your butt planted in that seat. Some users have not noticed it, but most of us have felt that turning around in the seat for a quick glance behind the Viking can be a little uncomfortable. Adding a mirror helps that greatly and we think it'd be a good idea for every UTV to have one.
A winch is another Must-Have accessory for the Yamaha Viking. Really any utility UTV needs one. It is an extra set of hands that can out-pull anything you can muster up. The VRX from Warn is a solid value in a winch. It is a new design that out performs anything else in the price range. And being a Warn winch, you know it's going to be reliable. That makes it a good fit for a vehicle as reliable as the Yamaha. This is a 4,500-pound winch with synthetic rope instead of cable. More and more users are going to the synthetic rope because it has better pulling durability than cable and if it breaks under tension, you don't run the risk of being severely injured. This Warn winch also comes with the mounting plate, making it an easy accessory to add to your Viking.
3. Genuine Yamaha Accessories Folding Windshield
Windshields are one of those Yamaha Viking accessories that most people are solidly for or against. Some people love them and wouldn't ride without one, while others hate them. Of course, the hate diminishes when the weather turns colder. This windshield is a Genuine Yamaha accessory, so you know it is going to fit right and install easily. It is also a fold-down design, so when you want a little cool air in the cockpit, you can flip down the windshield and lock it in place. Other features include hard-coated polycarbonate panels, injection-molded rubber hood blocks, and tool-less clamps.
4. Genuine Yamaha Viking Brush Guard
The front end of the Yamaha Viking looks pretty good, but when you add a brush guard, it takes on a seriously aggressive appearance. The added bonus is that the Yamaha accessory brush guard also does a great job of protecting the front end of the machine when you get into some thick country. It's made from durable steel tubing with a powder-coat finish that lasts. These Yamaha Viking accessories are essential if you want to protect your machine for the long haul.
5. Rigid Industries LED Lights
Tabs on the brush guard give you a great place to mount up some auxiliary illumination for your ride, too. Accessory light pods make driving after dark a little safer and a whole lot easier on your eyes. The Rigid D-Series Pro Spot Beam lights are among the best in the industry. They offer up 3168 raw lumens and are built tough out of stainless steel with UV- and abrasion-resistant powder coat.
6. Sedona Rip Saw R/T Tires
The Viking comes with Maxxis Bighorn 2.0 tires made to Yamaha's specific specifications, and these are really good tires for all-around use. While we're big fans of the Bighorn tire, we've been testing Sedona Rip Saw R/T tires for a while now and feel that these are among the best Yamaha Viking accessories you can add. We use our machines in some pretty harsh farming and hunting conditions, and like the deeper lugs, sidewall tread and thick carcass of the Rip Saw tires. Our property has a lot of clay in the soil and when it gets wet, traction comes at a premium. The deep lugs of the Sedona tires gets a little better grip to pull us out of the heavy clay-based muck and helps us get the job done.
7. Seizmik ICOS Gun Holder
The Viking makes for a great hunting rig, but one product that would come in very handy on a hunting trip is the Seizmik in-cab gun holder. Made of close-cell foam designed to keep guns from getting scratched or damaged, this holder installs in seconds with no tools - just click in using the center seatbelt. Yes, it does eliminate the middle seat, but with room for two rifles, it's perfect for two hunters to hit the woods.
There aren't many machines that wouldn't be made better with a pair of Kolpin Rhino Grips and they definitely make our list of the best Yamaha Viking accessories. Available in multiple configurations, these grips are like having an extra set of hands on board. Perfect for grabbing on to tools and all sorts of equipment, these grips attach easily, are affordable, and almost certainly come in handy for a Viking owner.
Recent Updates
April 5, 2021: Added a windshield to our list and updated some product links.
We are committed to finding, researching, and recommending the best products. We earn commissions from purchases you make using the retail links in our product reviews. Learn more about how this works.
How much power does the Yamaha Viking make?
One of the things we often see from manufacturers are horsepower claims and there are lots of bragging rights at stake. However, you never see Yamaha make these claims. They know that compared to a bigger twin-cylinder engine, they aren't going to make the same horsepower numbers as the competition. Here is the thing to keep in mind - They don't need to. The Viking produces good, usable power and a lot of torque that helps you get the job done. When we get asked how much power does the Yamaha Viking make, our response is simple. It makes enough for what the Viking was intended to do. Derrek Sigler
Derrek's love for all things ATV started when he was a mere 11 years old, growing up on his family farm. His mom gave him and his sister a choice - get a horse, or a three-wheeler. The sister wanted the horse, and Derrek wanted the ATV. Luckily he won out, and was soon burning up the trails on a Yamaha Tri-Moto 200. By the time he was 14, he had saved enough of his own money by working on the farm and in his folks restaurant to buy a new 4-wheeler. That happened the day he and his mom were driving past the dealership and saw 1987 Banshee. His mom had no idea what he was buying, and he never looked back. He's been riding ever since, and been writing professionally for many years. He has ridden all over North America and been behind the controls of just about every machine out there. And yes, he still has his 1987 Yamaha Banshee.
More by Derrek Sigler
Published September 30th, 2020 11:40 AM
Top Brands
Popular Articles