1 View
2018 Textron Alterra 700 XT EPS vs. Yamaha Kodiak 700 EPS: By the Numbers
February 12th, 2019 12:43 PM
Share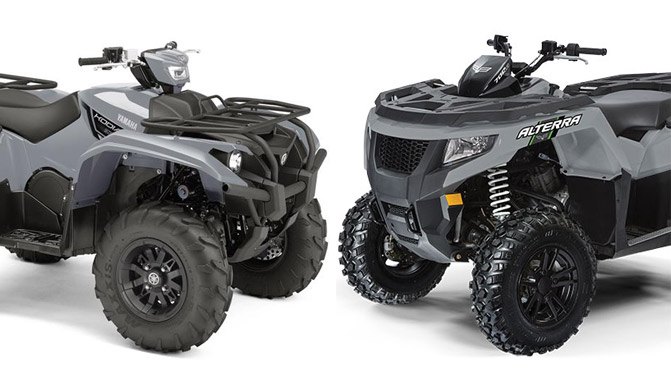 The 2018 Textron Alterra 700 XT EPS and Yamaha Kodiak 700 EPS are a pair of 700-class Utility ATVs that we decided to compare…by the numbers.
Utility ATVs are the biggest selling segment of the market and the big-bore units get the most advancements in technology. This segment has grown radically over the years, too. Remember it was not that long ago that a 500-class machine was considered huge, displacement wise? From there, displacements went up to the point that now, there are a couple of 1,000-class monsters along with a few 850-class powerhouses and more. However, there are a few machines out there that prove that a 700-class ATV can get the job done extremely well, and for less than $10,000. Let's see how two of them, the Yamaha Kodiak 700 EPS and Textron Alterra 700 XT EPS, compare on paper.
| | | |
| --- | --- | --- |
| | 2018 Textron Alterra 700 XT EPS | 2018 Yamaha Kodiak 700 EPS |
| Price | $9,099 | $8,499 |
| Engine | 695cc liquid-cooled single | 708cc liquid-cooled DOHC 4-stroke; 4 valves |
| Horsepower | 41 | 48 |
| Driveline/Differential | Electric 2/4WD with 4WD Lock | On-Command 3-way locking differential; 2WD, 4WD, locked 4WD; shaft |
| Transmission | Duramatic H,L,N,R,P | Ultramatic V-belt with all-wheel engine braking; H, L, N, R, P |
| Wheelbase | 52 in | 49.2 in |
| Length x Width x Height | 83.4 x 48.5 x 49.5 in | 81.5 x 46.5 x 48.8 in |
| Weight | 790 lbs (curb weight) | 677 lbs (dry weight) |
| Ground Clearance | 11 in | 10.8 |
| Fuel Capacity | 5.7 gal | 4.76 gal |
| Front Tires | 25 x 8-12 | AT25 x 8-12 Maxxis MU19 |
| Rear Tires | 25 x 10-12 | AT25 x 8-12 Maxxis MU19 |
| Front Suspension | Dual A-Arm with 10-inch (25 cm) Travel | Independent double wishbone; 7.1-in travel |
| Rear Suspension | Dual A-Arm with 10-inch (25 cm) Travel | Independent double wishbone; 9.1-in travel |
| Brakes | Single Lever 3-Wheel Hydraulic Disc with Hydraulic Rear Foot Brake | Dual hydraulic disc (front), Multi-disk wet brake (rear) |
| Rack Capacity | 100 lbs front / 200 lbs rear | 110 lbs front / 198 lbs rear |
| Towing Capacity | 1,050 lbs | 1,322 lbs |
Engines and Stuff
Yamaha made headlines when it reintroduced the Kodiak 700 a short time ago. This machine was fully redesigned, sharing many things with the flagship Yamaha Grizzly ATV. It has an awesome 708cc single-cylinder, DOHC, four-valve, four-stroke engine, which is also used in the Grizzly and the Wolverine Side-by-Side. It is a serious thumper with stump-pulling torque. Yamaha tunes it slightly different for the Kodiak, making it a little more utility-friendly. Don't worry, though. All of that torque and power is still there, just tuned slightly different. Everything runs through Yamaha's Ultramatic transmission, arguably the best CVT transmission system on the market.
The Textron Alterra 700 XT EPS started life under the Arctic Cat banner. It was brought back under the Textron Off Road flag and still boasts the same elements that made it a favorite among owners. At the core is the strong-running 695cc single-overhead cam, liquid-cooled H1 single-cylinder four-stroke engine. This engine is built in Minnesota along with the rest of the machine. The engine is fed through a closed-loop EFI system and it runs through Textron's Duramatic CVT transmission, which has proven to be quite reliable. One dealer friend of ours that sells Textron machines along with two other major brands has said for a long time that while the Alterra 700 may not be the fastest machine in the class, compared to the other brands he sells, it is the one you want if you want a machine to grunt all-day long while working. He uses one to plow the parking lot at his dealership every winter.
Capability
The Yamaha Kodiak was designed to make it an easier machine for utility-type actions. That is, it has bodywork that makes getting on and off easier. It can tow a whopping 1,322 pounds and can carry 110 pounds on the front rack and 198 pounds of gear on the rear cargo rack, both of which are steel. It has a 49.2-inch wheelbase and weighs in at 677 pounds wet. The Kodiak runs dual wishbone suspension at all four corners with 7.1 inches of travel up front and 9.1 inches out back. As you might gather, the Kodiak 700 EPS has full power steering that works flawlessly. Remember, Yamaha was the company that brought power steering to the ATV world, so it knows what it's doing.
The Textron Alterra 700 XT EPS sports the updated body work that Arctic Cat introduced shortly before becoming Textron Off Road. The XT package adds LED-trimmed headlights to go along with the LED taillights. You also get power steering, a must-have for a big machine like this. The Alterra has a 52-inch wheelbase and weighs in at 790 pounds wet. It has a 1,050-pound towing capacity and comes stock with a two-inch receiver hitch, something we'd like to see on more Utility ATVs. The front and rear racks are composite and take Textron's Speedlok accessories. The front will handle 100 pounds and the rear will take 200 pounds of cargo. It has dual A-arms on all four corners and 10 inches of wheel travel all around.
Money, Money, Money
The Yamaha starts out at $8,499 for a green unit with steel 12-inch wheels. For $8,699, you get stepped up to the Armor Gray color and aluminum wheels, or go for the Realtree camo unit for $9,099. It comes with aluminum wheels, too. The Textron Alterra 700 XT EPS Starts out at $9,099 for a gray unit with aluminum wheels. You can drop a little more, $9,499, for the TruTimber Kanati camo model that also rolls on aluminum wheels. Both of these machines are great options for someone looking for a capable utility machine that can have some serious fun on the weekends, too.
Published May 4th, 2018 4:07 PM
Top Brands
Popular Articles