40 Views
2019 Textron Alterra 700 XT Vs. Yamaha Kodiak 700 EPS: By the Numbers
February 12th, 2019 12:41 PM
Share
We're committed to finding, researching, and recommending the best products. We earn commissions from purchases you make using links in our articles. Learn more here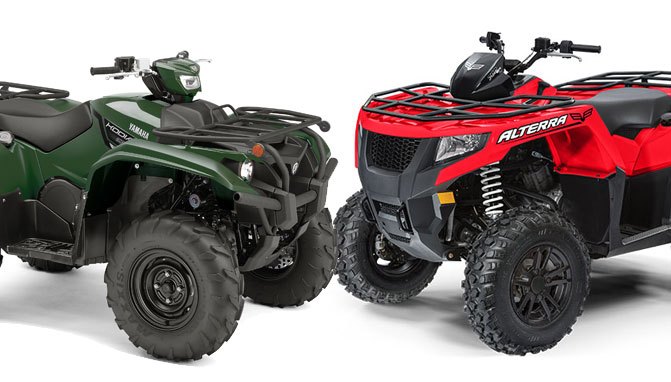 The 2019 Textron Alterra 700 XT and Yamaha Kodiak 700 EPS are a pair of big-bore and budget-friendly ATVs. Let's see how they compare…by the numbers.
Twin-cylinder, big-bore ATVs might rule the roost when it comes to horsepower numbers, but when it comes to stump-pulling torque, it's hard to beat a big single-cylinder motor with that lone piston churning up the oomph to get the job done. There are several big-bore singles out there, but two of them, the Textron Alterra 700 XT and Yamaha Kodiak 700 EPS, come in with a pretty budget-friendly price point and features that make them a great buy for anyone looking at a high-quality machine capable of handling just about anything. For 2019, they each got a newly-updated engine. Which one is right for you? Let's take a look at each machine, by the numbers.
New-Old Motors
If you haven't had the chance to ride a big single, and are thinking of going that route, head to your local dealer and see if you can take a test ride. Hop on it and close your eyes for a minute. Rev it up in neutral and feel the rumble. Single-cylinder ATVs have a character about them that makes them a lot of fun to ride. I've ridden several in some really tight, rutted woods with steep hills and big rocks. It is a ton of fun, let me tell you.
For 2019, each of these companies made significant changes to the engines of these two machines, yet these changes are subtle enough that you'd probably never tell riding them back-to-back against the 2018 model. Confused? Don't be, I'll explain why.
Textron took up where Arctic Cat left off with the Alterra line. The popular 700 that used to use the older body styling and came as a simple, no-frills machine, has gotten some serious upgrades. Textron took the old H1 motor that had been around for a while and did an overhaul for the 2019 model. The 695cc single overhead cam, liquid-cooled motor is fed through Textron's closed-loop EFI system. Textron is well-known for their German-engineered engine platforms, and with the overhaul of the motor, the Textron Alterra 700 XT is more efficient and reliable than ever, making it basically a better version of the previous engine. It runs out though a standard CVT automatic transmission. The XT model has power steering, electronic-locking four-wheel drive and Textron's EL4 electronic-locking differential for maximum traction.
Yamaha Kodiak 700 EPS Front
When the Yamaha Kodiak 700 was introduced, it used the same 704cc engine that was found in the original Wolverine UTV. With the Wolverine getting the bump up to Yamaha's new twin 850 platform, Yamaha decided to quietly swap the Kodiak and the Grizzly back to the 686cc engine it uses in the Viking UTV in an effort to keep the costs of the machines down for consumers. Yamaha tuned the motor to be nearly identical to the motor it replaced, so telling the difference is really hard. Yamaha's 686cc, single overhead cam, liquid-cooled motor is well known to us. The base model of this machine took the top slot as our Budget ATV of the Year. While there are a lot of machines that were close to winning that title, the thing that pushed the Yamaha over the top is the Ultramatic CVT transmission and Yamaha's amazing 10-year belt warranty. Yamaha has a couple of options for Kodiak 700s that have power steering. You can get the EPS model that does not have a locking differential, and has a lever-operated four-wheel drive engagement. Or, you can opt for the Kodiak 700 EPS SE model for $500 more that will give you Yamaha's On-Command electronic-locking differential and four-wheel drive. The SE models look pretty sweet, too. Up to you. I know which way I'd go, but the beauty of having these options is, you can still get a great machine that will fit your budget.
Classy Chassis
I have had the honor of touring both factories where these machines are made. It is pretty amazing to watch raw steel turning into a frame for an ATV right before your eyes. It's also nice to meet the skilled trades men and women who make it happen. There is a lot of pride that goes into each machine, whether it is made in Georgia or Minnesota.
Textron Alterra 700 XT Rear
The beefy Textron Alterra 700 XT can tow 1,050 pounds with a 2-inch receiver, and is rated to carry 100 pounds on the front rack and 200 on the rear. It has independent suspension with dual A-arms at each corner and 10 inches of wheel travel from the shocks. The braking is all-wheel with hydraulic disc brakes and a single-lever operation. The XT rolls 25-inch tires on 12-inch machined aluminum wheels and 11 inches of ground clearance. The XT model is only available for 2019 in Fire Red.
Yamaha shares the chassis of the Kodiak with the Grizzly ATV, so you know it's tuned for serious action. The run independent dual wishbone suspension at each corner, with the front having 7.6 inches of travel and the rear having 9.1 inches. The rear shocks have five-way preload adjustment and an anti-sway bar to help keep the Kodiak planted on the ground like it should. Independent front and rear brakes keep the machine under control. It'll tow 1,322 pounds with a 2-inch receiver hitch. The front rack will carry 110 pounds, while the rear rack holds 198 pounds. Finally, 25-inch specially designed Maxxis tires rolls on 12-inch rims that are either pressed steel or machined aluminum, depending on the model.
Yamaha Kodiak 700 EPS Rear
Bottom Line
Both of these machines have the grunt to get the job done. Whether you're looking for a working ATV that is ready to tackle jobs around your property, or you're looking for a stable, easy-to-ride machine for blasting down trails, the Textron Alterra 700 XT or the Yamaha Kodiak 700 EPS are great choices. The Alterra 700 XT has an MSRP of $8,499. The Kodiak 700 EPS starts out at $8,599. Jump up to aluminum wheels for $8,799, or go for the SE model with the locking diff for $9,299. Head to your local dealer and check them out for yourself. Derrek Sigler
Derrek's love for all things ATV started when he was a mere 11 years old, growing up on his family farm. His mom gave him and his sister a choice - get a horse, or a three-wheeler. The sister wanted the horse, and Derrek wanted the ATV. Luckily he won out, and was soon burning up the trails on a Yamaha Tri-Moto 200. By the time he was 14, he had saved enough of his own money by working on the farm and in his folks restaurant to buy a new 4-wheeler. That happened the day he and his mom were driving past the dealership and saw 1987 Banshee. His mom had no idea what he was buying, and he never looked back. He's been riding ever since, and been writing professionally for many years. He has ridden all over North America and been behind the controls of just about every machine out there. And yes, he still has his 1987 Yamaha Banshee.
More by Derrek Sigler
Published December 21st, 2018 4:28 PM
Top Brands
Popular Articles