53 Views
2019 Suzuki KingQuad 750 AXi EPS vs. Yamaha Grizzly EPS: By the Numbers
May 11th, 2018 4:33 PM
Share
We're committed to finding, researching, and recommending the best products. We earn commissions from purchases you make using links in our articles. Learn more here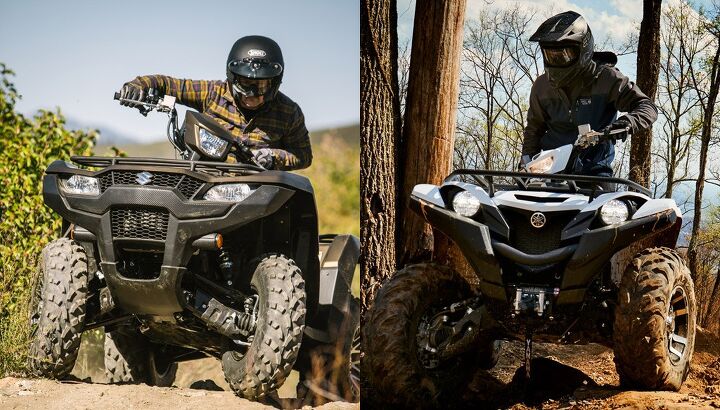 The 2019 Suzuki KingQuad 750 AXi EPS and Yamaha Grizzly EPS are a pair of single-cylinder Utility ATVs that we decided to compare…by the numbers.
I don't think anyone was more surprised than we were to hear that Suzuki had a redesigned KingQuad 750 coming out as a 2019 model. Don't get us wrong; we're extremely happy to see this. The company that invented the four-wheeler has just been awfully quiet over the last 10 years, not doing much of anything to reinvigorate the lineup. Still, it has sold quite a few machines and has a pretty loyal following. With this release, it begs the question – how's it compare to other machines? The newest single-cylinder, big-bore ATV out there is the Yamaha Grizzly. Does the new Suzuki KingQuad 750 AXi have enough to take on the bear? Let's have a look at the numbers and see.
| | | |
| --- | --- | --- |
| | 2010 Suzuki KingQuad 750 AXi EPS* | 2018 Yamaha Grizzly EPS |
| Price | TBA | $9,699 |
| Engine | 722cc liquid-cooled single | 708cc liquid-cooled DOHC 4-stroke; 4 valves |
| Horsepower | NA | 48 |
| Transmission | Automatic variable ratio (V-belt) | Ultramatic V-belt with all-wheel engine braking; H, L, N, R, P |
| Wheelbase | 50.6 in | 49.2 in |
| Length x Width x Height | 84.6 x 47.8 x 50.6 in | 81.5 x 48.4 x 49.3 in |
| Weight | 728 lbs (curb weight) | 692 lbs (curb weight) |
| Ground Clearance | 10.2 in | 11.3 |
| Fuel Capacity | 4.6 gal | 4.76 gal |
| Front Tires | 25 x 8-12 | AT26 x 8-12 Maxxis MU19 |
| Rear Tires | 25 x 10-12 | AT26 x 10-12 Maxxis MU19 |
| Front Suspension | Independent double wishbone, coil spring, oil damped | Independent double wishbone; 5-way preload adjustment, 7.6 in. travel |
| Rear Suspension | Independent double wishbone, coil spring, oil damped | Independent double wishbone with anti-sway bar; 5-way preload adjustment, 9.1 in. travel |
| Brakes | Twin disc (front), Sealed oil-bathed multi-disc (rear) | Dual hydraulic disc (front), Dual hydraulic disc (rear) |
| Towing Capacity | 1,322 lbs | 1,322 lbs |
* Specs not final
History Lesson
We're no strangers to either of these machines, at least for the most part. Yamaha has been making the Grizzly for years, long enough for it to be one of the best-selling, full-sized utility ATVs on the market today, if not the top. We've ridden a lot of Grizzly ATVs over the years and it is one of our favorite machines. The current model, first introduced a couple of years ago, is so good that it is comparable in ability to machines with more cylinders and displacement.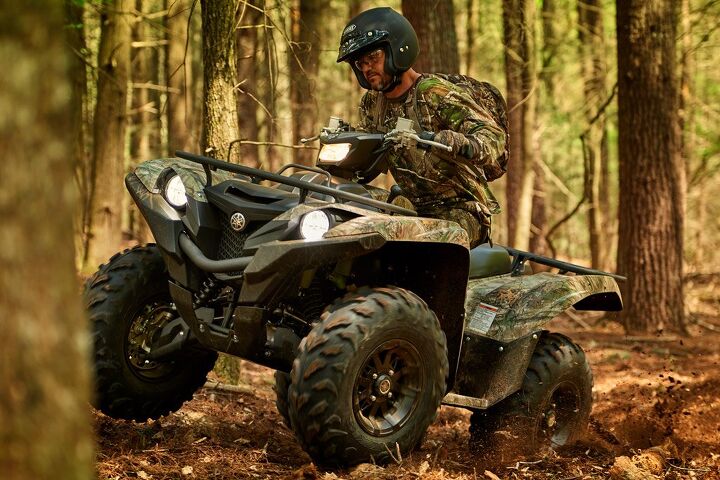 It might be hard to imagine, but for a time, the KingQuad 750 was the big boy on the block, thumping a lot of competitors' machines with both technology and engine size. The problem for Suzuki is that was well over 10 years ago. Since then, the competition kept on advancing while the company that developed the first commercial four-wheel drive ATV was left sitting on the sidelines. The issue was that Suzuki isn't as big of a company globally as some of its competitors and it had other areas of interest that needed the dollars R&D needs to make developments. Suzuki spent a lot of money developing motorcycles for competition and we won't get into the now defunct automotive branch. Here's the thing – Suzuki still sold a lot of ATVs, enough to keep the division going for the company. The previous KingQuad 750 was a fun machine to ride and even though it hadn't been updated in so long, it didn't feel dated. Suzuki makes solid machines.
Engines
At first glance, you'd think that the new Suzuki KingQuad 750 AXi has the same engine. It still is a 722cc, DOHC single-cylinder, four-stroke, just like the previous model. However, Suzuki said it didn't just carry over the motor – it has been refined. Suzuki now claim better low-end torque and more power through the upper RPMs. It has included a new, larger oil pump and oil intake system to increase durability in an already durable engine. The engine is fed through a pretty advanced electronic fuel injection system, too.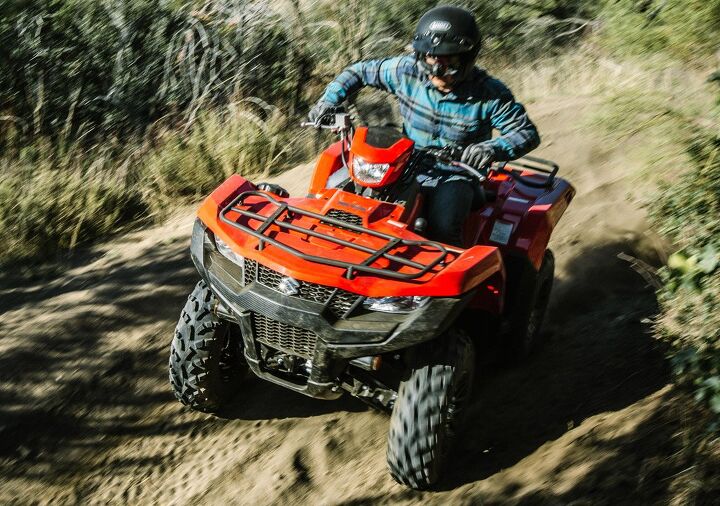 Yamaha uses its 708cc DOHC single-cylinder engine that pumps boatloads of torque through its Ultramatic CVT transmission. The engine is fed via EFI. Yamaha touts it is the company of durability and reliability, and trust us when we say that it lives up to that in every way imaginable.
Classy Chassis
Suzuki redesigned the frame of the 2019 KingQuad 750 AXi, making it more rigid and addressing a few areas of weakness that it saw. Most notably, it made changes to improve steering geometry, towing capacity, overall handling and to eliminate frame flex. The Suzook can now handle up to 1,322 pounds of towing. It made the Quad more stable with a rear stabilizer bar and new suspension. The shocks have an increased diameter, have five-way preload adjustment and are now gas-charged. Suzuki also redesigned the steering geometry to add just enough understeer to make the handling crisper. Thankfully, it kept a similar style to the bodywork as the previous models, as they were always pretty stylish. Suzuki also added back the handlebar-mounted headlight from a few years ago and added an LED taillight.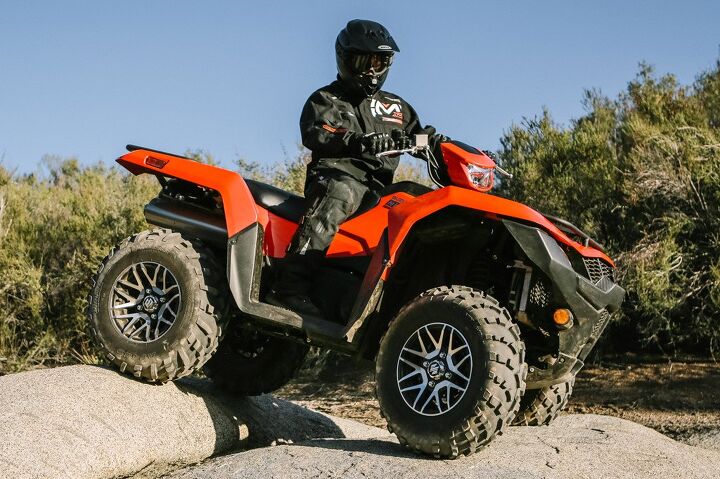 Yamaha, well what can we say about one of the best-handling ATVs on the scene? You can scope out the pertinent figures about the Yamaha chassis in the chart. We've hammered this machine across all kinds of terrain, from deep woods, to severely muddy hills in Eastern Tennessee, all the way out to the deserts in the Southwest and everything in between. There may be bigger, more powerful machines on the market, but the capability, comfort and confidence-inspiring ride of the Grizzly evens the playing field.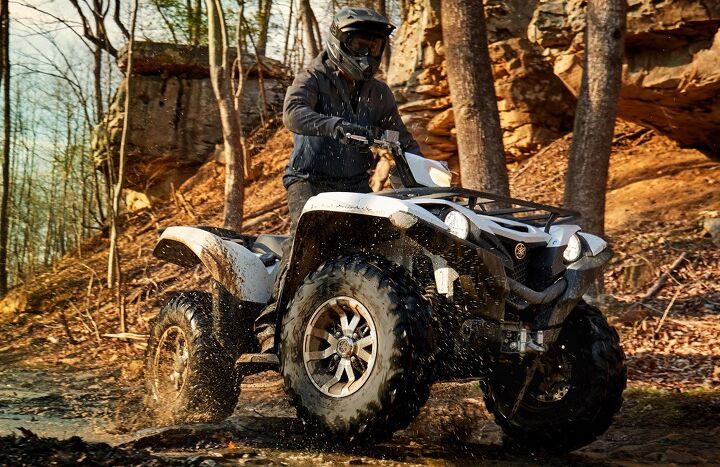 The new Suzuki KingQuad 750 AXi EPS will be hitting dealerships soon. Pricing information hasn't been released as of this writing, but expect it to be average for the category. If you need more info, head to your local Suzuki dealer and see one for yourself. The Yamaha Grizzly EPS starts out at $9,699 and is currently available at your local Yamaha dealership. Derrek Sigler
Derrek's love for all things ATV started when he was a mere 11 years old, growing up on his family farm. His mom gave him and his sister a choice - get a horse, or a three-wheeler. The sister wanted the horse, and Derrek wanted the ATV. Luckily he won out, and was soon burning up the trails on a Yamaha Tri-Moto 200. By the time he was 14, he had saved enough of his own money by working on the farm and in his folks restaurant to buy a new 4-wheeler. That happened the day he and his mom were driving past the dealership and saw 1987 Banshee. His mom had no idea what he was buying, and he never looked back. He's been riding ever since, and been writing professionally for many years. He has ridden all over North America and been behind the controls of just about every machine out there. And yes, he still has his 1987 Yamaha Banshee.
More by Derrek Sigler
Published May 11th, 2018 4:33 PM
Top Brands
Popular Articles