1 View
Loretta Lynn Ranch Removed From GNCC Schedule
January 9th, 2013 2:03 PM
Share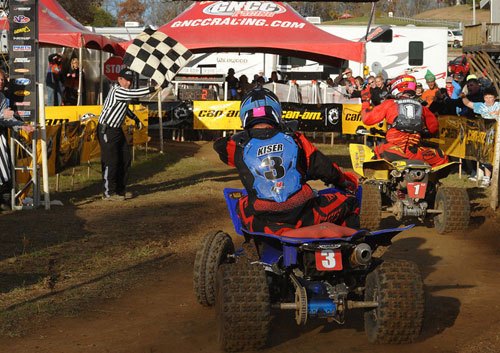 Chris Borich takes the checkers ahead of Taylor Kiser at the 2012 GNCC finale at the Loretta Lynn Ranch.
In a surprising bit of news, Racer Products has announced that the 2013 Grand National Cross Country Series will not make a stop at the Loretta Lynn Ranch in Hurricane Mills, Tenn. – the oldest race on the GNCC circuit.
"Due to a scheduling conflict, the Loretta Lynn's venue will not be on the GNCC schedule for 2013," says GNCC Event Director, Dean VanLeeuwen. "Loretta's has given us nearly 30 years of good racing and we're looking forward to possibly returning to the ranch in the future."
Round 11 of the GNCC Series will now be held on the property of the RiverStone Estate, one of the largest privately owned mansions in Pennsylvania. The "Gusher" will take place on over 1200 acres of riverfront property in Foxburg, Pa., amidst the Allegheny Mountains of Western Pennsylvania.
Although the property lies within the mountains, the terrain is not extreme as one may think. The racecourse will be running through the rolling hills of a previously established 18-hole golf course.
"I'm really excited for this event because of the wide variety of terrain we have to work with," says Barry Hawk, eight-time GNCC champ and Trail Boss. "We have the opportunity to give racers a good mixture of fast and open sections and then to quickly jump into more technical sections of fresh trail. All in all, the great dirt, elevation change and variation in the woods could potentially make this the most fun GNCC track of the season."
Published January 9th, 2013 2:03 PM