1 View
Yamaha Raises $15,000 for Charities at Dealer Event
June 20th, 2014 4:58 PM
Share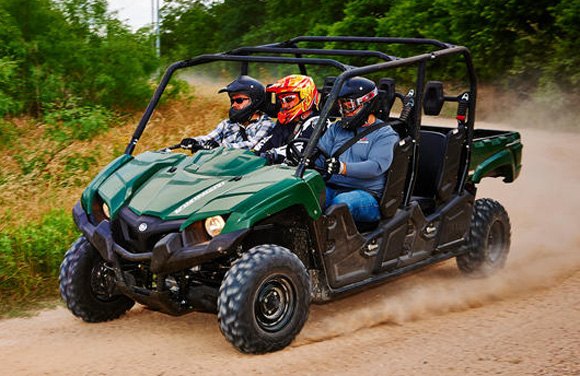 Yamaha Motor Corp., U.S.A., is donating $15,000 to two of the company's charitable organization partners: Honored American Veterans Afield (HAVA) and Feed the Children (FTC).
Yamaha recently gathered select motorsports dealers for an incentive and appreciation event near Austin, Texas, where the company unveiled the all-new 2015 Viking VI EPS six-person Side-by-Side (SxS) vehicle. The launch event-turned-celebration of Yamaha's SxS line expansion included a number of activities that ultimately allowed Yamaha corporate staff and dealers to help raise awareness and money for HAVA and FTC. As a result of the event, Yamaha committed to donating $15,000 to be split evenly between the two organizations.
Read our 2015 Yamaha Viking VI Review
"Yamaha is a longtime supporter of both HAVA and FTC, and is excited to be able to increase our financial contributions to each of these great organizations this year through the Viking VI launch event," says Steve Nessl, Yamaha's ATV/SxS group marketing manager. "As a founding sponsor of HAVA and official partner with FTC for nearly 20 years, Yamaha is extremely proud to support these organizations and the work they do for veterans and families in need."
Yamaha is a founding sponsor of HAVA (www.honoredveterans.org), an organization created to help disabled soldiers and veterans with the healing process through active participation in outdoors sports. Yamaha has worked with Feed the Children (www.feedthechildren.org) as its corporate charity for nearly 20 years, raising several hundred thousand dollars and feeding tens of thousands of children.
Published June 20th, 2014 4:58 PM