58 Views
Introducing Young Riders To The Sport of ATVing
October 10th, 2023 10:22 AM
Share
We're committed to finding, researching, and recommending the best products. We earn commissions from purchases you make using links in our articles. Learn more here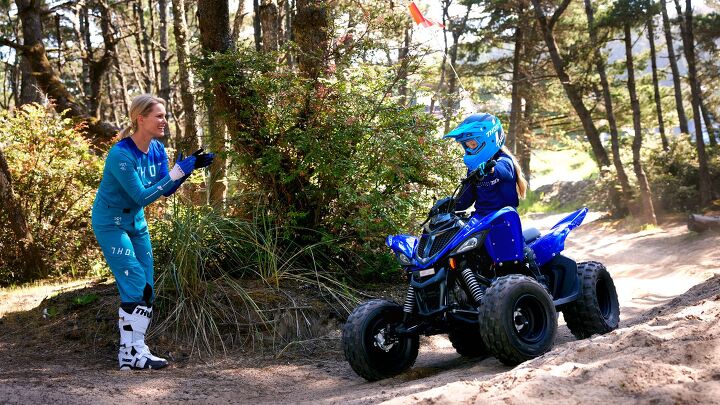 If you ride ATVs, chances are that you've been involved in the sport for many years. Quite possibly you were raised around them, which led to your passion for riding. We know from our own experience that one of the greatest feelings in this sport is when one of our own kids starts to show interest. If they're showing interest, how do you capitalize on this to get them even more involved? We're here to help you fuel that fire in your potential new riding buddy.
ATV.com thanks Yamaha for sponsoring this New Rider series.
When it comes to finding the right ATV for you so you can go out and have fun with your friends and family, it's pretty easy to figure out what you want. When it comes to getting the right machine for your little ones, there aren't as many options to choose from in the youth department, but there are enough to keep you scratching your head on which one to get. No matter which model you choose, please abide by the manufacturer's age recommendations, which are clearly adorned on the ATVs from reputable manufacturers.
Speaking of reputable manufacturers, we're going to come out and give a huge warning right off the bat. You get what you pay for when you're shopping for a youth ATV. We have seen many people try to save a few bucks by getting some of those ATVs that you see people selling for cheap on the internet or even on the side of the road. These appear very enticing since you could likely purchase 2 or 3 of these for the same price that you would pay for one that is made by a well-known brand. But that low price should flash all sorts of warning signals in your brain.
These inexpensive ATVs go through little, if any, quality control and have a massive failure rate. Enough of a failure rate that we've seen families get turned off from the sport of ATVing because of this bad experience. Engines just randomly quit or things just fall apart, and when it comes time to try and find parts to fix or get warranty repairs done, good luck at finding the same guy you saw on the street corner just weeks ago.
This is why purchasing an ATV from a reputable manufacturer is crucial. Companies like Yamaha have multiple models for youth riders, like the YFZ50 or new Raptor 110. As an added bonus, you'll get Yamaha's extended network of dealers for any needs or routine maintenance on the machine. You might be paying a little more for the initial purchase, but you'll be saving yourself from a lot of headaches and disappointed little ones for years to come.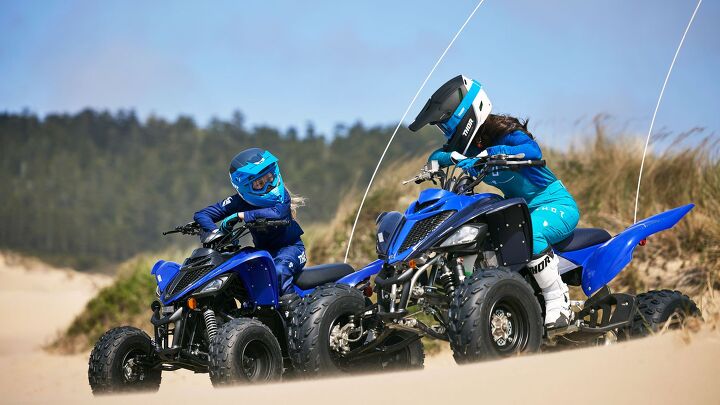 Now that we've got that out of the way, we can focus on how to get your little ones more excited about joining you in doing something you love. Take them to the dealers to see the machines you're considering getting. The smile on their faces is enough to light up a room and only gets better when they find these machines in the garage at home. This also gives you a chance to size them up to the machines to ensure you're getting an ATV that is right for them. Yamaha offers excellent options for riders aged 6 and above, starting with the YFZ50, while those aged 10 and older can explore the new Raptor 110 model.
These units are great entry-level machines that are easy to handle so they can learn the fundamentals of riding an ATV. How to corner, brake, and how to be responsible riders by looking at the surroundings where they're riding. This is when you can teach them how to off-road responsibly and really embed proper etiquette when you're out riding.
When shopping for gear for your young riders, the best piece of advice is to make sure things fit properly. With experience in the retail sector, we've seen many parents buy an extra size or two larger in an effort to prolong the time their kids can wear the gear they buy. When it comes to helmets, NEVER do this. Always buy the right size helmet because if you don't, you take the chance of a helmet coming off in an accident, and I guarantee that nobody wants to see this happen. Along with the helmet, get a good set of goggles to protect your kids eyes from dust and debris, ensuring that they'll be able to focus on riding and their surroundings.
Those are the two most important pieces of safety equipment, but we also strongly recommend good gloves and over-the-ankle boots. Riding pants and jerseys are optional, but they do have their benefits over jeans and a long t-shirt because they're designed for the rigors of off-roading. The pants and jerseys are made from more durable materials that are designed to take abuse.
Once you have your kiddo(s) properly outfitted and on the right machines, take them out as much as you can to keep the fire alive. Not only will they love riding, but they'll love and appreciate the memories that they'll be able to look back on for the rest of their lives, as will you. Published September 1st, 2023 5:48 PM
Top Brands
Popular Articles