1 View
How to Maintain Your ATV Trailer
July 16th, 2021 1:33 PM
Share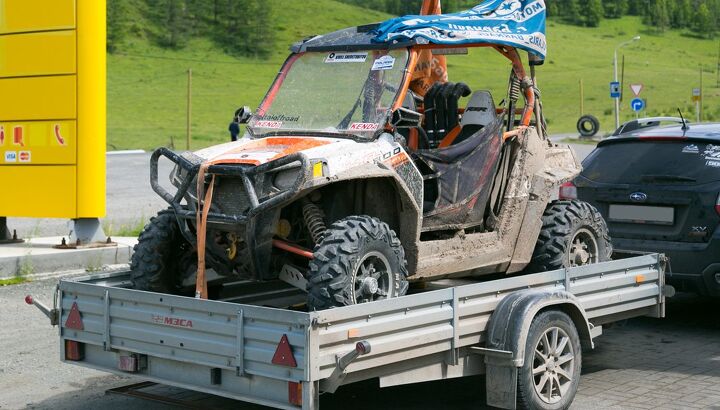 If you want to get to your riding destination, your trailer needs some lovin too.
Maintaining your ATV trailer is not often top of mind, but it is very important if you want you and your ATV or UTV arriving to the trails in one piece.
For the most part, many ATV and UTV enthusiasts think about the maintenance and quality of their off-road rig way before the trailer they haul it on. If the wheels are round, hold air, with blinky things on the trailer igniting the predawn light they pay no more attention to it. As long as they can keep the good times moving, getting out a magnifying glass to see the problems lurking on, under and around the ATV trailer will not catch their eye until its too late.
This is where we hope to shed some bright and clarifying light on the subject of ATV trailer maintenance. It has come to our attention that some might not get the term "safe" and need a refresher in how it affects not only you but others on the road as well. If you haul an ATV, it's going to weigh anywhere between 250-800 lbs and UTVs are almost double that high number in many cases. In short, you need to be safe, so does your ATV or UTV trailer and a good maintenance plan will ensure that.
Here are a few items we recommend to check and service regularly so that you have a reliable and safe hauler.
1. Editor's Choice: Maxxis M8008 ST Radial Trailer Tires
If its round and holds air it is good to go, right? Not really. Inspecting your ATV trailer tires regularly for treadwear, dry rot or cracking, and uneven wear can let you know the tires need replacing before hearing that BOOM of an exploding tire causing you to stop. As a tire matures it begins to degrade and even though it might have perfect tread, you only drive it once a month or even if you rotate them regularly many tire manufacturers recommend changing the tires every three to five years regardless of wear. Some trailer and RV tires may look brand new and then blow out as the heat builds up because they are just degraded from age. Buying ATV trailer tires with the proper load rating and good reputation are key factors that should be on top of your list, even before thinking about the price. If that cheap tire blows out it could cost much more than the price of a quality tire!
That is why we chose the Maxxis M8008 ST Radial tire as our ATV trailer tire of choice. Maxxis is one of the best tire brands in the business and the M8008 radial tire has a strong 10 ply rating, double steel-belted construction, and advanced tread compound for increased fuel economy, tread life and decreased rolling resistance.
2. Best Replacement Wheels: White Steel Spoke Trailer Wheels
It is important to check your ATV trailer wheels for damage often and be sure they are well balanced with the tire. Wheel balancing weights do tend to come off over rough roads and this can create a vibration. The vibration or damaged wheel will then put undue pressure on the trailer axle bearings and wear the assembly out over time. Inspect the wheels as you look over the tires and you check off two at once!
When it comes to these ATV trailer wheels, we can't say that there's any one better than the other. Look at customer reviews to see if there is one that you feel more comfortable with than another, but most importantly be sure that you are ordering the right wheel size and lug pattern before you click the "buy it now" button.
3. Best Bearing Upgrades: Rigid Hitch Trailer Bearing Repair Kit / Bearing Buddy Hub Caps
Your ATV trailer axle bearings are extremely important as they provide a frictionless rotation to the wheel, which need to be greased regularly. Greasing is not the only thing, as they need to be inspected on occasion as well. A simple way to check for wheel bearing wear is to jack up the ATV trailer and rotate the wheels. If they roll smooth, then try to wiggle the wheel by placing a hand on the top and bottom of the wheel, then push in and out to see if there is any play in the bearings. If so, the bearing may need a deeper look. Removing the grease cap and inspecting for a loose axle nut would be the first part and if the axle nut is tight then you know you may need to replace the bearings.
These wheel bearing kits from Rigid Hitch Incorporated are available in various sizes to accommodate various trailer axle sizes and come with new seals, bearing races and bearings, new cotter pins and hub caps. We highly recommend replacing the traditional hub cap with a set of Bearing Buddies, which allow you to grease your wheel bearings with a grease gun instead of having to pull the wheel/hub and do it by hand. This is a much cleaner and convenient procedure.
4. Best Trailer Wiring Kit: MAXXHAUL All LED Submersible Trailer Light Kit
Making sure your ATV or UTV trailer wiring for the lights as well as any accessories are in good working order is crucial. State laws will dictate just how many lights you must have on the trailer, but we guarantee that you will need at least brake, blinker and running lights in any state. Wires dangling from under the trailer will eventually get ripped out by road trash and unprotected connections will corrode without any careful inspections. Both of these will leave you potentially stranded or with a ticket, if not create a dangerous situation should any other motorists not pay close enough attention. Tie wires up with zip ties and make sure connections are protected with insulated connectors as well as electrical tape or heat shrink. After everything has been inspected and repaired, be sure each light, blinker and driving light is in good working order before flying out of the driveway.
If your trailer has turned into a literal rats nest of wires, sometimes it's best just to start fresh with some new lighting. This kit from MAXXHAUL has everything you need to upgrade your ATV trailer lights. A great thing about this kit is that the tail/turn lights are outfitted with LED lights instead of the old bulb style that you'll likely find on your old trailer.
5. Best Option to Increase Stopping Power: Electric Brake Kits
One area that regularly gets overlooked when performing ATV trailer maintenance are electric trailer brakes. If you know that your ATV trailer has electric brakes, then be sure to inspect the brake assembly at least once or twice a year depending on how much you tow your trailer. If you don't know what you are looking at, just haul the rig to your local trailer shop and have them check everything for you.
The obvious components to look at are the brake pads and drums, but you also need to check the actuators to make sure they're engaging the brakes when they're supposed to. If you carry a big load on each trip then you know how important these are in stopping that trailer full of toys.
To make life simple, many companies offer complete brake kits that include the loaded backing plate (pre-installed brake shoes and new components), brake drum, wheel bearings and seals. If you don't need all the components, you can just replace the loaded backing plates wire into your trailer wiring harness and reassemble. A fairly easy task for the DIY mechanic in you. The only think you'll need to know is the inner drum diameter and brake shoe width.
6. Strong Tie Down Points: Lonffery 4 Pack Recessed D-Ring Tie Down Anchors
Another critical area of trailer maintenance that regularly gets overlooked are the load anchor points. Let's face it, these are important in keeping your ATV secure while you're traveling down the road. Over time the existing anchor points may get loose and require a hardware up grade, OR you might have increased your load from an ATV to a UTV and need something that can hold the weight. Either way, this kit from Lonffery has everything you need to replace and/or upgrade your existing load secure points.
7. Best Tie-Down Kit: Mac's Tie-Downs Utility Pack
Mac's Tie Downs are known for having some of the best tie down's in the business. They make products that secure everything from your kids ATV to large loads found on semi trailers. Their utility pack is a great kit to keep on hand for securing loads on your ATV trailer. The kit comes with 4 6'x1" ratchet tie downs, 4 soft loops, and a bag to conveniently store everything when not in use so you don't lose anything. An added bonus in this kit are the 4 strap bands that help keep the tie downs compact when not in use and hold the excess strap you've got when they are in use.
8. Best Wheel Tie-Down Kit: Erickson Wheel Chock Tie-Down Kit
One of the best ways to secure your ATV or UTV on your trailer is by using wheel chocks and tie-downs or nets that secure the wheels to your trailer. The benefit of using a setup like this on your ATV trailer is that you're not putting constant pressure on your rig's suspension, potentially causing shocks to blow out or prematurely wearing out shock springs. Also by securing the wheel to the trailer, there's no chance of the straps coming loose when your ATVs suspension compresses from you hitting a bump going down the road. This is why your straps always seem loose when you arrive at your riding destination.
9. Best Cargo Net: Seven Sparta 5' x 7' Bungee Cargo Net
When going to our favorite riding areas, many of us throw more than just our ATVs on the trailer. This means that many of us have probably lost a thing or two during transport. This is why keeping a cargo net on your ATV trailer is a great idea. After you have your ride loaded, you can ensure that your gear bags, chairs, and other essential camping gear, that can't be secured with regular tie-downs, by using a cargo net. This cargo net from Seven Sparta is 5'x7' giving you great surface area to cover your gear and can be conveniently stored in the supplied bag when not needed. It comes with 16 D clip carabiners so you can secure the net in a number of spots to ensure your cargo isn't going anywhere while you're traveling.
Overall, your trailer deserves some love even if it is just a curious once over each time you pull it out of the driveway. Keeping a good eye on the trailer will ensure that you will have a trouble-free trip to and from your favorite riding area.
How often should I perform maintenance on my trailer?
This really depends on how often you're using your trailer. If you use your trailer every couple of weekends a month, doing a yearly service will serve you well. This includes checking your brakes, and inspecting and greasing your wheel bearings. Inspecting your tires for abnormal wear or punctures and a quick light inspection should be something that you do every time before pulling out of your driveway.
I lifted the trailer and moved the wheel around like you suggested to check the wheel bearings. It definitely has movement, so what do I check next?
It's not uncommon to get some play as your bearings get worn over time. Pull the hub off and give the bearings a quick look to see if there is anything that stands out requiring you to replace them. This could be cracked bearing cages, pitting on the rollers or cracked bearing races. If the bearings look good, pack them with some fresh grease and cinch them down with the axle nut, and install a new cotter pin.
Additional Resources
We are committed to finding, researching, and recommending the best products. We earn commissions from purchases you make using the retail links in our product reviews. Learn more about how this works.
Updated: 7/15/2021: Updated product descriptions, replaced depleted stock, added new product (Lonffery tie-down anchors, Mac's tie downs utility pack, Erickson wheel chock tie down kit, Seven Sparta cargo net), ranked product, added FAQ section and added additional resources.
Published February 28th, 2019 9:32 AM
Top Brands
Popular Articles