32 Views
7 Reasons Why Can-Am Machines Are More Affordable Than You Think
September 10th, 2018 11:37 AM
Share
We're committed to finding, researching, and recommending the best products. We earn commissions from purchases you make using links in our articles. Learn more here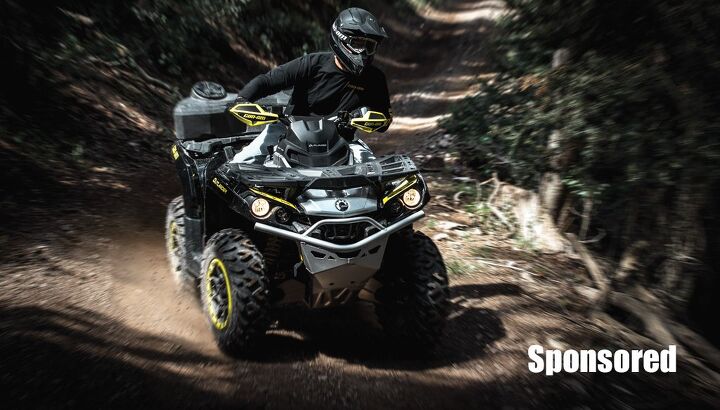 When it comes to finding real value in an ATV or SSV, you have to look beyond just the sticker price to find out exactly what you are getting.
There is a common misconception that Can-Am ATVs and SSVs are typically higher priced than the competition. However, if you look closely at the brand itself as well as the many models it offers, there are several underlying reasons why we think these machines are just as affordable.
Sticker price is, of course, the biggest "in your face" item that everyone looks at even before really digging into the meat of what Can-Am has to offer, so it's understandable that customers miss the mark when it comes to dollars and cents.
It has become clear over the years that most consumers cannot see the amount of cash they put into their machines after the initial purchase when they could have had a more feature-filled model from the start. Here are five reasons why we think the Can-Am brand currently has more than affordable machines for the average consumer.
More than Meets the Eye
Looking under the dress clothes of the Can-Am brand, there is not only a deep passion for perfection but also dedicated teams who engineer them. Looking at the bare bones we see the same engine platforms and transmissions in the base models just like the luxury limited editions of any given machine. Taking a base model ATV or Side-by-Side home and then adding your own bling to it is one way that Can-Am is being even more than competitive with its pricing, but if you realize just what you get with a mid-level or top-tier model in Can-Am's lineup then you know you are getting a great feature filled product for just a few bucks more.
Reliability
Some will make claims that reliability couldn't or shouldn't be a reason for more affordability because all brands should be reliable, but all have their faults and some more than others. But if you look at the track record of similar competing brands who have had way more issues, what is that financial toll? If it's priced similarly and gives you grief each time you ride, what is that mental anguish worth?
Hand-Built Parts
Did you know that quality is so important to the engineers at Can-Am that each of the turbos built for the Maverick Side-by-Side platform is completely hand assembled? Like on a long table with several engineers inspecting then putting each and every single small part together kind of hand assembled. That's how much this company cares about its products being the best they can be. In our minds this helps eliminate costly trips to the dealer for repair as well as a product that is less than satisfying. Each machine is, of course, hand built and we know this, but most components are pre-assembled and shipped in crates to the actual assembly line for final install. It costs a little more to build ATVs and Side-by-Sides like this, but Can-Am does its best to absorb that without costing the consumer. We have all been on the pegs or in the seat of a failing machine and that costs more than actual cash!
Features
How many companies had "Tri-Mode" power steering before Can-Am? None would be the correct answer. We are pretty sure no one has that even now besides Can-Am. But by allowing the consumer to choose the level of assist in the bars or steering wheel brings more value to a machine and keeping the price of that same off-road ride close to the competition was amazing when it was released. Who was the first to put air shocks that were adjustable on an ATV? Yes, it was Can-Am who implemented that feature. It is these seemingly overlooked features that bring more value to a machine.
Performance for the Price
Almost across the board, Can-Am ATVs and SSVs offer industry-leading power. If you want to get Can-Am levels of power from many competitive machines, you need to buy it with aftermarket engine modifications and exhaust systems. That can get really expensive, really fast. Plus, you may end up voiding your warranty when you start making these modifications. Horsepower definitely comes at a cost, but it's a lot more affordable (and easy) to get that power right from the factory.
Packages for Every Budget
For most every model in the Can-Am off-road lineup you can find packages at a variety of price points. You can keep it simple with the base model, upgrade to a DPS model for power steering, or jump up to one of the loaded X packages to find a great price on a bundle of accessories you would have to pay much more for if you bought them individually. There really is a package to suit most any budget.
Dealer Support
ATVs and SSVs are a big investment, so when you are ready to buy you want great dealer support. A good dealership makes can not only make the buying process easier, but also make sure your vehicle is well maintained so it lasts for years to come. Can-Am dealers topped the coveted Pied Piper Prospect Satisfaction Index for 2018. This is a measure of SSV shoppers who visited a dealership in person. Great dealers make for great ownership experiences. Published September 10th, 2018 11:37 AM
Top Brands
Popular Articles