1 View
2015 Hunting Accessories Buyer's Guide
September 13th, 2015 11:46 AM
Share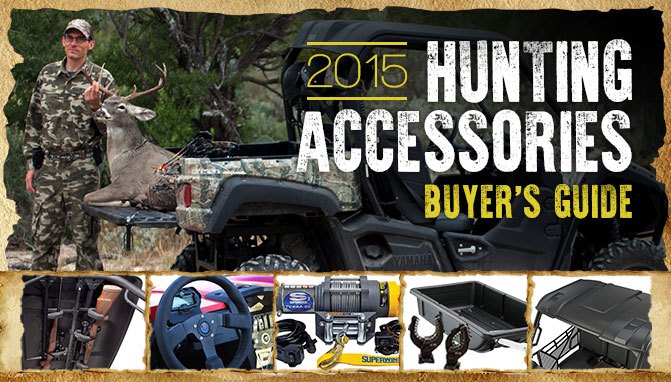 Turn your ATV or UTV into a true hunting machine
Depending where you live, hunting season is right around the corner or already here. With that in mind, we figured we'd share some products that might make your hunt a little more pleasant.
Rather than talk about rifles, bows, and clothing, we are going to focus on products specifically made for your Utility ATV or UTV. So fire up your camo-covered vehicle and take a gander at ATV.com's Hunting Accessories Buyer's Guide.
Gun Racks/Gun Boots
Big Sky Gun Rack
If you are hunting with a rifle or a shotgun, you need somewhere to safely carry it on your ATV or UTV. One UTV solution we really like is the Big Sky Racks UTV Bar, which allows you to store one or two guns on a UTV roll bar or canopy tube. You can get them at Cabelas starting at $99.99 for a single and $119.99 for a double. Learn more about the Big Sky Racks UTV Bar here.
If you are an ATV rider, take a look at Kolpin's Gun Boot. Starting at $104.99, the Gun Boot protects your rifle or shotgun with a hard plastic case that attaches to the rack of your ATV.
Bow Rack
Great Day UTV Bow Rack
For you bow hunters, Great Day has an innovative product that keeps your hands free and your bow secure. The Quick-Draw UTV Overhead Bow Rack retails for $129.99. The rack attaches to the roll bar of your UTV and can carry your bow with your quiver attached.
Utility Grips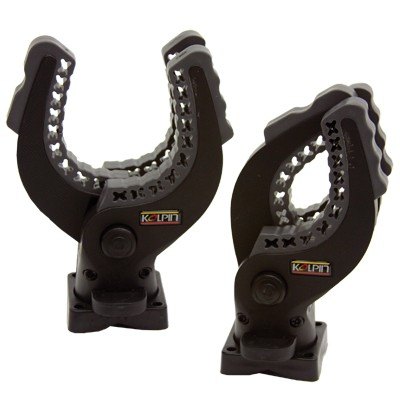 Kolpin Ratcheting Rhino Grip
Whether you use an ATV or UTV, Kolpin's Ratcheting Rhino Grips are like an extra set of hands. The grips feature a soft cross pattern rubber interior and can hold everything from guns to bows to fishing poles to rakes to a tripod for your spotting scope. Prices start at $52.49. Click here for more information.
Winch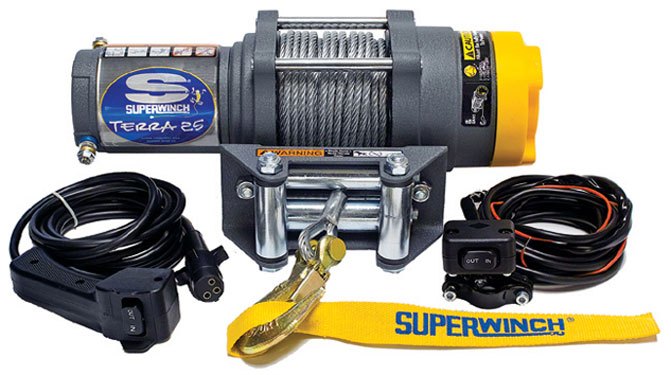 Superwinch Terra 25 Winch
Perhaps no ATV or UTV accessory is as helpful to a hunter as a good quality winch. A winch can get you out of a bad spot if you get stuck on your way to or from your hunting spot. Beyond that, it can also be used to drag out a deer or whatever game you happen to be hunting for. If you are hunting for big game by yourself, a winch is like a hunting partner that won't complain.
We went deep on winches in a recent Buyer's Guide, which you can read about here. We'd suggest a winch with synthetic line and a remote control that you can use away from your machine, in case you have to help the winch guide your bounty over some obstacles.
Lighting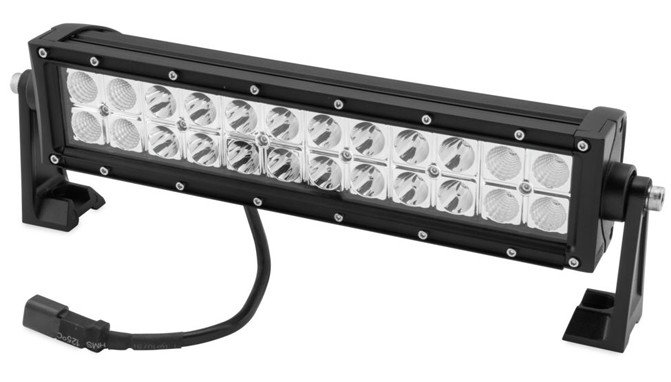 QuadBoss LED Lightbar
Those trophy bucks have a habit of appearing towards last light, which often means tracking when it's starting to get dark. By the time you've loaded up your kill, it could be pitch black by the time you get back to camp. Beefing up your ATV or UTV's lighting with some extra LED power is a good idea.
QuadBoss has some new lighting options. A couple of affordable three-inch pod lights ($59.95 each) would each add 1620 lumens of lighting power. If you really wanted to light up the trail, you could jump up to the 31.5-inch double row LED light bar that pumps out 13,200 lumens for $349.95. Learn more about QuadBoss lighting options here.
Heating Steering Wheel/Grips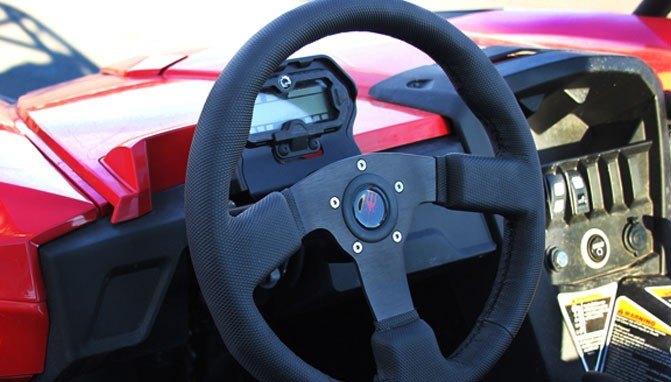 Heat Demon Steering Wheel
For many areas of the country, the mercury really starts to drop in hunting season. If you've got a long ride to your hunting spot, a heated steering wheel for your UTV or heated grips for your ATV can make things much more comfortable. Heat Demon offers heated steering wheels for a wide variety of UTVs for $349.95 and heated ATV grips starting at $69.95.
Windshield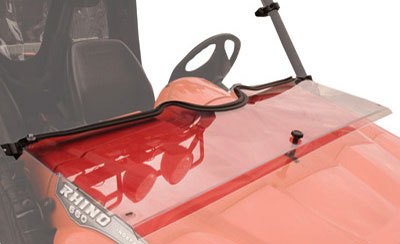 Tusk Hinged Windshield
Like the heated accessories, a windshield will help keep the biting wind off of you as your head out to your tree stand or ground blind. We prefer a folding windshield, so we can let it down when the temperatures climb in the afternoon. This offering from Tusk is hinged, so it folds down. It retails for $129.99-$149.99.
Sun Top/Roof
Polaris Ranger Roof
Perhaps the most popular UTV accessory is a roof or sun top, and for good reason. Anybody who spends a lot of time riding in the sun or rain will appreciate the protection a roof provides. Every manufacturer sells roof systems and the aftermarket is also loaded with options. Expect prices to start around $90-$100 for a soft top.
Cargo Bed Mat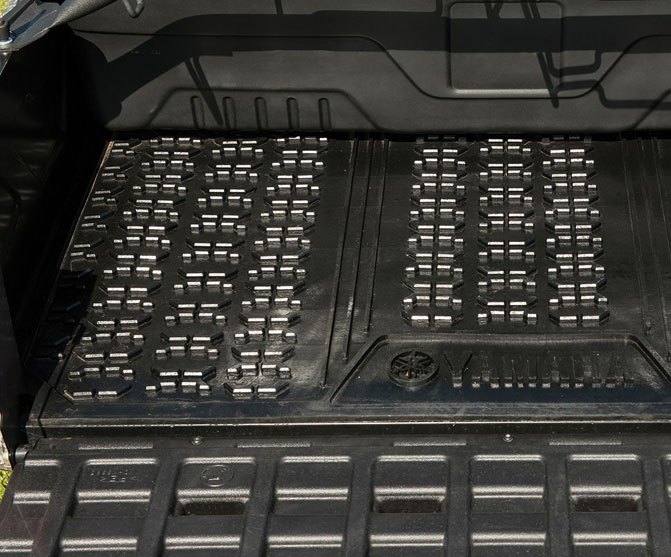 Yamaha Cargo Bed Mat
If you are hauling game in the cargo bed of your UTV, a cargo bed mat is a good idea. A good cargo bed mat can easily be hosed off so your UTV doesn't start to smell funky after a hunt. Yamaha offers a bed mat for the Viking that features an aggressive lug pattern so cargo doesn't slide around, which retails for $98.95.
Trailer/Sled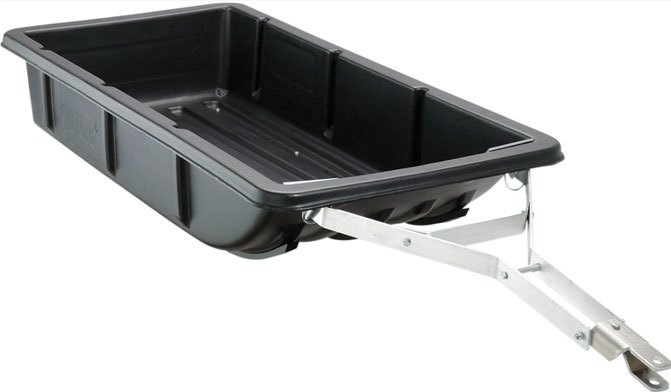 Published August 31st, 2015 10:56 AM
Top Brands
Popular Articles