1 View
Good but Cheap Ventilated Riding Gear
June 20th, 2018 4:28 PM
Share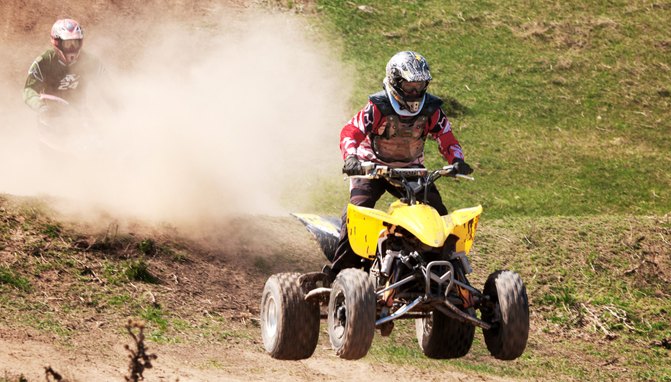 Keeping cool while riding the trails or the track doesn't have to come at the expense of style, comfort or even a lot of money. Here are some suggestions for good, but cheap ventilated riding gear for your summer fun.
Now that we're getting into the summer months, the temperatures are creeping up and riding is a great way to cool down and have some fun. If you're at all like me, you dread the thought of being sweaty while you're riding. You need to keep that air flowing around you to help you stay cool. Ventilated riding gear can be a huge help, especially on rides where the humidity is close to the same as the temperature. Vented gear offers up protection in the spots you need it, and in the areas you don't, you get special fabrics that allow for increased airflow. Everyone that rides in the summer sun should at least have some ventilated gear to help cool you off. Now buying a second set of gear can get pretty pricey, but don't worry. Here is some very good but cheap ventilated riding gear to help keep you comfortable on the trail or the track this summer.
Troy Lee Designs Air Gloves
When I first started riding many years ago, riding gloves were kind of bulky, with a lot of protection and padding. It seemed good at the time, but man, I got a lot of blisters from sweaty hands. Today's modern riding gloves are more minimal and for hot-weather riding; the minimal-er, the better it seems. The TLD Air glove is mostly made from light and breathable Lycra mesh material on back of the glove. This gives you a cool, comfortable fit, especially when you look at the vented Clarino palm that gives your skin a break from the grips and helps keep the palms from sweating. Being from TLD, they look sweet, too, as well as being under $30 a pair. Learn more here.
Fly Racing Kinetic Mesh Jersey
If you follow pro motocross at all, you've probably seen several of the top guys wearing this Fly Racing Kinetic jersey this summer. I have to admit – I love the retro styling that is a big part of the trends in gear lately. I bought this jersey for my son to help him keep cool. It has big mesh patches that really help airflow through the jersey. It has a long tail that helps keep it tucked into your pants, unless that isn't your style. The cuffs are short and stretchy to help reduce fatigue. The graphics are sublimated to reduce fading, too. You can score your own Fly jersey for well under $40 – a great deal on some cheap ventilated riding gear. Learn more here.
Moose Racing Sahara Pants
The trick with vented riding pants is for them to be tough and durable in the sections that come in contact with the machine, while at the same time being vented in the areas that don't so you get enough air flow to avoid the dreaded "monkey butt." Moose Sahara pants were invented for guys riding hardcore in the desert. Heavy-duty reinforced nylon in all the wear points and reinforced real-leather knee patches, combined with heavily ventilated sections blend together to make these extremely durable and comfortable pants. That's pretty much everything we look for in cheap ventilated riding gear. The best part? You can get them for less than $100. Learn more here.
Alpinestars Pro Coolmax Socks
It's crazy to think how important socks are to keeping you cool. These socks from Alpinestars are made with Coolmax fabric that helps keep your feel cool and most importantly, dry. They are extra thick in high-wear areas to help keep you comfortable and blister-free as well. The sole has Nostatex fabric to add even more wicking properties to the socks. For less than $16, these are really good but cheap ventilated socks for riding. Plus, Eli Tomac wears them! Learn more here.
LS2 Subverter Helmet
I keep checking the LS2 Subverter helmets out at my local dealership and I might just have to pull the trigger and buy one. Pictures just do not do justice to the amount of vents this skid-lid has. It has multiple vents across the chinbar and the outer shell of the helmet. Generous ports in the back help pull air through, keeping your head cool. Plus, it looks sweet. The shell is durable KPA material and the interior is laser-cut EPS foam. You can score one of them for around $200 – that is some seriously good and cheap ventilated riding gear. Learn more here.
You may be thinking that these all look great, but you want your gear to match. No fear, my friends – you can get matching gear from most all of these companies. The important thing to remember is – safety gear exists for the purpose of keeping you safe, comfortable and on the trail or track. It can only do that if you wear it – even when the summer sun is blazing and you'd rather be without it.
Published June 20th, 2018 4:28 PM
Top Brands
Popular Articles