12 Views
Ogio Rig 9800: The Ultimate Gear Bag
May 25th, 2021 11:58 AM
Share
We're committed to finding, researching, and recommending the best products. We earn commissions from purchases you make using links in our articles. Learn more here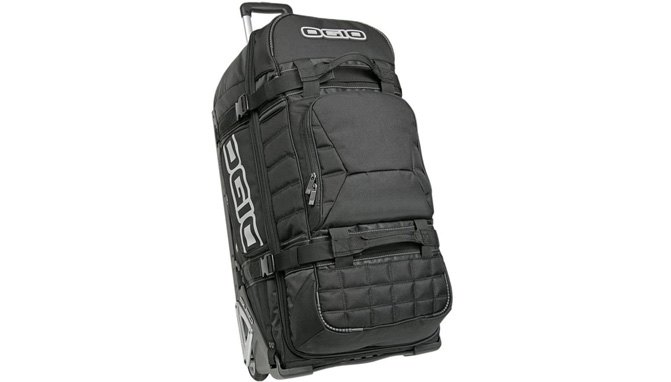 We take a deep dive into Ogio's popular gear bag
If you're looking for a replacement for your old, worn-out gear bag, you might want to check out the Ogio Rig 9800. It's a rugged, durable roller bag, billed by the manufacturer as "perfect for a trip to the track, a trek across the globe, and everything in between," not to mention the "most elite, fully loaded travel bag available." Features like a dedicated padded helmet chamber and over-sized wheels designed to traverse any terrain signal the bag's true intent as the ultimate gear bag for outdoor sports enthusiasts, but in truth, the Ogio Rig 9800 is a multi-use rolling duffle, just as at-home at the airport as it is at the trailhead.
The Ogio Rig 9800 does it all, with style, copious space, a strong list of features, exceptional durability, and a limited lifetime warranty to back it all up. Is it the right bag for you? That depends. Here, we take a look at the features and designs of this rugged gear bag, as well as real-life user reviews, to help you make an informed purchase.
Table of Contents
1. Ogio Rig 9800 Features
Apart from its legendary durability, the Ogio Rig 9800's greatest asset might be its size. It's an absolutely cavernous bag with 7,500 cubic inches – about 123 liters – of capacity. That leaves plenty of room for your helmet, goggles, gloves, and whatever other gear you might need to ride, all safe and secure within a durable, 100% polyester shell with iFOM integrated-foam padding, bound by secure-hold compression straps. A telescoping pull handle deploys out of one side of the bag, and a rigid "SLED" (Structural Load Equalizing Deck) System reinforces the bottom to limit deformation for enhanced durability, cargo protection, and easier rolling.
Rolling is also made easier by the Ogio Rig 9800's heavy-duty, over-sized wheels, which provide extra ground clearance and roll smoothly over all sorts of imperfect terrain. Easy access to the main compartment is provided by a big zippered lid that takes up the full frontal area of the bag, making it easier to load and unload big gear items, and the compartment features a padded helmet chamber and a flexible, configurable space with adjustable dividers. Multiple smaller, multi-use compartments offer additional storage for apparel and other small bits of gear.
The Ogio Rig 9800 is available in a range of colors and prints, from the standard black to a busy, fetching "Punk Splash" print with clashing black-and-white striped patches.
The classic look. The Ogio Rig 9800 in black has a simple, clean look with contrasting white OGIO logos printed on the bag sides and a black-and-white OGIO emblem on the front. Dark black compression straps and rectangular padded cells on the main front access lid add some visual intrigue and make the Rig 9800 look as tough as it is.
More understated than the Black bag, the Dark Static Ogio Rig 9800 features a textured-looking gray fabric with black OGIO side logos and lid emblem. Those elements don't stand out as much on this design, blending right in with the black compression straps, zippers, and grab handles.
If you're looking for a gear bag vaguely reminiscent of Vincent van Gogh's "Starry Night", you've found it. The Ogio Rig 9800 in Haze features a gentle, dark blue print with lighter splashes, almost resembling a starry sky on a clear night. The printed OGIO side logos are white, with a black-and-white OGIO emblem.
Ogio's Neon Tropics bag style is exactly what it sounds like: a two-tone tropical print with navy blue and bright, neon green elements, perfect for transporting your gear on your next Hawaiian vacation. The all-black OGIO emblem and side graphics fade right into the busy backdrop, but the grab handles mounted to the black compression straps stick right out thanks to their neon green color.
The Ogio Rig 9800's Punk Splash print is probably our favorite, with a loud, street graffiti-like collage of high-contrast black-and-white striped patches running in all different directions. Don't stare too hard at it, though; you might just make yourself dizzy. The black OGIO side graphics and black-and-white emblem fit right in without detracting from the highly frenetic print.
How real-life customers feel about a product speaks volumes, and by that measure, the Ogio Rig 9800 might just be the ultimate gear bag, enjoying overwhelmingly positive reviews from owners, with durability being its most oft-cited virtue. Reading through the feedback from customers, we found numerous endorsements from people who have used the Ogio Rig 9800 for years with no discernible wear, despite frequent travel and some heavy cargo loads – as much as 70 pounds' worth of gear in some cases.
Another common refrain we noticed is that the Rig 9800 has copious room for most travelers' gear, with enough space to accommodate a helmet or two, plenty of riding gear, and other essentials with ease. That roominess comes with a price; at about 15 pounds empty, several reviewers noted that the Rig 9800 is one of the heavier gear bags out there. But that's a necessary trade-off for the level of durability and gear protection it offers, and a not-insignificant amount of the mass is contributed by the bag's "SLED" system, which, some customers have noted, is extraordinarily well-built, and waterproof.
A slim minority of customers appear not to share the view that the Ogio Rig 9800 is a durable bag, however, reporting failures of the zipper pulls tabs, compression straps, release buckles, and in one case, a wheel bracket. But such reviews are outliers, and it's worth noting that Ogio backs the quality of its bags with a limited lifetime warranty that protects against defects in materials or workmanship.
Overall, you'd be hard pressed to find a gear bag with such an overwhelmingly positive reputation.
We are committed to finding, researching, and recommending the best products. We earn commissions from purchases you make using the retail links in our product reviews. Learn more about how this works. Aaron Brzozowski
Aaron is a freelance writer, videographer and car enthusiast based out of the Detroit area. He has a special affinity for the Porsche 944 series, and once owned a Volvo 240 sedan with a Weber carb in place of the factory EFI system. His work has appeared on AutoGuide, GM Authority, /Drive, and VW Vortex, among other sites.
More by Aaron Brzozowski
Published August 21st, 2020 1:28 PM
Top Brands
Popular Articles