39 Views
January 23rd, 2023 6:47 PM
Share
We're committed to finding, researching, and recommending the best products. We earn commissions from purchases you make using links in our articles. Learn more here
Honda's liter-class side-by-side sees a recall for an issue that could potentially destroy your engine if not addressed. This is in addition to a previous Honda recall from 2022 for the Talon SxS. See below for more details.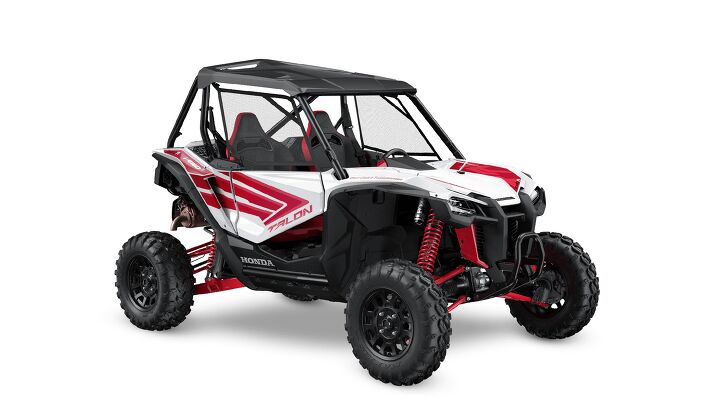 American Honda Expands Recall of Honda Talon 1000 ROVs Due to Crash and Injury Hazards
Name of Product: 2019-2021 Honda Talon 1000 ROVs
Hazard: The vehicle's intake funnel band screw can loosen and enter the engine through the intake funnel and cause sudden engine failure. If this occurs, it can result in a loss of control, increasing the risk of a crash or injury.
Remedy: Repair
Recall Date: January 12, 2023
Units: About 34,000 (About 32,000 were previously recalled in March 2022)
Recall Details
Description: This recall expansion involves an additional 2,000 2021 model year Honda Talon 1000 side-by-sides with model numbers Talon 1000 S2 and Talon 1000 S4. The vehicles were sold in various colors including red, blue, green, gray and yellow. "HONDA" is printed on the front, sides and the rear of each vehicle. "Talon" is printed on a label located on both sides of the vehicle. The Vehicle Identification Number (VIN) number is stamped on the frame on the left side under the left front fender. The VIN range for affected Talon 1000s is as shown below.
Original Recall:
MY Model VIN Start VIN End
2019 Talon 1000 S2 1HFVE05**K4000003 1HFVE05**K4003902
2020 Talon 1000 S2 1HFVE05**L4100001 1HFVE05**L4102280
2021 Talon 1000 S2 1HFVE05**M4200001 1HFVE05**M4202760
2020 Talon 1000 S4 1HFVE06**L4000002 1HFVE06**L4003420
2021 Talon 1000 S4 1HFVE06**M4100001 1HFVE06**M4102218
Expanded Recall:
MY Model VIN Start VIN End
2021 Talon 1000 S2 1HFVE05**M4200084 1HFVE05**M4203061
2021 Talon 1000 S4 1HFVE06**M4100121 1HFVE06**M4102580
Remedy: Consumers should immediately stop using the recalled recreational off-highway vehicles and contact an authorized Honda Powersports dealer to schedule an appointment for a free inspection and repair, which includes proper tightening and thread deformation of the intake funnel screw. American Honda is contacting all known purchasers directly.
Incidents/Injuries: The firm has received a total of 18 reports of incidents, including one report of a loss of control, resulting in a crash with minor injuries to the occupants.
Sold At: Authorized Honda Powersports dealers nationwide from March 2019 through September 2022 for between $20,000 and $27,000.
Manufacturer(s): American Honda Motor Co. Inc., of Torrance, California
Note: Individual Commissioners may have statements related to this topic. Please visit www.cpsc.gov/commissioners to search for statements related to this or other topics.
Manufactured In: United States
Recall number: 23-090 Published January 23rd, 2023 6:47 PM
Top Brands
Popular Articles