1 View
Ridin' Dirty Ice Racing [video]
December 1st, 2010 12:07 PM
Share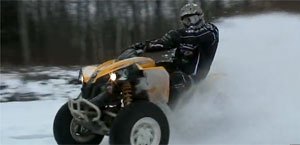 As shocking as it seems, one look at the calendar confirms it – it's December! For those of us who live in northern climates that means it's time to get ready for some fun in the snow!
Sure, some will put away the ATVs until spring and maybe break out the snowmobiles, but the truly hardcore will find a way to ride all year long. Frostbite be damned!
To get you pumped for some ice riding, we scoured YouTube for winter riding videos. We found an awesome video of two Can-Am Renegades ripping around on the ice and snow that we just had to share with all of you.
For all you southern folks who don't have to worry about scraping the frost off your windshield in the morning, consider this an invitation. There's plenty of snow to go around.
Get the Flash Player to see this player.
Published December 1st, 2010 12:07 PM