1 View
Polaris Donating Vehicles to The Salvation Army
September 17th, 2015 4:18 PM
Share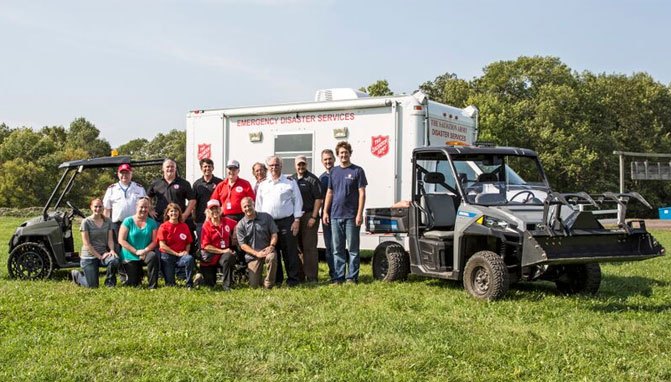 Four Utility vehicles to help assist in national disaster cleanup
Polaris has announced that it is donating four Utility off-road vehicles to The Salvation Army. The donation includes a combination of Ranger HIPPO, Polaris Brutus and Polaris M1400 vehicles, a variety of front attachments, and a set of TerrainArmor Non-Pneumatic Tires (NPT) to enhance The Salvation Army's ability to assist in natural disaster clean up in severe conditions.
"Following earlier donations to the Salvation Army, we've learned more about their mission/ charter," said Tate Johnson, director of Work Vehicles. "We have gained an appreciation for the impact Polaris vehicles and work technologies can have in helping The Salvation Army provide food, water, and support to those in need. The Salvation Army has indicated that our NPTs and off-road vehicles have enabled their personnel to service disaster victims they would not otherwise have reached. We are hopeful that today's donation of vehicles will better position the Salvation Army to help get people's lives back together after disaster."
The Commercial Brutus units are equipped with varying attachments including a bucket, grapple and pallet fork. One Brutus is equipped with TerrainArmor NPT tires, which are built to never go flat and are virtually indestructible.
The Military Ranger HIPPO has an integrated Power system that is driven by the vehicle's diesel engine. This allows the vehicle to travel to sites with no available power sources and run a variety of hydraulic, pneumatic, electric, and welding equipment.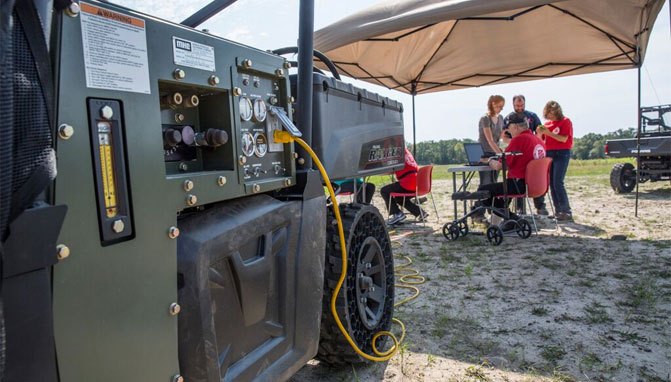 The Polaris M1400 unit is a 2×4 gas-powered, commercial utility vehicle, capable of hauling 1,400 pounds and towing 1,500 pounds.
"This year marked the 10th anniversary of Hurricane Katrina, one of The Salvation Army's largest disaster relief responses," said Colonel Robert Thomson, Salvation Army Commander in Minnesota and North Dakota. "Our challenge is to go where we are needed most – wherever there is suffering and crisis. Having these vehicles from Polaris puts us in a position to take on that challenge. We train volunteers year 'round and that has been our mantra – be prepared for anything. Thanks to Polaris we are one step closer to handling anything that nature throws at us."
The donated vehicles will be put in to immediate use as they are being shipped directly from Polaris to Philadelphia to distribute meals to the volunteers in support of the Pope's visit.
Published September 17th, 2015 4:18 PM