25 Views
Cheap Ways to Get a Custom UTV Look
May 2nd, 2018 3:52 PM
Share
We're committed to finding, researching, and recommending the best products. We earn commissions from purchases you make using links in our articles. Learn more here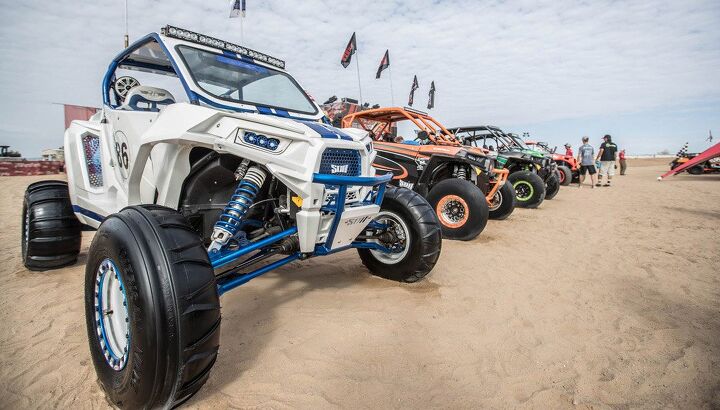 While performance is key when it comes to UTVs, some added style is always nice. Here are five ways to get a custom UTV look without breaking the bank.
Most of today's UTVs look pretty sweet right from the factory. We're blessed in that we get to pick from a number of great looking rides to hit the trails with. Of course, no one wants their machine to just look stock, right? This is especially true if you're driving with a group of buddies who have the same, or similar machine. You want to stand out and make your ride look like an expression of you. Luckily, it's pretty easy to get a custom look for your UTV without breaking the bank.
Mossy Oak Camo UTV Wrap
If you're the type of person that thinks everything looks better in camo, well, you and I could probably be friends. For less than $250, you can get all the camo you need to completely cover your UTV. Mossy Oak uses 3M's Premium Cast Vinyl that locks in the camo pattern for a long-lasting finish that looks amazing. The kit comes as a four-foot by 12-foot roll of camo that you cut and fit to your machine. Take your time to do it right, and you'll never know the machine didn't come that way from the factory. It comes in 13 different camo patterns for a really cool, custom look. I wrapped a Can-Am Defender in Mossy Oak Bottomland and it looks amazing.
Machine-Specific Graphics
For the sport and super-sport UTV crowd, there are some sweet-looking custom graphics kits that are pre-cut to fit your specific machine for a different look. There are lots of these kits to choose from with different color combinations and more. This kit, from Attack, is printed on thick 21mm vinyl and covers just about every part of the factory stock plastic aside from the fenders. And for less than $250, you can have a custom UTV that doesn't look like your buddy's ride in short order.
Wheels
One of the first things many of us do to trick out our trucks and cars is to swap out the stock, boring rims, for something cooler. The same can be said for our UTVs, and there are just as many, if not more options to play around with. New UTV wheels will run anywhere from $75 up to $150 each, depending on the style, materials and manufacturer, but if you're looking for something that can set you apart as well as be functional, it is a great way to go.
Bumpers
Another way to drastically change the look of your machine while at the same time adding some additional protection, is by adding a bumper. An accessory bumper replaces the stock one and often covers more area around the front and/or rear of the machine. The factories often offer several accessory bumpers that fit directly on the machine. The aftermarket also usually has some sweet offerings that give you some pretty wild, and terrain-specific options. There are often some pretty wild color options available to really help you set your ride apart from the crowd. The cool thing is, you can often add a killer bumper to your ride for less than $300, for functional performance and a custom UTV look.
LED Light Pods
I'll be the first to admit that I used to think adding LED light pods to your ride was kind of silly. Sure, they look pretty cool, but what was the function other than looking cool at night? Then I used some. It actually made driving easier and didn't mess with my vision in the dark. Since then, I've really started digging the look of them. They also work well to help other drivers see you. This is a great idea if you're riding with a group, or at a busy riding park or trail system. Made from durable die-cast aluminum housings and with long-life bulbs, these lights are a great and inexpensive option to help set you apart from the crowd. And for less than $50 for a set of six lights, that's a bargain. Derrek Sigler
Derrek's love for all things ATV started when he was a mere 11 years old, growing up on his family farm. His mom gave him and his sister a choice - get a horse, or a three-wheeler. The sister wanted the horse, and Derrek wanted the ATV. Luckily he won out, and was soon burning up the trails on a Yamaha Tri-Moto 200. By the time he was 14, he had saved enough of his own money by working on the farm and in his folks restaurant to buy a new 4-wheeler. That happened the day he and his mom were driving past the dealership and saw 1987 Banshee. His mom had no idea what he was buying, and he never looked back. He's been riding ever since, and been writing professionally for many years. He has ridden all over North America and been behind the controls of just about every machine out there. And yes, he still has his 1987 Yamaha Banshee.
More by Derrek Sigler
Published May 2nd, 2018 3:52 PM
Top Brands
Popular Articles