50 Views
The EZPack JerryFlex Is The Easiest Way To Take Water With You
September 22nd, 2021 1:27 PM
Share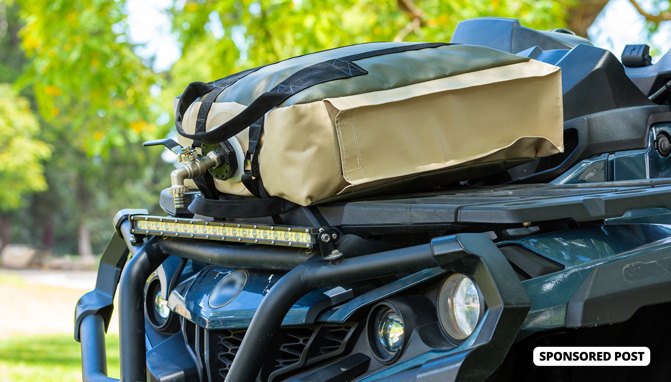 Whether you are headed out for a weekend off-road adventure or just going for an an ATV ride on a hot day, you need to bring water with you to stay hydrated and keep cool. But there's an easier way than strapping down a cooler full of throwaway plastic bottles to the bed of your UTV or your ATV's rack. This is where EZPack Water shines.
Since 2010, EZPack Water has been innovating new ways to transport and store water in some of the harshest, most remote locations imaginable. And while the company didn't start off peddling water storage products to ATV riders, overlanders, and off-grid camping enthusiasts, that was a logical extension of what EZPack has already been doing for more than a decade: bringing water to desolate areas for agricultural use, supplying clean drinking water to remote villages, and providing emergency water supply solutions to homes in disaster prone regions. Suffice it to say that in doing that work, EZPack has learned a thing or two about how to store water safely and securely, without leaving it susceptible to excessive bacteria or other contaminants.
For those of us who like to hit the trails in our ATVs and UTVs, EZPack's JerryFlex portable water storage bladder is the perfect companion. Like the name suggests, the JerryFlex is essentially a jerrycan, like the ones that have been ubiquitous in overlanding since WWII, but made of a flexible material instead of pressed steel. Why go this route? For one thing, when emptied, the JerryFlex is able to be compressed for easy transport and storage, reducing its size by up to 80 percent. That's a godsend on vehicles where space is at a premium – like your average ATV or UTV.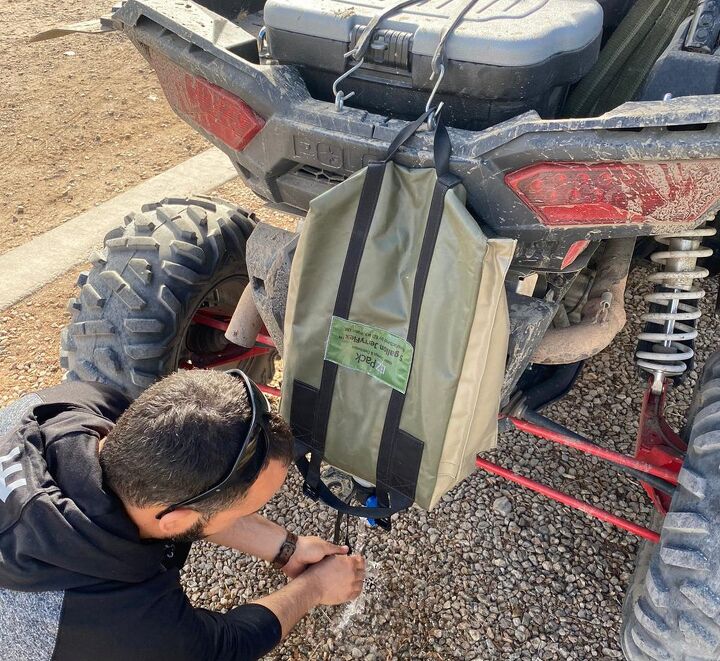 And for another, the design of the JerryFlex is such that it features a removable BPA-free inner liner that can be replaced as needed. That's key to the whole JerryFlex philosophy, which prioritizes clean, safe water storage with no odor, pathogens, mold, or mildew. It also ensures that you can get maximum longevity out of the portable water bladder; so long as the outer shell is useable, you can just change out the liner and make your JerryFlex good as new again.
If you're now thinking, "that's great and all, but there's no replacement for steel when it comes to strength," it might be time to rethink that notion. The JerryFlex's outer bladder bag is made from a rugged, military-grade material that's supremely puncture- and tear-resistant, making it truly trail-ready, and it has a super-tough tap to match. It also fits into just about any standard jerrycan holder, although JerryFlex comes equipped with some sturdy securing straps if you'd just as soon strap it straight to a roll cage or cargo rack. And, of course, the JerryFlex doesn't dent, rust or rust. We've seen many a metal jerrycan rendered unsafe for drinking water storage by corrosion in our day or plastic jerrycans becoming brittle and cracking due to exposure to sun light.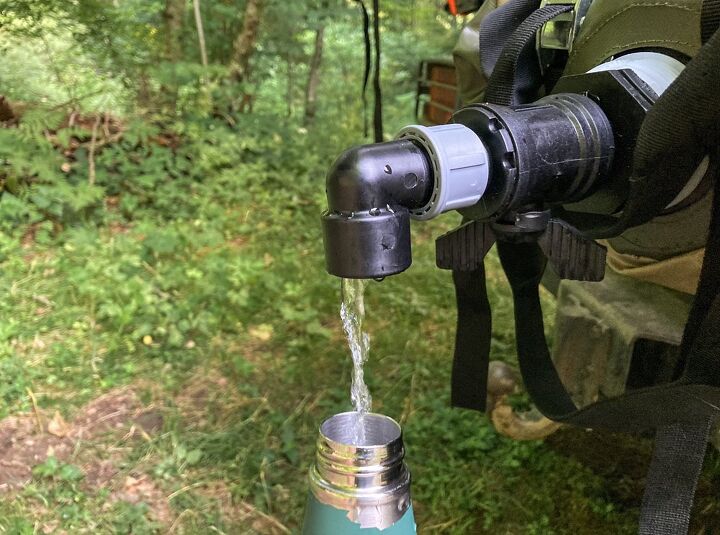 Available in Green, Blue, or "Desert", the EZPack JerryFlex can be had in sizes of either 2.5 gallons or 5 gallons and comes with the easy-to-replace removable BPA-free liners. Additional liners can be purchased in packs of three at a very reasonable price. Filled completely, the 2.5-gallon version will tip the scales at 23 pounds, EZPack claims, while a full 5-gallon JerryFlex will add 44 pounds to your ATV's cargo tally. Naturally, the bulk of that is water weight, which is weight you should budget for no matter what sort of container you're carrying out into the wilderness.
Perfect for us ATV and UTV enthusiasts who like to venture far out into the wild for hours or days at a time, the JerryFlex builds on the foundation of EZPack's other brilliantly useful line of water storage products: the EZPack Water Storage Bladder. It's essentially the same concept, with a removable BPA-free liner sitting inside a flexible, durable outer bladder, only the Water Storage Bladder is a bit more general-purpose. Sure, it's plenty portable, too, folding down to about 20 percent of its maximum size when empty, making it a great companion when tent camping, RVing, off-roading, or whatever other sort of adventure-seeking you like. But it's also a lifesaver in your standard home emergency preparedness kit – sometimes literally. Disaster-stricken areas can go days without a reliable source of drinking water; having safe, clean water on-hand might be the difference between life and death.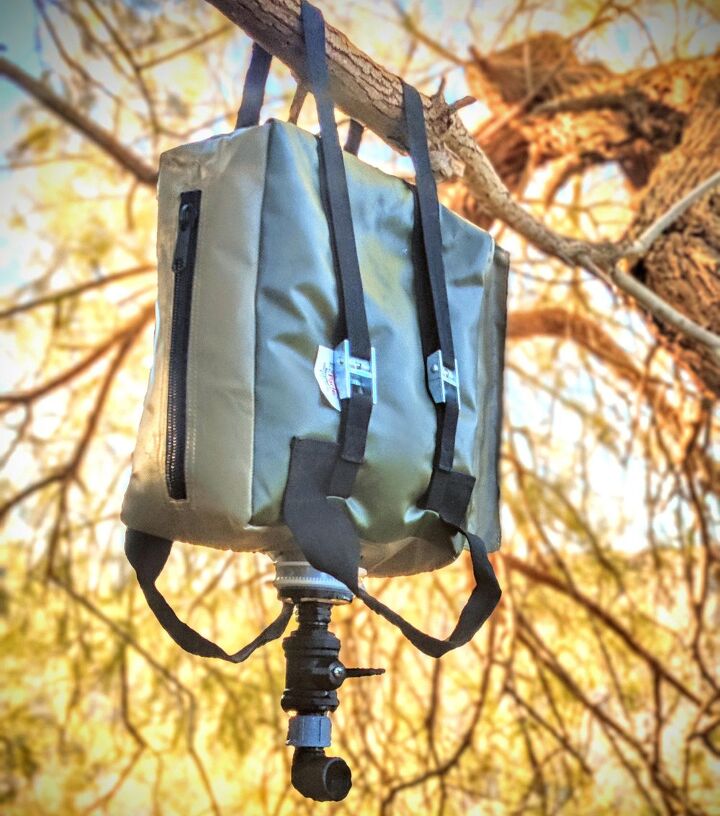 Sizes for the EZPack Water Storage Bladder range from 5 to 50 gallons, so while you could just as well carry one with an ATV or UTV instead of the JerryFlex, by 10 gallons, you're already up to about 90 pounds of total weight, making the Water Storage Bladder more readily suited to off-road trucks and RVs. And of course, the Bladder isn't designed in the same format as a standard jerrycan, so carting one around in a typical jerrycan holder isn't an option, although sturdy carrying handles allow moving it around.
Personally, we never thought we'd ever find ourselves in a universe where someone decided to go ahead and rethink the jerrycan. The classic, iconic design has some serious staying power, having been around since the 1930s, with no signs that it's about to slow down. But what's even more surprising about the EZPack JerryFlex is that it's just so good in providing a great alternative to standard jerrycans, making it a great addition to the gear of your average off-roader, boondocker, and general adventurer.
* As an added bonus, ATV.com readers will receive a 15% discount on the entire EZPack product line.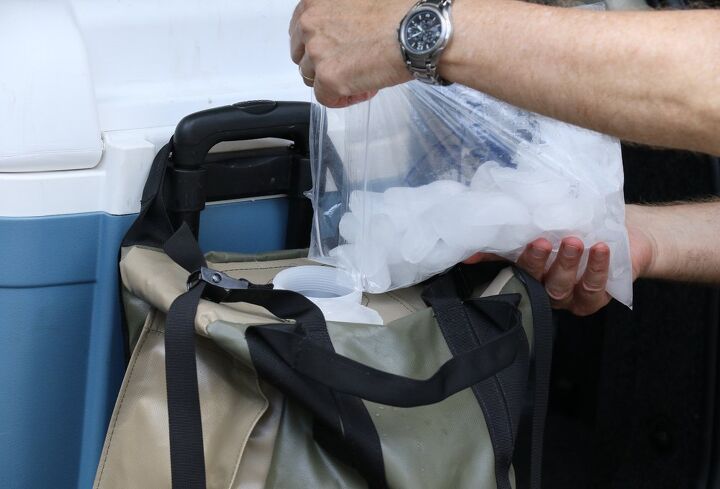 Published September 13th, 2021 12:37 PM
Top Brands
Popular Articles