138 Views
5 Things You Need To Know Before Buying An ATV or SxS
September 21st, 2023 11:42 AM
Share
We're committed to finding, researching, and recommending the best products. We earn commissions from purchases you make using links in our articles. Learn more here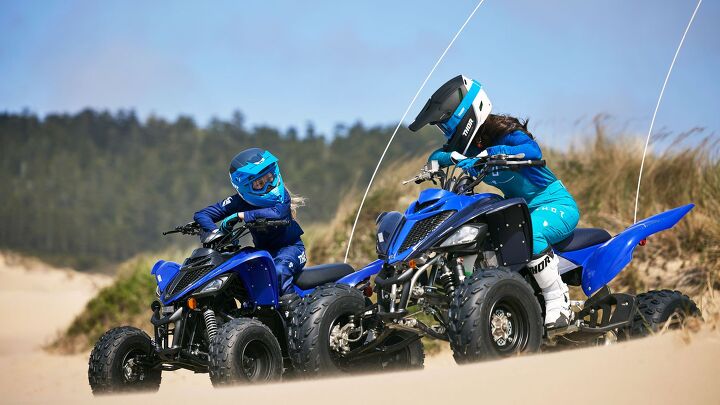 When you're ready to make a big purchase of an ATV or SxS, there is a lot more to know before you head to your local dealer. Sure the make and model of what you want to purchase is a huge part of the decision making process, but we're here to educate you on what other things you'll need to know before biting the bullet.
When you're considering the purchase of a new ATV or SxS and take a drive to your local powersports dealer, it can be overwhelming as soon as you walk through the door. Even more so if it's a multi-line dealership that has every kind of ATV or SXS in production from every manufacturer. You have a pretty good idea what you want but would it be the right machine for you? We're here to help by giving you the tips you need to know before making the big purchase.
ATV.com thanks Yamaha for sponsoring this New Rider series.
Where Are You Going to Ride?
First and foremost, have a good idea of the area you primarily plan on riding at. If the off-road area is full of tight technical trails that have lots of rocks and water crossings, purchasing one of the most popular Sport ATVs wouldn't be the most practical choice. If you're primarily looking for fast fire roads or duning, that would be a good choice, but not if you're planning on rock crawling or taking on potentially muddy trails. Knowing your terrain is probably one of, if not the most, important factor in which machine would be right for you.
Do you need 4WD? Does the machine you're looking at have the right ground clearance for what you're planning on doing with it? Does it come with options like a winch? These are all good things to know when you're in the process of looking. There's nothing worse than a buyer's regret if you were to purchase a machine that wouldn't live up to your standards for the area you'll frequently ride at.
How Are You Going To Haul Your ATV or SxS?
If you know what you want to come home with, be sure that you have the equipment to bring it home. We've seen ATVs and SxS's transported in a variety of ways, and some even made us cringe. Sure you can put a trailer hitch on your compact car to pull a small trailer with a light(ish) ATV, but don't expect to be able to tow that larger 4-Seat SxS you've been eyeing. We've even seen seasoned SxS owners purchase a new unit only to find out that their toy hauler didn't have adequate garage space to haul the new unit.
It's important that you not only have a vehicle strong enough to safely transport the weight of your new off-road toy and that the bed space of your truck or trailer is sufficient for its size.
Do You Have All the Proper Riding Gear?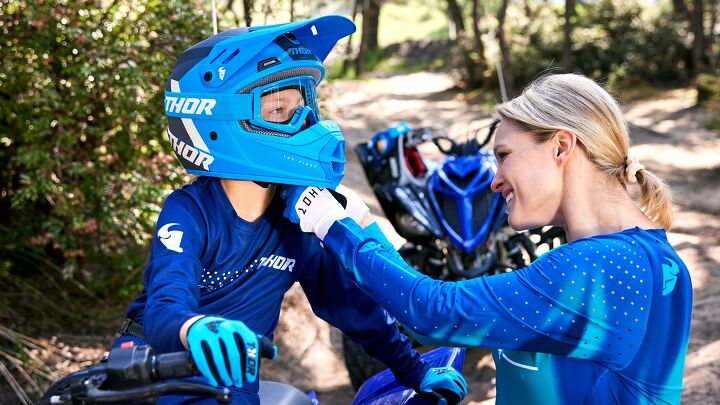 As you're doing your research on the ATV or SxS you want to purchase, figure in the riding gear that you'll need to accompany it. The most important of all gear is a good helmet. Even if some states don't require you to wear one either on an ATV or in a SxS, it is the one piece of safety equipment that every manufacturer recommends just like we do at ATV.com. To accompany the helmet, we would also recommend a good set of goggles that fit comfortably in the eye port of the helmet to prevent debris and dust from getting into your eyes while riding. The only situation you wouldn't necessarily need this would be if you were wearing a full-face helmet in a SxS, which unless you had an air-pumper system isn't very common.
If you're riding an ATV, we'd also recommend that you get a comfortable jersey, riding pants and some over the ankle boots. Sure you can wear your jeans, t-shirt, and shoes, but the riding gear can provide more maneuverability and protection than your street clothes since it was designed for the rigors of off-road use. The boots are definitely preferred over street shoes because they're specifically made to provide a stiffer sole for better feeling and protection on footpegs found on ATVs.
Who Are You Buying Your ATV or SxS From?
If buying new isn't your thing, you can score some amazing deals through private parties. The most important part of purchases from a private party is verification of the Vehicle Identification Number (VIN). We'd like to think that everyone that enjoys this hobby/sport is as legit and good natured as we are, but the reality is that you need to protect yourself when making a purchase like this. Take the VIN number to your local highway patrol or even sheriff office so they can run it through their system to see if it is stolen.
We know people who have had ATVs stolen and have found the stolen unit at a large riding event. They were able to track down a law enforcement officer who went to the person in possession, who purchased it from a private party, checked the VIN to confirm it was reported stolen, and ultimately handed the machine over to the lawful owner. Just remember that if a deal sounds too good to be true, it probably is.
What Kind of Shape is the ATV or SxS In?
If you are sure that the ATV or SxS you're looking at is for sale through a legitimate private party, give the unit a good inspection. The obvious thing to check for is the oil in the engine. If it's a liquid cooled machine, you want to make sure that it doesn't have any moisture in it and it is adequately filled. Next you'll want to check the cleanliness of the air filter. A dirty air filter is almost a tell tale sign of a machine that has been neglected for maintenance. Finally, you'll want to inspect things like the driveline (chain, sprockets, CV joints, axle seals), tires, engine, ball joints, and controls.
You want to make sure that the machine is in good running shape. This not only will ensure that you'll be safe with your new toy, but could also be used in your haggling of the price. Published September 1st, 2023 4:37 PM
Top Brands
Popular Articles