149 Views
Polaris Scrambler XP 1000 S Review: Testing the Baddest ATV on Sale
November 1st, 2023 2:28 PM
Share
We're committed to finding, researching, and recommending the best products. We earn commissions from purchases you make using links in our articles. Learn more here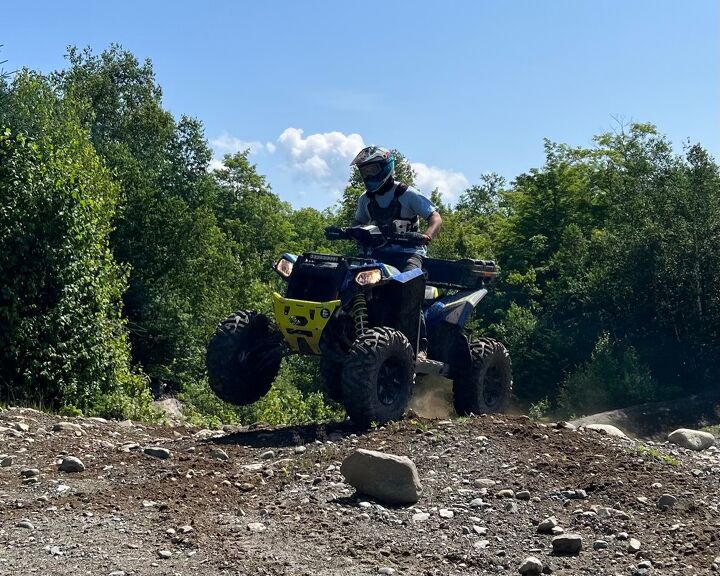 Polaris broke ground in 2020 with its 55-inch wide Scrambler XP 1000 S and today this machine remains the only four-wheeler on sale that ticks in wider than the magical fifty-inch mark. We've been testing the company's beastly quad for the last few months and are ready to comment on what it's like to ride and live with, and whether the added width makes for headaches or miracles. Does wide, powerful, and expensive make for the best ATV out there?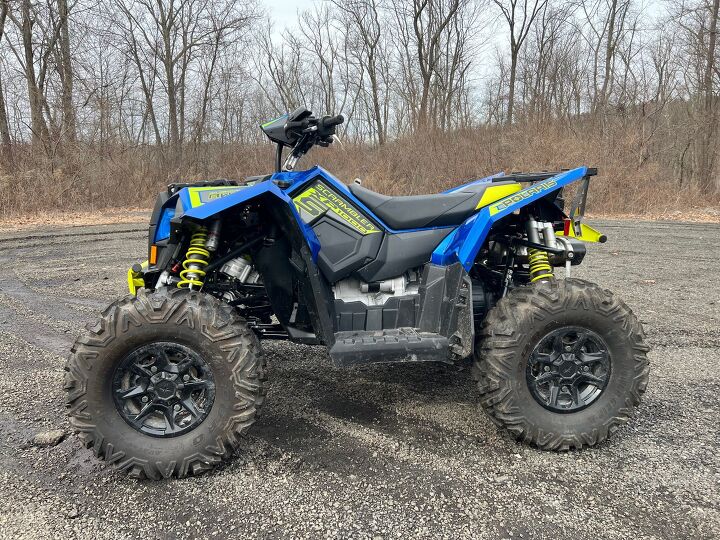 A decade ago it took a modified race rig to tout the Scrambler's specs: 89 horsepower, 55-inches wide, 14 inches of suspension travel, 14.5 inches of ground clearance, and a sticker price of $17,799 for the 2022 model seen here and tested for this Review. Even now, years after the Scrambler XP 1000 S launched, it remains untouched in the ATV scene for its width and visual lunacy. Better yet, our testing has revealed that this is also the case for its demeanor on the trail.
The Scrambler XP 1000 S' suspension is the life of the party and what differentiates it most from lesser Scramblers. Walker Evans Racing 3-Way Adjustable Shocks have remote reservoirs and are surrounded by dual-rate springs while compression damping for high and low speeds are both adjustable. Likewise, preload is adjustable to the tune of 9.5 inches up front and 11 at the rear. We've only tooled with these settings in a minor capacity, preferring to embody the mentality of "Make the suspension adjustable and they will adjust it wrong" made famous by Lotus icon Colin Chapman.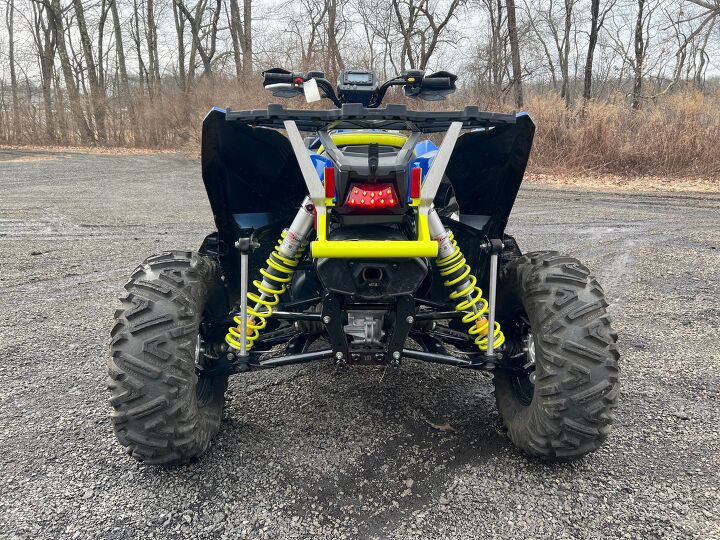 It's not like you need to mess with things. Dual arched A-arms and square stance 27-inch Duro PowerGrip II tires make for 14.5 inches of ground clearance, an enormous number that's more than plenty for clearing stumps, decently sized rocks, and basically anything that's in the way. Out of the box, this ATV is set up to perform.
Specs are specs, but how does it ride? Put simply, the Polaris Scrambler XP 1000 S provides an incredible experience when turned loose on the trail. The suspension is amazing, with the ability to absorb everything short of a boulder with ease while minimizing body roll. Not only does this make it easier to ride than a machine with lesser suspension kits, but this also helps reduce fatigue which in turn allows for more hours spent safely and happily in the saddle.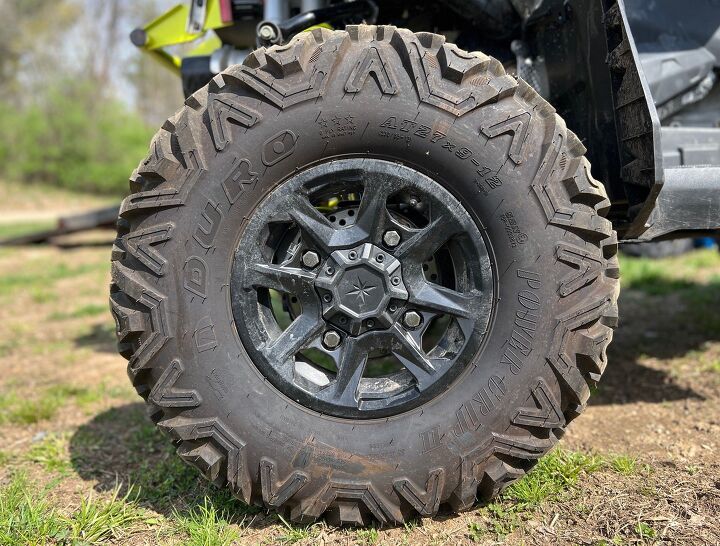 Of course, it's not just about being comfortable. Suspension this good also allows the rider to move across and through obstacles and any slice of uneven surface at an obscene rate. Whereas with other machines a large wash or reasonably rocky section may mean slowing to a crawl, with the XP 1000 S it means keeping near-static speed or even keeping the hammer down. It's not surprising to find yourself thinking that a section that has caused trouble in the past is now a non-issue. Juggling the duality of soft for comfort's sake and stiff for that of performance is an extremely tricky feat, and it's managed beautifully here.
Then there's the power which is utterly mad. Even if the 952cc ProStar parallel twin engine is eclipsed by two whole horsepower by Can-Am's Renegade 1000, Polaris' biggest ATV engine is unquestionably a powerhouse. It has enough juice to spin the back tires in 2WD on a loose surface at unreasonably high speeds and propels the machine to velocities that begin to feel wholly unnecessary for a recreational machine. It's a bona-fide rocket and is substantially more rapid in the mid-range and top end than the Scrambler 850 with which it shares a name, frame, and other componentry. Yet the XP 1000 S is a docile, tame powerplant when the reins are kept in check. Kudos to the switchable modes (Standard and Performance) which allow decidedly different throttle response characteristics.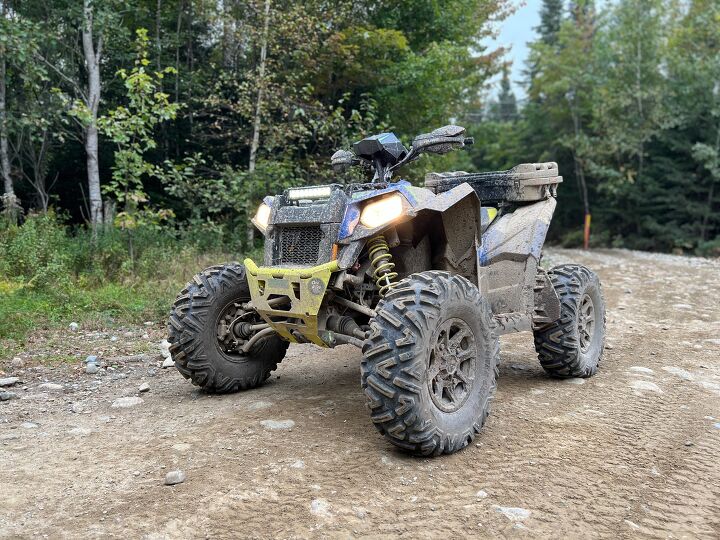 Using the tamer of the modes is helpful on rocky trails, but the wilder toggle is better for longer, wide open stretches as it requires less thumb input to maintain speeds. Those long stretches-- and long rides, like the 100-mile, 8-hour day we subjected this machine to-- are surprisingly easy to manage, too, thanks to the big, cushy seat and ProStar's vertically-mounted nature which makes for a narrow tunnel over which one's legs don't have to spread uncomfortably far. Meatier foot pegs would be nice, but we do appreciate the adjustable three-inch handlebar riser as riders do come in all shapes and sizes.
That said, this is a big, heavy, aggressive machine, and it should be approached with caution by even somewhat experienced riders. The Scrambler XP 1000 S is a quad for the experts to take advantage of and, while it can be tamed rather easily considering its extreme capabilities, is best-suited to those who can really ride it for what it's worth. Its sports car equivalent would be the Dodge Viper; it's easy to play with below four-tenths or so, but it'll bite if you get too comfortable and try to explore its limits when the driver (in this case rider) isn't up to the task of managing the machine's abilities. For those with some years and miles under their belts, this can make it even more enjoyable. Taming the beast is part of the fun, after all.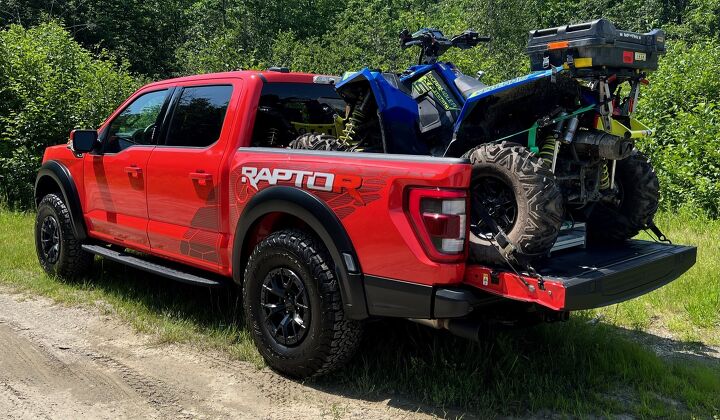 Downsides? Sure; There are always downsides. There are things that more experienced riders-- those who should buy and ride these machines-- will be bothered by. First is the lack of a manually-controllable front differential lock. While this makes clawing through the roughest terrain as easy as selecting four-wheel-drive, it does away some of the ability to choose the way you ride and subsequently some of the interaction with the machine. Likewise, the same can be said of the one-size-fits-all single lever solution to control both the front and rear brakes. Some truly tricky situations necessitate the ability to control which axle's brakes are biased and here that's just not possible. Last on the list of what feel like major issues is the 55-inch width. While it makes for incredible stability and is inherent to the nature and character of the XP 1000 S, it means the quad may be a non-starter in places with standardized 50" gates, like some state forests. It also means the quad barely fits in the bed of fullsize trucks, but that's the price you pay.
There are a few other relatively minor downsides worth mentioning. The fuel efficiency is poor at best, and that is when the quad is ridden in a reasonable manner. Riding hard, gas mileage would be dismal. Even the Sportsman XP 1000 S was better in the same conditions and on the same trails, and it weighs more. Also, while the engine tunnel is reasonably narrow, the CVT cover protrudes far into the right footwell. This can make placing the right boot somewhat awkward when shifting weight around during aggressive riding. Dry storage is also sub-optimal, as in there isn't any. And while the aggressively cut fenders look rad and allow for an excellent view of the terrain ahead, they offer almost no protection from the elements. Plan on getting dusty, muddy, wet, and likely all of the above. We also have to mention that the Scrambler XP 1000 S costs as much as a nice UTV. The sticker shock may never wear off, but at least it's accompanying a machine worth what Polaris is charging.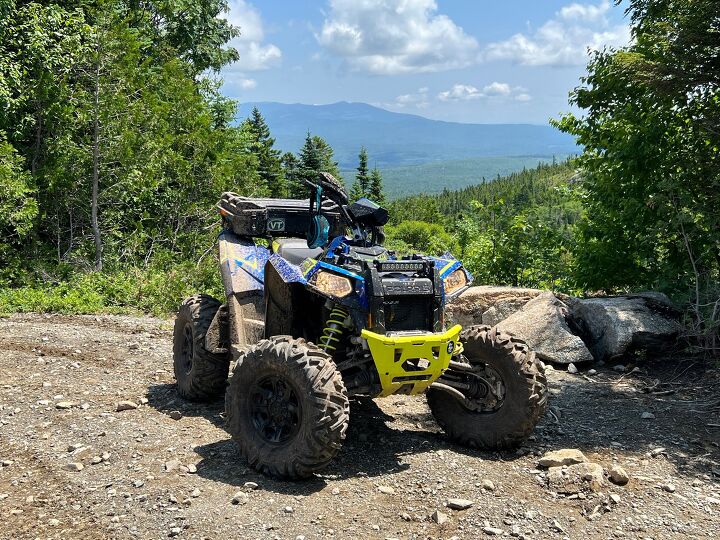 The reminder must be expressed that in most cases ATVs are a luxury and that dealing with these relatively minor faults can't detract from this machine's greatness. It's the game changer, the definitive genre definer, the one for every other manufacturer to chase. With minimal changes for the 2024 model year, the Scrambler XP 1000 S soldiers on at the top of Polaris' lineup and, without Can-Am coming to bat with a competitive 55-inch wide model, at the top of the sport-4x4 class. It doesn't get better than this.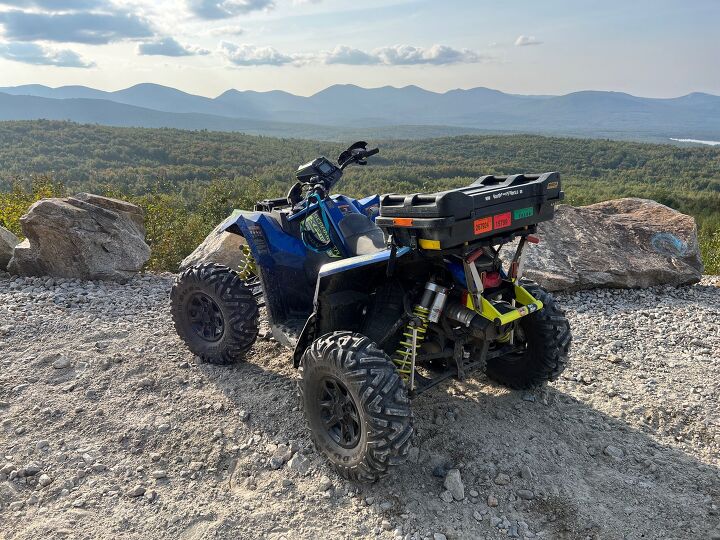 Published November 1st, 2023 2:28 PM
Top Brands
Popular Articles