1 View
Contour HD Cameras Now Available at Yamaha Dealers
January 16th, 2013 12:23 PM
Share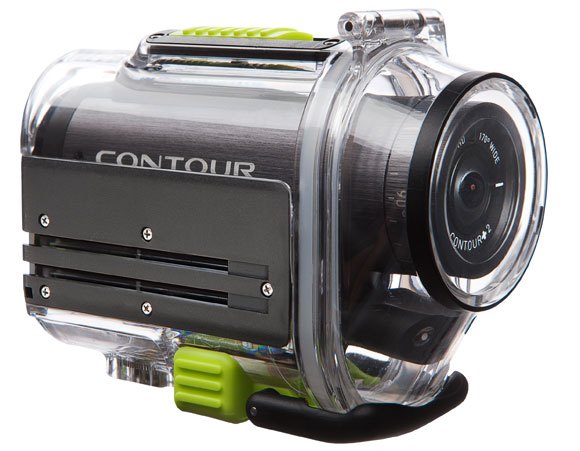 If you walk into a Yamaha dealership you can now purchase Contour HD cameras along with Yamaha vehicles, parts, and accessories. According to Yamaha, the partnership with Contour helps dealers meet consumer demand for high-quality, easy-to-use and affordable ways to capture their adventures on video.
Yamaha dealers currently are selling the Contour+2 (MSRP $399.99) with Bluetooth connectivity and GPS, the lightweight ContourROAM2 (MSRP $199.99), as well as a variety of mounts and accessories.
The ContourROAM2 is one of the simplest cameras to use and features a locking Instant On-Record switch, a lightweight, low-profile design, and it works underwater up to one meter without an extra waterproof case. It has a 270-degree flush-front rotating lens that when coupled with the proper mount offers nearly infinite video angle possibilities. Other features include a built-in laser level, internal microphone, still photo mode, USB connection, built-in tripod mount, and both the Profile Mount and the Rotating Flat Surface Mount.
The ContourROAM2 comes in a small package – its dimensions are just 100mm x 55mm x 34mm – and weighs just 5.1 ounces. It can capture up to 3.5 hours of footage on a single charge, includes a 4GB MicroSD card, and provides a frame rate up to 60fps at 720p.
The Contour+2 escalates your adventure video capabilities by letting you capture and share 1080p HD video with speed, distance traveled, and elevation. It offers higher-quality video and includes a 60-meter waterproof case for underwater adventures.
In addition to the ContourROAM2 features like the Instant On-Record switch, the Contour+2 has: a GPS receiver for speed, distance and elevation HD overlays; Bluetooth connectivity to use a mobile device as a remote, to preview video before and during recording, or to tweak settings; four different HD modes including 1080p, and 120fps in 480p for super slow motion video.
The Contour+2 also is small at just 5.5 ounces and 98mm x 60mm x 34mm, and like the ContourROAM2 it includes a Profile Mount and a Rotating Flat Surface Mount. Unique features include: waterproof case, external microphone jack and cable; mini HDMI cable; the ability to adjust white balance, contrast, sharpness, exposure, and metering; and removable and rechargeable lithium-ion battery.
Both the ContourROAM2 and the Contour+2 are compatible with all Contour mounts. Yamaha dealers will offer 23 Contour accessories, including: accessory bundles for snow, moto, outdoors, bikes and helmets; a goggle strap mount; a vented helmet mount; a bar mount; a suction cup mount; a rechargeable battery; a camera charge kit; and both a camera case and a waterproof case.
Published January 16th, 2013 12:23 PM
Top Brands
Popular Articles