1 View
Yamaha Ships First Viking UTVs
August 19th, 2013 10:44 AM
Share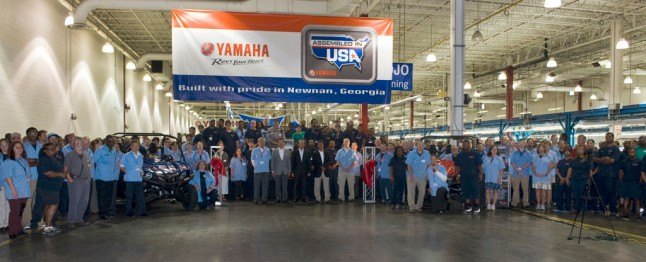 If you've been waiting for your chance to see the Yamaha Viking Side-by-Side in person, you'll be happy to know that Yamaha has sent out its first shipment Vikings to authorized dealers.
Yamaha executives recently held a special event at its U.S. manufacturing facility in Newnan, Ga., to celebrate the all-new vehicle and increased U.S. production.
Every Yamaha Viking distributed throughout the United States and around the world will come from Yamaha Motor Manufacturing Corporation of America (YMMC). To handle the increased production, the factory has opened a second plant that is dedicated to the Viking and future SxS models.
Read more about the new Yamaha Viking UTV
"Today, we celebrate the launch of Yamaha's newest vehicle, the Viking," says Michael Chrzanowski, senior vice president of operations and engineering services. "I would like to recognize the tremendous effort and teamwork by so many people to get this new product to market. Each of you has played a key role in this endeavor. Thank you for your hard work."
YMMC is the largest employer in Newnan and has added 130 employees to staff up the dedicated SxS plant, according to Chrzanowski. The advanced manufacturing facility covers more than 850,000 square feet and includes the latest technology, equipment and procedures in motorsports manufacturing. The factory is responsible for assembling all of Yamaha's 4×4 ATVs and SxS vehicles as well as Yamaha Golf Cars and Water Vehicles.
"The most important factor is not the facility or the equipment but the hardworking and dedicated workforce at YMMC that designs, develops and tests our products," says Chrzanowski. "Countless hours have been spent at YMMC in preparation for this new plant and new model. In fact, in operation alone we provided more than 9,100 training hours for the assembly operators to help maintain the highest quality levels."
The first Viking models are starting to arrive at dealers this month. Standard models will come in Steel Blue, Hunter Green (with sun top), Red (with sun top) and Realtree AP HD camo (with sun top). The non-EPS models start at $11,499 MSRP while the EPS models start at $12,499 MSRP.
Published July 25th, 2013 12:30 PM
Top Brands
Popular Articles