1 View
Jagged X Wins Best in the Desert's Bluewater Desert Challenge
October 14th, 2014 5:09 PM
Share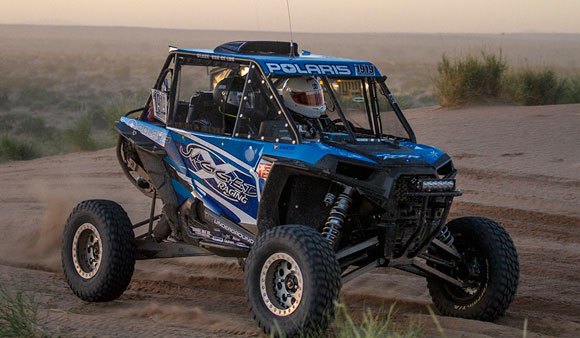 Photo courtesy Rusty Baptist @ UTVUnderground.com
Polaris factory facers were out in force at the Bluewater Desert Challenge this past weekend. The race, different than the other Best in the Desert Races, was two days of three 25-mile laps, with results based on times from both days.
Thirty-two Side-by-Sides took the line with the Pro Class having the majority of entrants. Jagged X's Brandon Schueler in the No. 1919 RZR XP 1000 started in front and never looked back, taking first place the first day. The top five were all RZRs with Lone Star Racing's Branden Sims finishing second, Coastal/Holz Racing's Scott Kiger in third, Cognito's Justin Lambert in fourth and Jagged X's Craig Scanlon in fifth.
Day two saw Schueler and Sims line up together with the rest of the top five from the day prior behind them. It was a hard battle between the top five with some unlucky breaks but, in the end, Sims took checkered flag for Day 2. With the combined times from both, Schueler took the overall win, while Sims finished second overall followed by Coastal/Holz Racing in third.
The next and final BITD race for this year is the Henderson 250, in Henderson, Nev., Dec. 5-7.
Published October 14th, 2014 5:08 PM