1 View
Lambert Wins Second Straight BITD Race RZR 4 1000
October 19th, 2015 12:41 PM
Share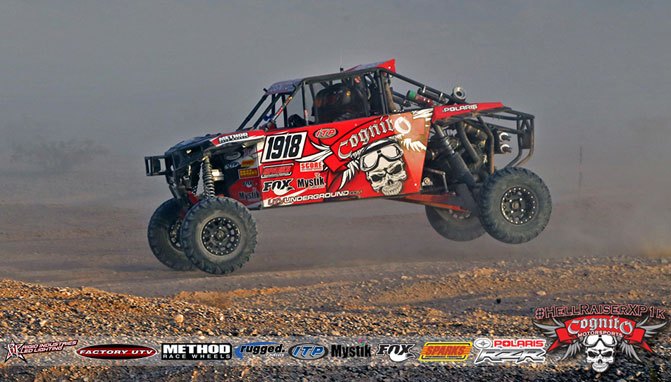 Cognito Motorsports' driver wins Blue Water Desert Challenge
Fresh off a win at Vegas to Reno, Polaris Factory Racer Justin Lambert in the No. 1918 Cognito Motorsports RZR 4 1000 EPS lined up with 24 other Pro UTVs for Best in the Desert's (BITD) Blue Water Desert Challenge.
The Blue Water Desert Challenge is two days of racing, three laps each day, for a total of 150 miles. The loops are about 25 miles each and the total time for all miles determines finishing position. Day one went flawless for Lambert, who ended up drawing the 21st position but worked his way to a third place finish. The day one finish meant the team would start day two in third place and more than two minutes behind the leader.
Day two, the team started in the second row, and beat the UTV that started with them. The course was even rougher than the previous day with a few graded sections, but luckily the team didn't have to encounter as much dust as day one given the start position. Lambert took over the first and second place UTVs and kept up the momentum to come finish in first. He beat the next competitor by more than four minutes on corrected time for both days to win the BITD Blue Water Desert Challenge 1900 Class. Polaris Factory Racer Johnny Angal finished in fourth in his RZR XP Turbo.
Justin Lambert is sponsored by Polaris, Cognito Motorsports, Sparks Performance Products, Mystik Lubricants, Fox Shocks, ITP Tires, Method Race Wheels, Rugged Radios and Rigid Industries.
Johnny Angal is sponsored by Polaris, ITP Tires, Method Race Wheels, Rigid Industries Lights, Fox IBP Shocks, Lone Star Suspension, wrap by Wolf Designs.
Published October 19th, 2015 12:41 PM