1 View
13-Year-Old Amanda Sorensen Wins Lucas Oil UTV Championship
October 17th, 2016 11:40 AM
Share
Sorensen takes Regional GMZ Unlimited UTV title
Amanda Sorensen made a huge statement by taking the 2016 Lucas Oil Regional GMZ Unlimited UTV Championship in her rookie season as the youngest competitor at just 13 years old. Sorensen competed against some of the fastest UTV racers in the country.
Sorensen's passion for racing runs deep and it shows each time she gets behind the wheel. Sorensen has seven years of racing experience under her belt from BMX, three years in kart racing where she also won the Rotax class championship in Las Vegas, three years racing in the Lucas Oil mod trophy kart, UTV racing in the WORCS series and motorcycle racing when she has time.
Out of the eight total rounds of racing this season, Sorensen took five total podiums, including two first place finishes. "It is pretty exciting. It is a good way to start off my career," stated Sorensen. As Sorensen progressed through the season she continued improving each round. At the end, Sorensen took three consecutive podiums including two first place finishes to finish out the season strong, and clinched the championship.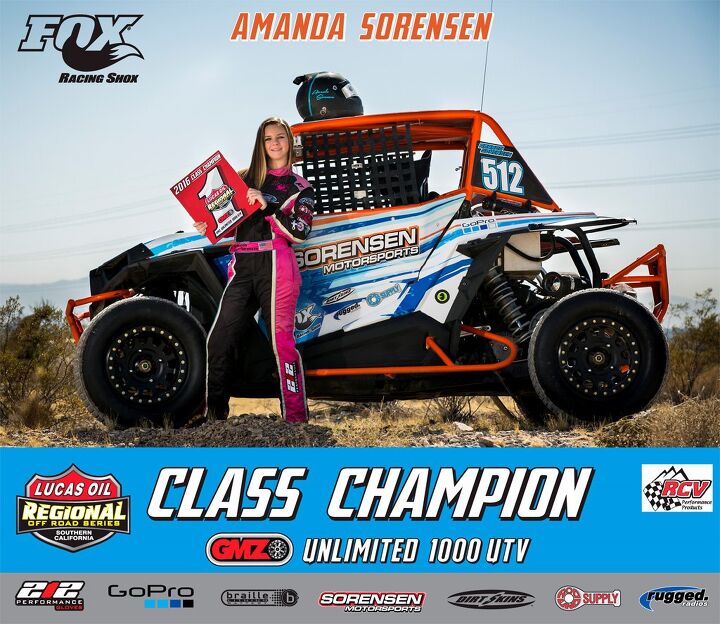 For Sorensen, racing is a family affair. Her brother, Branden, also races and competes against Amanda. "My brother is my biggest competitor on the track, and it makes me drive a lot harder. Branden always tries giving me tips and helps me a lot." Sorensen's father, Randy, is also a huge part of her program. "He does so much for me to get me where I am at now. Honestly, the amount of things he does for me is amazing," said Sorensen.
Randy Sorensen, crew chief Kyle Nuskin, and lead mechanic Aaron Baker have been heavily involved and invested in Amanda Sorensen's racing, and keep everything running behind the scenes. "We started in the UTV this season, which we haven't done before. It is a little bit of a learning curve but it is still all racing. Going out and winning this championship in our first year was big," said Randy Sorensen.
Looking ahead to next season, Randy reported they plan to race three different series, the Lucas Oil national series, the Lucas Oil regional series, and the WORCS series. "Right now we are racing every two weeks. I think that is what has really helped her out and brought her to the top. It is all about seat time with racing," said Randy Sorensen.
The future is bright for young Amanda Sorensen and she will truly be one to watch for as she continues rising to the top in the racing community.
Published October 17th, 2016 10:00 AM
Top Brands
Popular Articles