1 View
QuadBoss Hosting Race for Research
October 10th, 2016 2:55 PM
Share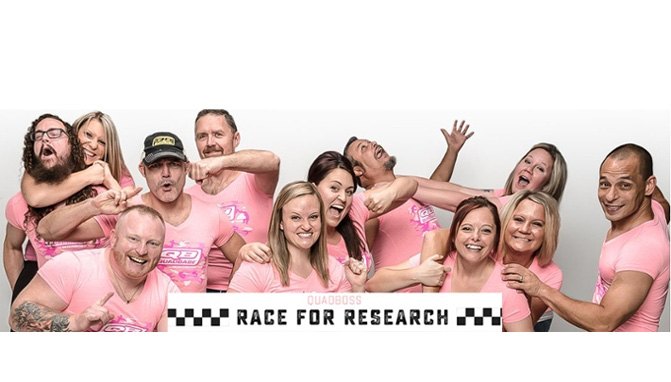 Event raising funds for breast cancer research
In an effort to help fund research for breast cancer, QuadBoss is hosting their 2nd Annual Race for Research on October 28, 2016, at their headquarters in Fort Worth, Texas. Members of the QuadBoss family, from HR to marketing, will participate in a Crazy Cart race, collecting votes in an attempt to win the coveted title of Fan Favorite. The racer who collects the most donations at the end of the race will be awarded the title and a special prize.
"This cause is very important to us. We chose this foundation when the mother of one of our employees was fighting breast cancer. All of the donations to the National Breast Cancer Foundation goes to research and fighting this cancer," says Jason Baldwin, QuadBoss Brand Manager. "Everyone has a special lady in their life that could be affected by breast cancer. We want to do our part to make sure they can beat it."
In addition to the Crazy Carts, QuadBoss will have a dunk tank onsite. For a $10 donation, participants will receive four balls and the chance to dunk a member of senior management from Tucker Rocky | Biker's Choice who has graciously donated their time for this worthy cause.
All donations will go to the National Breast Cancer Foundation. QuadBoss will match up to $1,000 of donations received. To support QuadBoss in their efforts to raise money for breast cancer research, visit the following link to choose your favorite racer and make a donation: https://www.crowdrise.com/2nd-annual-race-for-research/.
Published October 10th, 2016 2:55 PM