1 View
New Lower Price on 2019 Yamaha YXZ1000R Models
August 23rd, 2018 11:32 AM
Share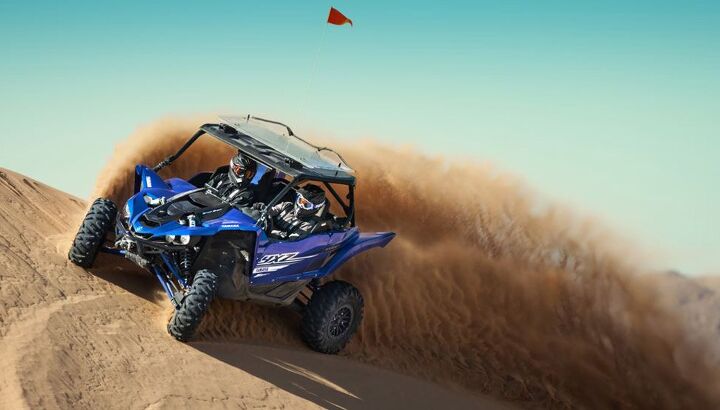 Featuring a host of performance and styling upgrades, the 2019 Yamaha YXZ1000R is more affordable than ever. They are on their way to your local Yamaha dealer now.
The 2019 Yamaha YXZ1000R features reduced pricing as models are now arriving at Yamaha dealerships nationwide.
For 2019, both the base YXZ1000R and the YXZ1000R Sport Shift will retail for $18,999 and come dressed in Graphite with cast aluminum wheels. Special Edition models come in Team Yamaha Blue with color-matched interior and true bead-lock wheels for $20,599. Taking things one step further in the 2019 Yamaha YXZ1000R SS Special Edition in Ultra White with suntop, true bead-lock wheels and accessory lights starts at $21,799.
"The new YXZ1000R is still the only true pure sport Side-by-Side in the industry, designed by Yamaha for drivers wanting an ultimate, direct-connection to the machine whether they're navigating tight wooded trails or roaming open desert," said Steve Nessl, Yamaha's ATV/SxS group marketing manager. "The new 2019 models have been redesigned for any environment across the country, and are arriving now in dealers – available just in time for fall trail adventures and the upcoming dune season."
For owners who want maximum power, you can opt for the Genuine Yamaha Technology Racing (GYTR) turbo kit. Yamaha designed the kit to install faster and easier due to the added GYTR connecting rods now coming standard in the engine.
"The GYTR Turbo kit uses the renowned Garrett GT2860RS turbo to meet Yamaha's high-standards of durability, reliability and performance, while also being the only turbo in the industry that is CARB, EPA, and 50-state compliant for 2016-2018 model year YXZs, with 2019s soon to follow," Yamaha says in a release.
As always, the YXZ1000R is powered by Yamaha's 998cc three-cylinder engine, which is controlled by a five-speed manual transmission.
What's New for 2019?
In addition to the aforementioned GYTR connecting rods in the engine, the 2019 Yamaha YXZ1000R features a number of performance and styling updates. Perhaps the most notable is a lowered gearing with a tighter first gear, which Yamaha notes is ideal for technical riding and offers sharper torque right off the bottom.
Yamaha also outfitted the YXZ with a reconfigured and larger radiator and moved it behind the seats to help eliminate excess heat within the cabin and reduce the risk of clogging.
Other updates include new suspension settings, larger all-wheel disc brakes, wheels and larger 29-inch Maxxis Bighorn tires.
Yamaha also tweaked the body styling and increases accessory integration, including wiring for the new Yamaha Adventure Pro GPS powered by Magellan.
You can learn more about the 2019 Yamaha YXZ1000R family at YamahaOutdoors.com.
Published August 23rd, 2018 11:32 AM
Top Brands
Popular Articles