1 View
Borich Outduels McGill at Power Line Park GNCC
October 5th, 2009 3:04 PM
Share
We're committed to finding, researching, and recommending the best products. We earn commissions from purchases you make using links in our articles. Learn more here
Fight to the finish in penultimate GNCC
Rockstar Yoshimura Suzuki's Chris Borich may have wrapped up the 2009 Can-Am Grand National Cross Country Championship, but that obviously won't change the way he races.
In yet another full-tilt battle for ATV supremacy, the Pennsylvanian outdueled FRE KTM's Adam McGill to collect his seventh-straight win in the XC1 Pro class at the ITP Power Line Park GNCC in St. Clairsville, Ohio on Oct. 3. Houser Racing's Bryan Cook took third on a track that featured perfect conditions through most of the course, but threw a few bottomless mud holes at the riders as well.
Borich's day started poorly when he got stuck in one of those holes on the first lap.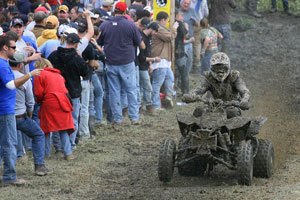 "My crew was down there pointing out the line, I thought it was solid but I buried the nose," says Borich.
GNCC fans ran down to rescue Borich, hastily throwing a tow rope onto the machine and giving him a pull. But the rope became wrapped in his rear axle and stayed there all day long.
"I didn't know what that might have damaged flapping around back there, but I have to thank all of those guys anyway because if they didn't get me out, I would have been stuck there all day," says Borich, who was back in ninth after the incident.
Yamaha's nine-time GNCC Champion Bill Ballance earned the holeshot and led early. His teammate Brandon Sommers then made a pass for the lead, and Ballance pitted on lap one. The pack kept both Yamaha riders in sight, and eventually McGill, Cook and Borich made it a five-way battle for the lead.
Ballance took the lead when Sommers pitted, but then he got stuck in the mud hole just a few miles before the white flag came out. Borich found himself in the lead, but McGill stayed with him in a wild last-lap showdown.
"I wanted to stay up there with him, there was a long straight and he was all the way at the end just as I got into it, so I knew I was really going to have to push to catch him," says McGill.
McGill stayed close the whole lap and the two came barreling into the finish line together, Borich just edging ahead.
"He latched onto me and showed me some wheels on the last lap," says Borich.
"I just want to stay consistent and keep getting podiums," says McGill. "I want to win one, but my real goal this year is to finish on the podium every race. I guess it's not possible to have a perfect season, but I'm trying and I hope KTM sticks with me."
Cook rode well to take his first podium since winning the Steele Creek in the spring. "I've been having some bad luck on the last lap," says Cook. "Those two guys took off on me, so I just tried to stay smooth and no make mistakes. I had some people down there helping me in the mudholes and it really paid off."
Sommers ended up fourth and Ballance recovered for fifth after getting stuck. Another set of Yamaha riders, Taylor Kiser and Donnie Ockerman, battled for the whole last lap with Kiser edging him for sixth. Next came Warnert Can-Am's Chris Bithell and Yamaha's Johnny Gallagher.
The XC2 Pro-Am Title picture change dramatically when FRE KTM's Josh Kirkland took his second-straight win, and GT Thunder Yamaha's Brian Wolf did not finish due to mechanical issues.
"It feels great," says Kirkland. "I had a pretty bad start, I worked my way up to fourth, and everyone was riding great up there. I'm glad to have pulled it off."
XC2 rookie Parker Jones took the holeshot for the second-straight race, and finished second. Third went to Yamaha rider Kevin Yoho.
Super Senior (50+) racer Glenn Pritchard turned back the clock again by winning the GT Thunder Morning Race Overall on his Suzuki, topping Women's Class riders Angel Atwell and Kristen Atwell. Angel Atwell, on a FRE KTM, wrapped up the Women's Championship one week ago, but still fought hard and led the overall most of the way before Pritchard turned it up and won. Multi-time Women's Champ Traci Cecco got caught on a vine on lap one and run over by a 4×4 machine, but recovered from way back to take third in the Women's class.
Can-Am rider Zach Zakowski took the win in the Open 4×4 class, and Can-Am riders Cliff Beasley and Michael Swift took the 4×4 Lites and Limited classes, respectively. Sam Williams took the U2 class on a Kawasaki.
The Can-Am Grand National Cross Country Series continues in three weeks with the Klotz Ironman GNCC in Crawfordsville, Ind.
Power Line Park GNCC Results
GNCC XC1 Standings
Pos.
Rider
ATV
Pos.
Rider
ATV
Points
1.
Chris Borich
Suzuki
1.
Chris Borich
Suzuki
312 (9 wins)
2.
Adam McGill
KTM
2.
Taylor Kiser
Yamaha
232 (1 win)
3.
Bryan Cook
Honda
3.
Adam McGill
KTM
226
4.
Brandon Sommers
Yamaha
4.
Bill Ballance
Yamaha
212 (1 win)
5.
Bill Ballance
Yamaha
5.
Brandon Sommers
Yamaha
206
6.
Taylor Kiser
Yamaha
6.
Bryan Cook
Honda
191
7.
Don Ockerman
Yamaha
7.
Don Ockerman
Yamaha
163
8.
Johnny Gallagher
Yamaha
8.
Jarrod McClure
Yamaha
145
9.
Chris Bithell
Can-Am
9.
Duane Johnson
Honda
141
10.
Pat Brown
Yamaha
10.
Johnny Gallagher
Yamaha
122 Published October 5th, 2009 3:04 PM
Top Brands
Popular Articles