1 View
Byrd Ends Wimmer's Winning Streak
April 6th, 2009 2:21 PM
Share
Honda rider sweeps motos at Ballance MX
Two-time AMA ATV Motocross champion Joe Byrd vaulted himself right back into the chase for the 2009 crown with a dominant double-moto sweep and overall win at round three of the season, the Bluegrass National, at Ballance MX in Bowling Green, Ky. on April 5.
The veteran Joe Byrd Quad Riding School Honda-backed rider topped Monster Energy Kawasaki's rejuvenated Chad Wienen and defending AMA ATV MX Champion Dustin Wimmer on the podium.
Rockstar Makita Suzuki's Wimmer won the first two rounds of the season, but admitted the tight, technical Ballance MX track wasn't to his liking. Byrd's 1-1 day brings him within one point of Wimmer in the series standings.
"With Wienen and Wimmer right there it's a great match and really a matter of who gets the best lines," says Byrd. "These guys are always a challenge and you can never let up."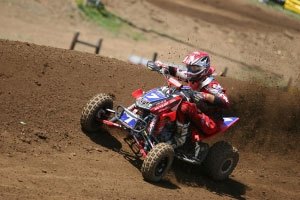 The weather forecast predicted rain throughout the weekend, but dark skies never opened, leaving perfect track conditions and 70-degree temperatures. Byrd was ready for whatever he had to face.
"With the weather we had two setups ready to go depending on what happened, and we got lucky with our setup," says Byrd. "We put together a new engine for the weekend that was a big difference in getting out front early."
Byrd grabbed the holeshot in the first moto, followed by Wienen and Wimmer. He stretched his lead throughout the race, and the top three maintained their order to the finish.
Warnert Racing Can-Am's Jeremy Lawson powered his DS450 to the holeshot in the second moto, but Byrd quickly made a move around him to take the lead and the win. Wimmer started third, but Wienen went on a mission, passing both Wimmer and Lawson to take the second spot again.
Wienen failed to finish several motos early in the season due to mechanical issues, but this time his KFX450 carried him to solid 2-2 moto scores.
"It was a rough track, and it really suited my style," says Wienen. "You had to be smart in some of the tougher sections and not jump in too fast. I'm happy to put the Monster Kawasaki on the podium."
On this weekend, Wimmer was unable to find the dominant speed he showed at the first two races of the year. "I wasn't comfortable running their pace," says Wimmer. "If I tried, I would get out of control, so I got two good holeshots and got what I could out of the motos. I would have rather had the rain, because I probably could have made something out it, but I did what I could. Some tracks I favor over others and this one just wasn't one of them. Every race is a different race and I did the best I could."
Wienen was almost surprised to be able to get around Wimmer so quickly in the second moto.
"I could tell he was a little off the pace compared to normal," says Wienen. "That was probably the easiest I have ever passed a guy like Dustin."
Wienen's teammate Josh Creamer logged consistent 4-4 scores for fourth overall, while Cody Miller took his Can-Am to 6-6 scores and fifth overall. Another Can-Am rider, 2005 Champion John Natalie, took fifth in moto one but struggled to 20th in moto two, knocking him 14th overall. Honda rider Josh Upperman took fifth in the second moto, but a 15th in the first moto held to eighth overall.
Sixth overall went to Yamaha's Thomas Brown, with Clay Holmes in seventh overall. Upperman was eighth, Can-Am rider Brandon Smith was ninth and Wimmer's teammate Doug Gust struggled to tenth overall with 11-10 scores.
The race also marked round two of the ITP Tires/Moose Racing AMA ATV Motocross Championship for amateurs. Kentucky's own Cody Grant came out on top of a wild day of action in the Pro-Am Production class. The Suzuki rider used 2-2 scores in the motos to top Kawasaki rider Cody Gibson, who went 1-3, and Chase Snapp took his Suzuki to 4-1 scores.
The ITP Tires/Moose Racing AMA ATV Motocross Championship continues on April 18 and 19 with the Birch Creek National in Danville, Va.
Bluegrass National Pro Class Results
ATV Motocross Pro Class Standings
Pos.
Rider
ATV
Motos
Pos.
Rider
ATV
Points
1.
Joe Byrd
Honda
1 – 1
1.
Dustin Wimmer
Suzuki
137
2.
Chad Wienen
Kawasaki
2 – 2
2.
Joe Byrd
Honda
136
3.
Dustin Wimmer
Suzuki
3 – 3
3.
Josh Creamer
Kawasaki
97
4.
Josh Creamer
Kawasaki
4 – 4
4.
Thomas Brown
Yamaha
87
5.
Cody Miller
Can-Am
6 – 6
5.
Josh Upperman
Honda
82
6.
Thomas Brown
Yamaha
8 – 7
6.
Jeremy Lawson
Can-Am
73
7.
Clay Holmes
Honda
9 – 8
7.
Doug Gust
Suzuki
71
8.
Josh Upperman
Honda
15 – 5
8.
Clay Holmes
Honda
70
9.
Brandon Smith
Can-Am
12 – 9
9.
Chad Wienen
Kawasaki
69
10.
Doug Gust
Suzuki
11 – 10
10.
John Natalie
Can-Am
68
Related Reading
Wimmer Sweeps Motos at Millcreek
Published April 6th, 2009 2:21 PM
Top Brands
Popular Articles