1 View
Matlock, Goodman Defend Title
January 10th, 2008 11:27 AM
Share
We're committed to finding, researching, and recommending the best products. We earn commissions from purchases you make using links in our articles. Learn more here
Pair take top spot in Best in the Desert opener
Wayne Matlock and new teammate Harold Goodman Jr. got off to a great start in the 2008 Best in the Desert (BITD) Racing Association season.
Riding a Honda TRX 450R, Matlock and Goodman won the Quad Pro division of the season opening Epic Racing Products Parker 250 on January 5 with a time of five hours, four minutes and 51 seconds.
"We didn't have any problems. We would just put gas in it and go all day long. It was a good way to start out with a new partner," Matlock told ATV.com. "We wanted to go out and win that one. We did and we had a good time doing it."
The Parker 250 was Goodman's first experience in a BITD race. Matlock says he did very well, especially for a BITD rookie.
"You can't pre-run the Best in the Desert. There's no practicing or pre-run at all, so you're going across something blind," says Matlock. "You don't know what's on the other side of the hill or anything."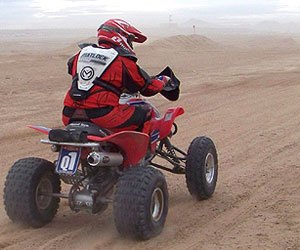 Things did not go quite as well for Matlock at last year's Parker 250 when he was teamed with Chad Prull. Prull was on the bike when a rock hit the radiator, causing a hole. It had to be patched on the track and Matlock and Prull had to settle for seventh place. Though it took most of the season to recover, the pair eventually won the 2007 season championship.
David Scott and Jeremy Sanchez, who finished second in last year's season championship, crossed the finish line about 12 minutes behind Matlock and Prull in second place. Javier Robles and Adolfo Arellano were another three minutes back in third place.
Greg Stuart and Nicholas Granlund, who ride a custom built quad with an XR 650 motor, were leading the race, about a minute ahead of Matlock and Goodman, before breaking down.
In the Quad Expert class, Ray Fay and Mike Crawford, Yamaha, took top spot in a time of five hours, 23 minutes and three seconds. Brian Mello, Barry Bennett and Christopher Crawford were about 15 minutes back in second, while Thomas Reck, Nicholas Martinsen and Quinn Martinsen finished third.
Rick Ellsworth, Can-Am, took home the Quad Ironman Expert title in three hours, 36 minutes and 33 seconds. Don Swanson was 19 minutes back in second place and Alan Boughton was 32 minutes behind Ellsworth in third.
In the UTV Pro class, it was all Polaris. Of the 19 UTVs competing, three were Polaris Ranger RZRs and they took up all three spots on the podium.
Travis Peterson and Joe Clark rode their RZR to first place in four hours, 10 minutes and five seconds. Brandon Scheuler and Blake Van De Loo were just over two minutes behind in second, while Jerome Vinagro and Rito Jauregui finished five and half minutes behind the leaders in third. The fourth place finisher was more than 14 minutes behind the nearest RZR.
"The RZR has picked up where it left off in 2007, "says Craig Scanlon, product line sales manager for the Polaris side x side division. "We thank everyone supporting RZR racing and if this race is any indication of what's ahead, it should be a great year."
Related Reading
Matlock, Prull tops in the desert
2008 Polaris Ranger RZR Published January 10th, 2008 11:27 AM
Top Brands
Popular Articles