1 View
Wienen Earns Third Straight Win at RedBud ATVMX
July 30th, 2012 10:12 AM
Share
Yamaha pilot takes commanding lead into season finale
Chad Wienen and John Natalie have been battling hard all year for the 2012 AMA ATV Motocross Series championship. The pair continued that trend this past weekend at RedBud MX in Buchanan, Mich., where they split moto wins. Wienen, however, did enough to secure the overall victory and take a commanding lead heading into the series' final round.
When the gate dropped for Moto 1, it was Motoworks/ Can-Am's Natalie who took the SSiDecals Holeshot Award, with TBROWN Yamaha/Moto-X-Perts' Thomas Brown close in tow. Brown made the move past Natalie to take over the early lead, but Natalie quickly stole it back for what turned into a dominant Moto 1 for the defending champ.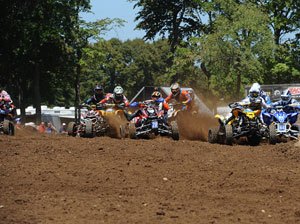 Wienen Motorsports/SSi Decals/Walsh Race Craft/Yamaha's Wienen began Moto 1 just outside the top five but worked his way into the third place position where he battled with his Yamaha Racing teammate Brown, eventually passing Brown with two laps to go. Brown was able to hold on for a third place finish in Moto 1.
Just behind the second place battle, Baldwin Motorsports/PEP/Maxxis' Josh Upperman and 2010 ATVMX champ Josh Creamer pushed each other hard in an intense battle for fourth place. Upperman edged out Creamer in Moto 1, while Motoworks/Can-Am's Joel Hetrick came in sixth place.
Upperman shot out of the gate in Moto 2 to grab the SSiDecals Holeshot Award and immediate gained a lead on Brown, Wienen and Creamer, who remained close behind. Natalie went down in the first corner of the opening lap and was forced to work his way up from behind the pack. The battle for the lead began to heat up between Wienen and Upperman by mid-race, but Upperman dropped back just enough to allow Wienen to confirm the Moto 2 victory and secure the overall win at RedBud MX.
"The track was pretty rough today but my goal was to ride smart, patient and not over ride the machine and I think we accomplished those things today," says Wienen.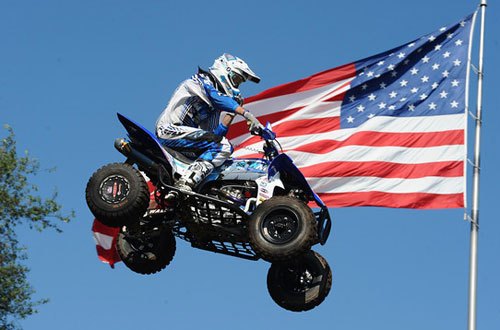 Upperman came in a close second to Wienen in Moto 2, giving him second overall with a 4-2 score – his best overall finish this season. Upperman remains fourth in the championship standings as the series heads to the season finale in just two weeks.
Natalie made his way up to sixth place in Moto 2 after getting hung up in a first corner crash. His Moto 1 victory was enough to boost his score to claim third place overall. Natalie's third afforded him enough points to remain in the championship hunt with one round remaining.
Brown engaged in a race-long battle with Creamer and Hetrick and managed to hold off the Can-Am riders until Lap 8 when Hetrick made his move for third. Brown's 3-4 score gave him fourth place overall, just ahead of Hetrick's fifth place finish.
2010 ATVMX champion Josh Creamer (Can-Am) finished with a consistent 5-5 score for sixth overall, while Pennsylvania's Derek Swartfager ( Honda) took home seventh overall with 7-8 finishes. Ohio's Adam Clark (Honda) went 8-9 for eighth overall and Harold Goodman (Honda) and Mark Madl (Honda) rounded out the top ten.
The 2012 AMA ATV Motocross Championship heads to the Loretta Lynn Ranch in Hurricane Mills, Tenn. August 11 and 12 for the final round of racing.
RedBud MX National
2012 ATV Motocross Pro Class Standings
Pos.
Rider
ATV
Motos
Pos.
Rider
ATV
Points
1.
Chad Wienen
Yamaha
2 – 1
1.
Chad Wienen
Yamaha
421 (6 wins)
2.
Josh Upperman
Honda
4 – 2
2.
John Natalie
Can-Am
385 (2 wins)
3.
John Natalie
Can-Am
1 – 6
3.
Joel Hetrick
Can-Am
341 (1 win)
4.
Thomas Brown
Yamaha
3 – 4
4.
Josh Upperman
Honda
326
5.
Joel Hetrick
Can-Am
6 – 3
5.
Thomas Brown
Yamaha
314
6.
Josh Creamer
Can-Am
5 – 5
6.
Derek Swartfager
Honda
224
7.
Derek Swartfager
Honda
7 – 8
7.
Adam Clark
Honda
213
8.
Adam Clark
Honda
8 – 9
8.
Mark Madl
Honda
205
9.
Harold Goodman
Honda
9 – 10
9.
Jeff Rastrelli
Suzuki
196
10.
Mark Madl
Honda
14 – 7
10.
Harold Goodman
Honda
183
Published July 30th, 2012 10:12 AM