4 Views
Five Riding Destinations You Must Hit
June 15th, 2017 3:47 PM
Share
We're committed to finding, researching, and recommending the best products. We earn commissions from purchases you make using links in our articles. Learn more here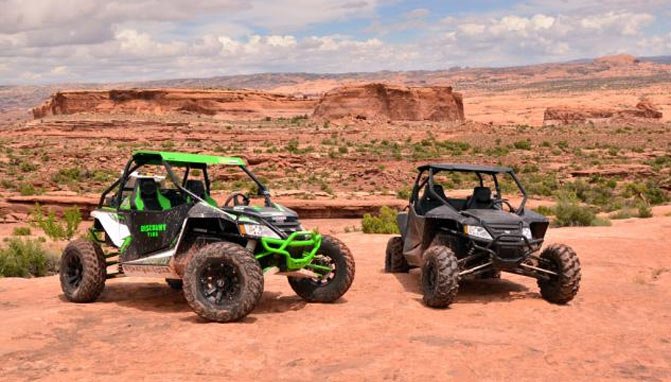 From Moab to Michigan, these are ride spots you need to visit
Anyone who rides an ATV or UTV likes to get out and hit the trails for fun. Even riding local trails can be a fun, relaxing way to spend a day. It's like going camping at a local campground – you just like to get away from it all. But when you really want to get away, see some amazing scenery and ride some new trails, nothing beats going to some of the amazing riding destinations across the country. Here are five riding destinations you simply must hit.
Hatfield-McCoy
Hatfield-McCoy covers nine southern West Virginia counties and is a year-round system of seven trails that are closing in on having 2,000 miles of open trails for off-road use. The trails range from extremely technical, to casual riding and everything in between. The scenery is simply breathtaking with stunning mountains and lush forests. They have a Trailfest Event in October that is not to be missed.
One of the many things that sets Hatfield-McCoy apart from other destinations is how friendly and welcoming everyone is. The staff is amazing and there to help out. The trail rangers are extremely helpful and the towns are very open to ATV and UTV traffic. There is also a lot of history to be found, with the trail's namesake family feud in the region and the trails pass by many of the areas made famous by the events of the long-standing battles.
Vist TrailsHeaven.com for more information.
Moab, Utah
Moab quickly became an off-road destination when people realized that the area was special. It's not everywhere you can ride through high-desert terrain with amazing views around every corner. The trails and rocky terrain is challenging and extremely fun to ride on.
Utah is a very off-road friendly state and non-resident trail permits are not expensive. Travelers will find affordable lodging and friendly people. One trip to Moab will quickly get you to start thinking of a return visit.
Visit DiscoverMoab.com for more information.
Silver Lake Sand Dunes, Michigan
Silver Lake is a 400-acre state park with steep dunes, epic trails and open water crossings. Riding here, even during the week, can be a little crowded during peak times. But even with a lot of other people around, there's still plenty of fun to be had.
A Michigan ORV permit and recreational permit are required, along with a 10-foot whip flag. There are ORV rentals available, along with dune tours and rides. There are campgrounds and lodging nearby as well.
Visit ThinkDunes.com for more information.
Brimstone
Brimstone is a massive riding area in Northern Tennessee. This amazing facility in the heart of the Appalachians encompasses over 19,000 acres of prime trails, scenic views and Tennessee charm. Each year, thousands of enthusiasts flock to the location, many for the annual White Knuckle Event. With plenty of places to stay and great local hospitality, it's easy to see why Brimstone made this list. One trip and you'll be planning to go back.
Visit BrimstoneRecreation.com for more information.
Camp RZR
(Photo by Eli Madero)
When you're as big of a company as Polaris, there comes a time when you just have to throw a party to celebrate the success you've had and the people who helped get you there. That is Camp RZR – a huge party and riding event that everyone should really attend, even if you don't ride a Polaris vehicle. They have live music, amazing giveaways and awesome trails. This party moves around, but always at an amazing destination.
Visit CampRZR.com for more information. Derrek Sigler
Derrek's love for all things ATV started when he was a mere 11 years old, growing up on his family farm. His mom gave him and his sister a choice - get a horse, or a three-wheeler. The sister wanted the horse, and Derrek wanted the ATV. Luckily he won out, and was soon burning up the trails on a Yamaha Tri-Moto 200. By the time he was 14, he had saved enough of his own money by working on the farm and in his folks restaurant to buy a new 4-wheeler. That happened the day he and his mom were driving past the dealership and saw 1987 Banshee. His mom had no idea what he was buying, and he never looked back. He's been riding ever since, and been writing professionally for many years. He has ridden all over North America and been behind the controls of just about every machine out there. And yes, he still has his 1987 Yamaha Banshee.
More by Derrek Sigler
Published June 15th, 2017 3:45 PM
Top Brands
Popular Articles