1 View
Fowler Races to John Penton GNCC Victory
June 1st, 2016 3:06 PM
Share
We're committed to finding, researching, and recommending the best products. We earn commissions from purchases you make using links in our articles. Learn more here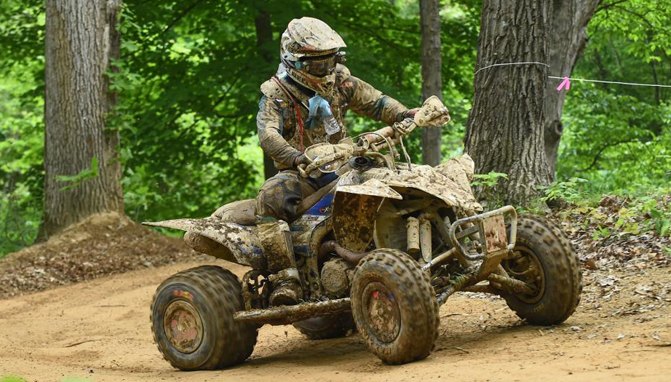 Borich, Neal join Fowler on the XC1 podium
(Press Release) The AMSOIL Grand National Cross Country (GNCC) Series presented by Maxxis, an AMA National Championship, continued today, May 28, in the Buckeye State with the 27th Annual Wiseco John Penton GNCC held at the popular Sunday Creek Raceway in Millfield, Ohio. After facing hot and humid conditions for the first time this season, it would be N-Fab/Maxxis/AmPro Yamaha/Lonestar/MXP's Walker Fowler taking the overall win. Maxxis/Fly Racing/HMF/Ye Olde Cycle Barn/Suzuki's Chris Borich and Coastal Racing/MSR/Maxxis' Brycen Neal would battle it out until the very end to round out the overall podium in second and third.
Once the green flag waved on the seventh round of the GNCC circuit, it was Maxxis/Fly Racing/HMF/Ye Olde Cycle Barn/Suzuki's Chris Borich who found himself in a favorable position and earned the $250 Wiseco XC1 Holeshot Award, but he was accompanied by Fowler who essentially led the way into the Ohio woods. Fowler would capitalize on the early lead and quickly pull away from the rest of the pack by over thirty seconds once they checked through timing and scoring for the first time.
Overall Podium: (2) Chris Borich, (1) Walker Fowler, (3) Brycen Neal. (Photo by Ken Hill)
CST/LSR/Induction Solutions/DeRisi/SG/Tire Blocks' Adam McGill had moved into second at the conclusion of the first lap. While Fowler would maintain the lead, McGill would slowly start gaining on the defending champion throughout the first half of the race.
With Fowler and McGill off in the distance, N-Fab/Maxxis/AmPro Yamaha/Lonestar/MXP's Cole Richardson was in the mix for third with Neal and Borich. The three would continue the close racing throughout the entire two-hour race.
Once Fowler took the white flag he found himself being pushed by McGill who was just a few seconds behind. McGill would end up getting stuck around the three mile marker where Fowler would lead the way to the finish claiming his fourth win of the season.
"I ended up getting caught up with a lapper and had to go back down the hill in order to try and get back up the hill climb," said McGill. "Once I got to the bottom my quad wouldn't start back and a fan was able to lend a hand and help me get it started again."
Chris Borich would end up clearing the double jump right beforethe finish line, ultimately vaulting him into second place position. (Photo by Ken Hill)
Unfortunately Richardson would end up suffering from a mechanical issue on the last lap ultimately taking him out of a podium contention where he would end up finishing ninth in XC1 Pro and 17th overall.
While Fowler would cross the finish line first, Borich and Neal would continue the fight, but now for second and third with McGill and Richardson out of the race. Once they hit the famed Sunday Creek Motocross track, the two would exchange positions back and forth, with Borich taking the last double jump with an extra boost to cross the line in second with Neal following in third overall.
McGill would end up rebounding to finish just off the podium in fourth. Show Hauler/Canyon Motorsports/GBC's Landon Wolfe landed his first top-five finish of the season in fifth, with Precision/Axis/Maxxis-backed Jay Shadron having an equally impressive ride in sixth.
In the XC2 Pro-Am division, Hygear Suspension/Waynesburg Yamaha/FLY Racing/Moto-Xperts/Spider Graphix's Greg Covert jumped out to the early lead grabbing his first ever $125 All Balls Racing Holeshot Award. Much like Fowler, Covert used the early lead to gain valuable seconds on the rest of the field. ITP/Ye Olde Cycle Barn/Walsh Racecraft's Westley Wolfe would spend the race recovering from getting stuck on the first lap to finish a respectable second overall, while BNR Motorsports/GBC/Moose Racing's Kevin Yoho finished third after facing a 15-second penalty for starting his quad early.
XC2 Pro-Am Podium: (2) Westley Wolfe, (1) Greg Covert, (3) Kevin Yoho. (Photo by Ken Hill)
"It feels great to get another win since I haven't been able to get once since the season opener," said Covert. "I've been working really hard these past couple of weeks to get another win and hopefully I'll be able to continue this streak at the next few races."
Devon Feehan rode a hard fought race to earn his first ever College A (16-21) victory along with ninth overall. His finish earned him top amateur honors.
Right after the conclusion of the 1 p.m. Pro race, the action continued with UTV racing. Can-Am/Chaney Racing/CT Race Worx/Maxxis/Fox Shocks' Kyle Chaney returned to his winning ways taking gold at the conclusion of the hour long race. JB Off-Road/Can-Am's Tim Farr put forth his best effort to finish second with Can-Am/DWT/Houser Racing/Elka Suspension/HMF's Cody Miller crossing the line in third.
Overall UTV Podium: (2) Tim Farr, (1) Kyle Chaney, (3) Cody Miller. (Photo by Chelsea Taylor)
The 4×4 Pro riders made a clean sweep of the 10 a.m. podium with Cunningham Racing/Can-Am/Spider Graphix/Gold Speed's Kevin Cunningham taking the overall by nearly two minutes. Can-Am/QuadBoss' Bryan Buckhannon and Team UXC Racing's Michael Swift finished out the overall podium in second and third.
Pierce Performance/Maxxis/Waynesburg Yamaha/FLY Racing's John Glauda Jr. took the $125 GT Thunder Overall Amateur Award with his sixth place overall finish.
The WXC division, Teixeira Tech/KAhart Racing/Yamaha's Kylie Ahart landed on the top spot of the podium for back-to-back wins. Ye Olde Cycle Barn/Maxxis/Fox Shocks-back Alicia McCormick and Yamaha rider Traci Pickens finished a respective second and third.
10 a.m. Overall Podium:(2) Bryan Buckhannon, (1) Kevin Cunningham, (3) Michael Swift. (Photo by Ken Hill)
The reigning champion and Big Country Powersports' Sam Yokely, made the pass for the win on the white flag lap further extending his points lead. Polaris/Racer Tech/Keefer Mazda's Jesi Stracham followed in second with New Jersey native Robert Boynton rounding out the overall podium in third.
ATV racing at The John Penton kicked off with the 8 a.m. youth race where Wilson Racing's Tim Sroka made it four-in-a-row taking the overall and Super Mini (12-15) victory. Cobra rider Dylan Walraven crossed right behind Sroka in second with Kentucky native Rhett Cox making his first podium appearance of the season in third.
Overall Youth Podium: (2) Dylan Walraven, (1) Tim Sroka, (3) Rhett Cox. (Photo by Ken Hill)
The 1 p.m. ATV Pro race and 4 p.m. UTV race were broadcast LIVE in their entirety on RacerTV.com and can be viewed as archived video online by visiting the GNCC LIVE page.
The 2016 AMSOIL Grand National Cross Country Series continues with round eight on June 11 and 12 with the Dunlop Tomahawk GNCC at the Seneca Highland in Odessa, New York.
For more information on the series, visit the official website at www.gnccracing.com or call (304) 284-0084. Join the conversation on the series Facebook page, follow us on Twitter and Instagram, and be sure to always hashtag
Overall National Championship Standings
Walker Fowler (186)
Adam McGill (167)
Brycen Neal (150)
Chris Borich (143)
Landon Wolfe (93)
Cole Richardson (90)
Jarrod McClure (89)
Greg Covert (77)
Josh Merritt (76)
Jay Shadron (62) Published May 30th, 2016 9:57 AM
Top Brands
Popular Articles